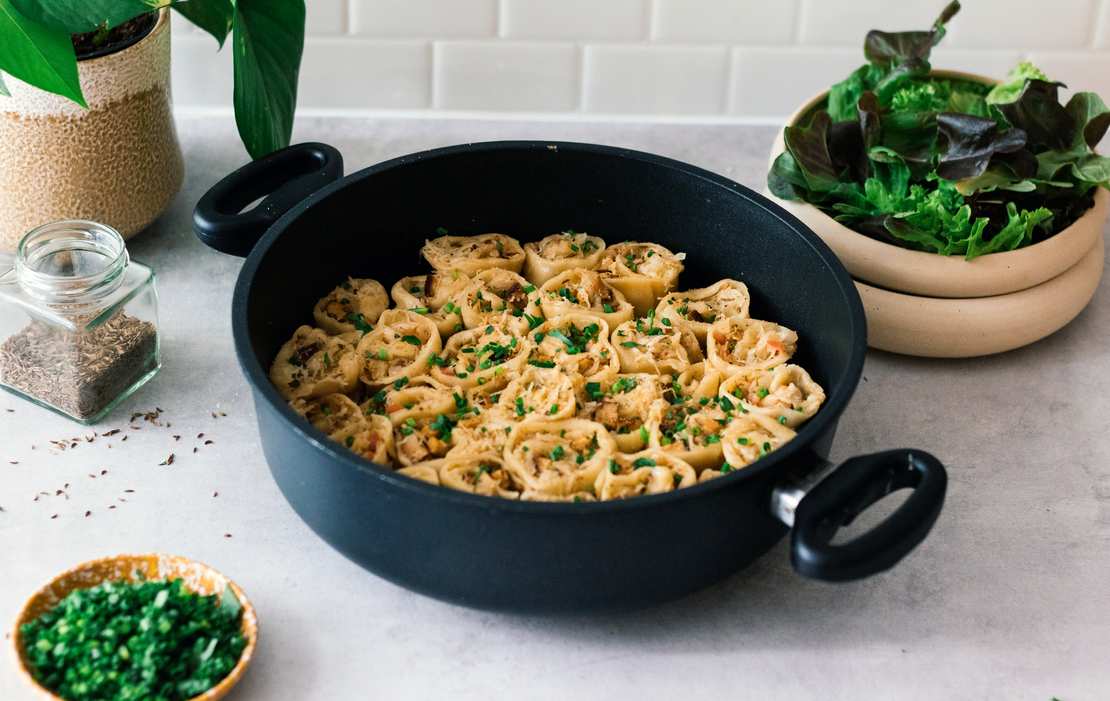 Sauerkraut Stuffed Pasta Rolls
This recipe is one that I would rather link to Isa, whose family comes partly from Swabia. But Isa didn't know "Krautkrapfen" at all – until now. I first read about it on Instagram when we asked you for recipes to veganize. The name alone piqued my interest, but when I found out what it was all about, it was clear that this dish would be right up my alley.
This specialty of Swabian and Allgäu cuisine traditionally consists of pasta dough stuffed with sauerkraut and meat. So it's like a savory cinnamon bun...only very different. The pasta dough also needs to rest but is generally much faster to make than a yeast dough. Of course, a pasta machine would be great for rolling it out, but a regular rolling pin works just fine. As a bacon substitute, I decided to use pan-fried smoked tofu – if you prefer another vegan alternative, you are welcome to use it. The vegan cream cheese is not part of the classic recipe, but I found it very fitting to make the filling creamier.
With the sauerkraut, you should make sure to drain it well. Otherwise, it might soften the pasta dough too much. During the test cooking process, I also tried to roll the dough into a large rectangle - similar to cinnamon buns - spreading the filling on top and then shaping it into rolls. However, the sauerkraut tofu filling is a bit too heavy for that, so the pasta rolls didn't stay in shape very well. I, therefore, recommend that you divide the pasta dough into thirds and roll it out into long sheets.
The last step of the preparation is probably the one that is found in the most different variations. Some pan-fry the "Krautkrapfen" from both sides, and others don't fry them at all. Some cover them almost completely with liquid, and others don't cook them this way at all. I've tried everything and liked the pasta rolls best when they are pan-fried on one side first and then soaked in some liquid. You can use water, vegetable broth, and also the drained juice of the sauerkraut for this.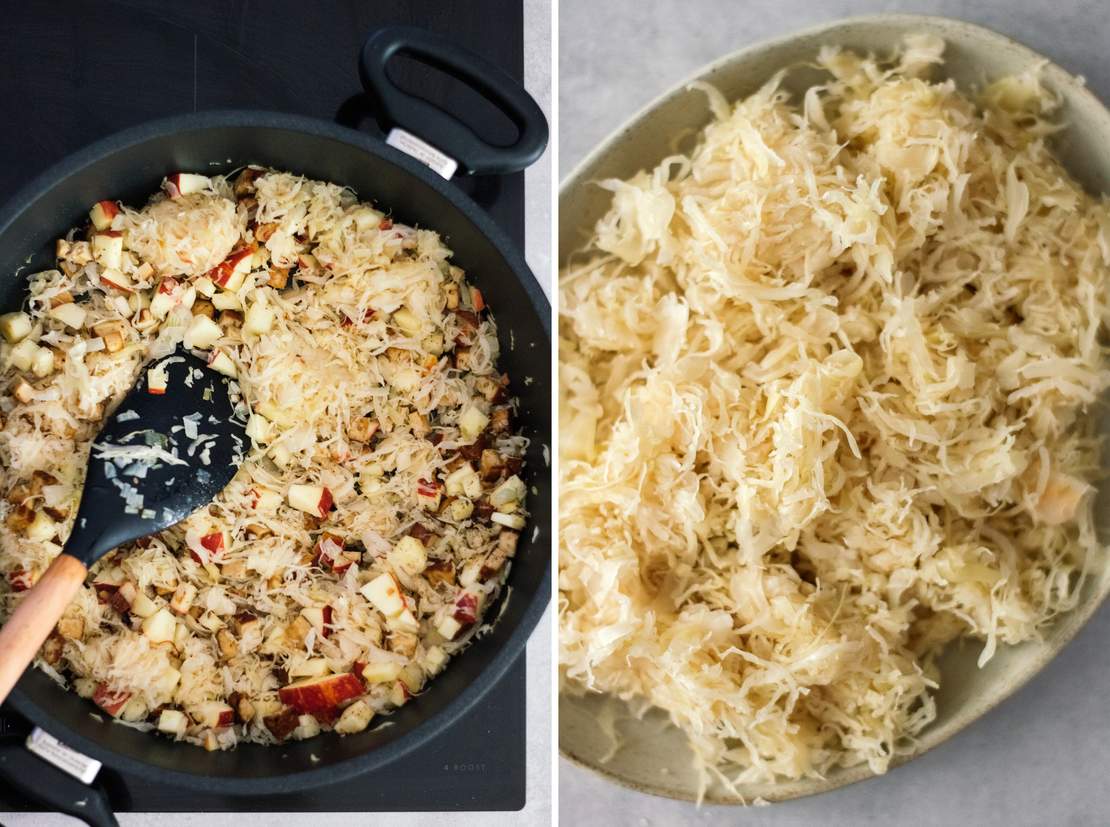 Sauerkraut Stuffed Pasta Rolls
Ingredients
For the dough:
200 g (1.66 cups) spelt flour type 630 or wheat flour type 405
200 g (1.25 cups) semolina
0.5 tsp salt
200 ml (0.75 cup) water
2 tsp olive oil
For the filling:
300 g (10.5 oz) sauerkraut
200 g (7 oz) smoked tofu
1 small onion
1 garlic clove
1 small apple
approx. 300 ml (1.25 cups) vegetable broth
0.5 tsp caraway seeds
50 g (2 oz) vegan cream cheese
vegetable oil for frying
salt
pepper
For serving:
Instructions
For the pasta dough, mix flour, durum wheat semolina, and salt in a bowl and pile it up on a clean work surface. Form a well in the center and pour water and olive oil into it. Gradually mix the dry ingredients with the liquid ingredients to form a smooth dough. Then knead well for at least 10 minutes.
Tip: If you have a kitchen standing machine, you can also let it do all the work.
Cover the dough with a clean kitchen towel and let it rest at room temperature for about 30 minutes.

In the meantime, prepare the filling. Drain sauerkraut, but save the liquid. Next, finely dice smoked tofu, onion, garlic, and the apple.

Heat vegetable oil in a large frying pan over medium heat. First, sauté the smoked tofu until well browned. Then add the onion and garlic and continue to sauté until the diced onion is translucent. Next, add the drained sauerkraut and diced apple, and season everything with cumin seeds, salt, and pepper. Remove the pan from heat and let the filling cool down a bit.

After resting, divide the pasta dough into thirds and roll it out into long strips (approx. 15x30 cm / 6x12 inches). Spread a thin layer of vegan cream cheese on top, then arrange the sauerkraut filling evenly on the pasta dough strips, leaving about 1 cm (0.4 inches) space to the top border. Next, roll up the pasta dough tightly from the bottom to the top. Moisten the top edge with some water so that the dough holds together well. Then cut each pasta roll into about 8-10 buns.

Heat vegetable oil in a large frying pan and arrange the pasta buns in the pan so that the filling is facing up and down. Once the "Krautkrapfen" are browned on the bottom, fill the pan with the collected sauerkraut juice and vegetable broth until the pasta buns are about half-covered with it. Place a lid on the pan and let the pasta buns simmer for about 15 minutes, or until all the broth has boiled away. For serving, sprinkle with chopped parsley.
More Vegan Recipes for Traditional German Classics