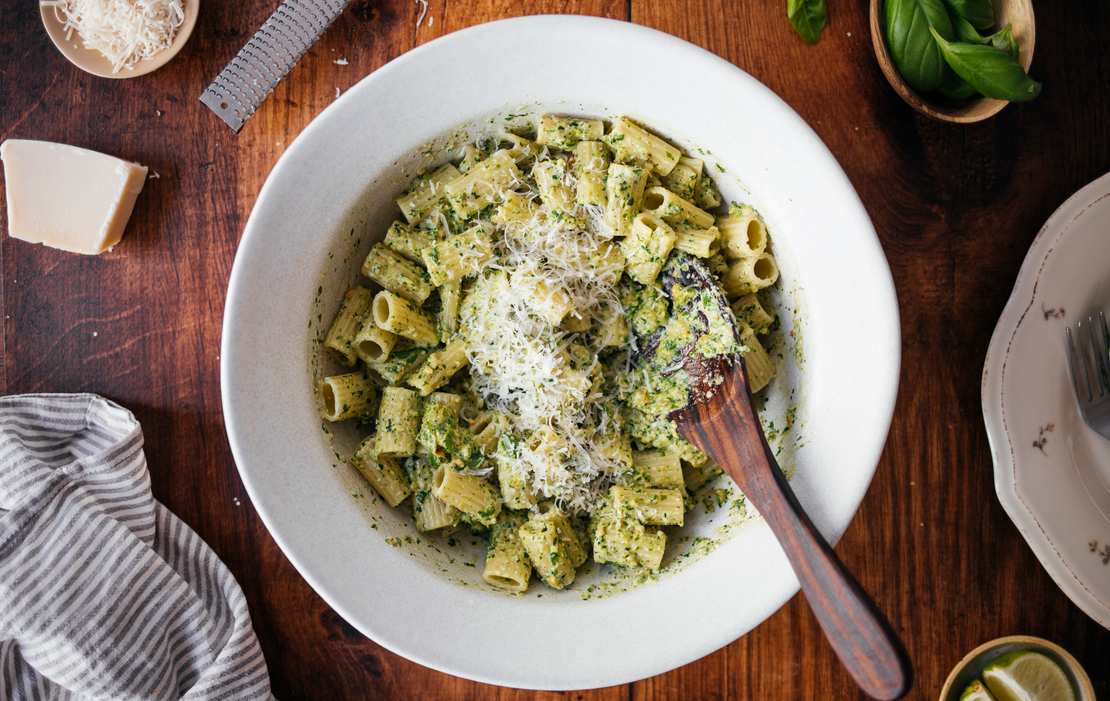 Pasta with Green Basil Cashew Pesto
Pasta with pesto. Actually, this intro could already be over here because the dish is so delicious and uncomplicated that it speaks for itself. But we wouldn't be Zucker&Jagdwurst if we didn't have a few tricks up our sleeve ...
Among students, it's probably one of the most popular dishes ever. No wonder it's quick, tasty and affordable ... But let's be honest, you pay a lot more for the vegan version. That's why today we're killing two birds with one stone and make it ourselves! It's cheaper, tastes better, and is super quick.
Although we're dealing with one of the easiest recipes ever, here are a few tips: Yes, you read that right, the soy sauce is part of the recipe. The parmesan provides a salty note and a light umami taste in traditional pesto. We imitate both by using soy sauce. Speaking of cheese, you can also use vegan parmesan cheese for the recipe. Just reduce the amount of nuts by a little. If you don't like cashews, you can, of course, use any other nut. The same goes for the tahini. We love the light sesame taste, which also reminds us of parmesan, but you can leave it out or replace it with any other nut butter. You can also exchange the herbs according to season and preference. How about wild garlic or rocket?
Your homemade pesto will keep in the fridge for up to two days. To make it last longer, put the pesto in a sterilized jam jar, smooth it out, and pour enough oil on top to cover the surface. Your pesto will keep in the fridge for up to four weeks!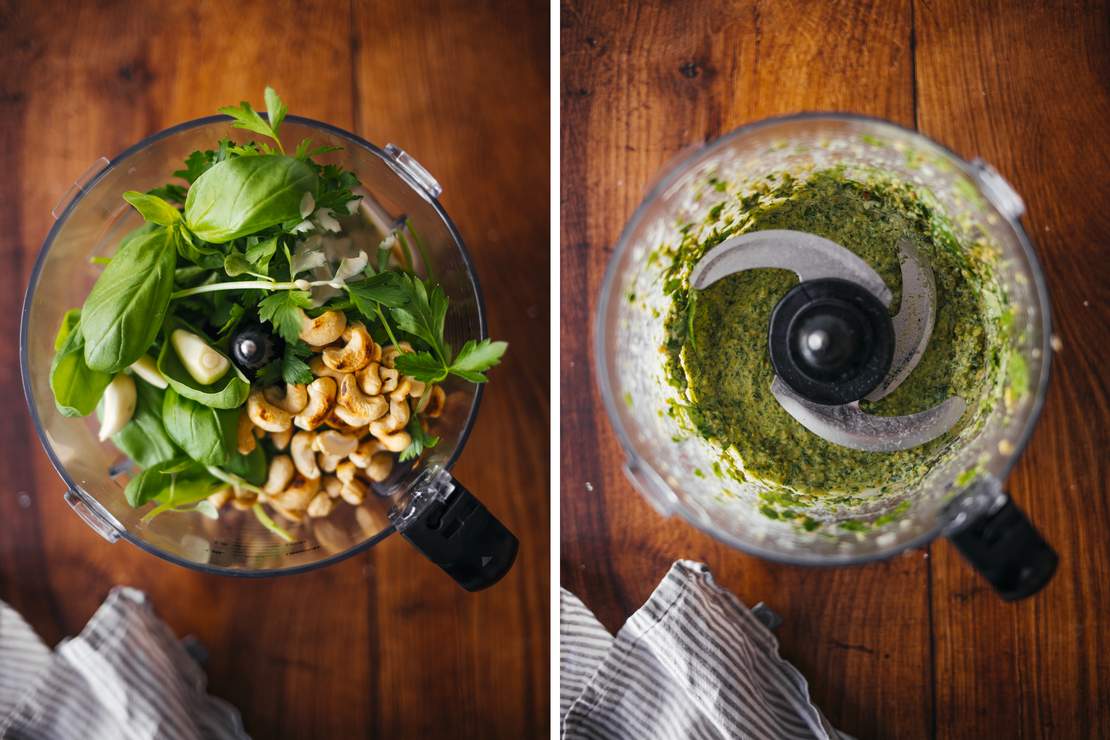 Pasta with Green Basil Cashew Pesto
Ingredients
250 g (0.5 lb) pasta
100 g (0.25 lb) cashews
2 garlic cloves
20 g (0.75 oz) basil
10 g (0.33 oz) parsley
5 tbsp olive oil
1 tbsp soy sauce
3 tbsp tahini
0.5 lime
vegan parmesan
salt
pepper
Instructions
Bring some salted water to a boil in a pot and cook the pasta al dente according to the package instructions. Before draining, skim off some of the cooking water and set it aside.

Roast cashews in a pan without oil until they start to smell good and turn slightly brown. Peel garlic cloves and wash and shake dry herbs.

In a blender, mix cashews, garlic, basil, parsley, olive oil, soy sauce, tahini, lime juice, salt and pepper until a creamy pesto forms.

Combine the cooked pasta with the pesto in the pasta pot or a large bowl. If necessary, add some pasta water. Season with salt, pepper and lime juice and serve with vegan parmesan.