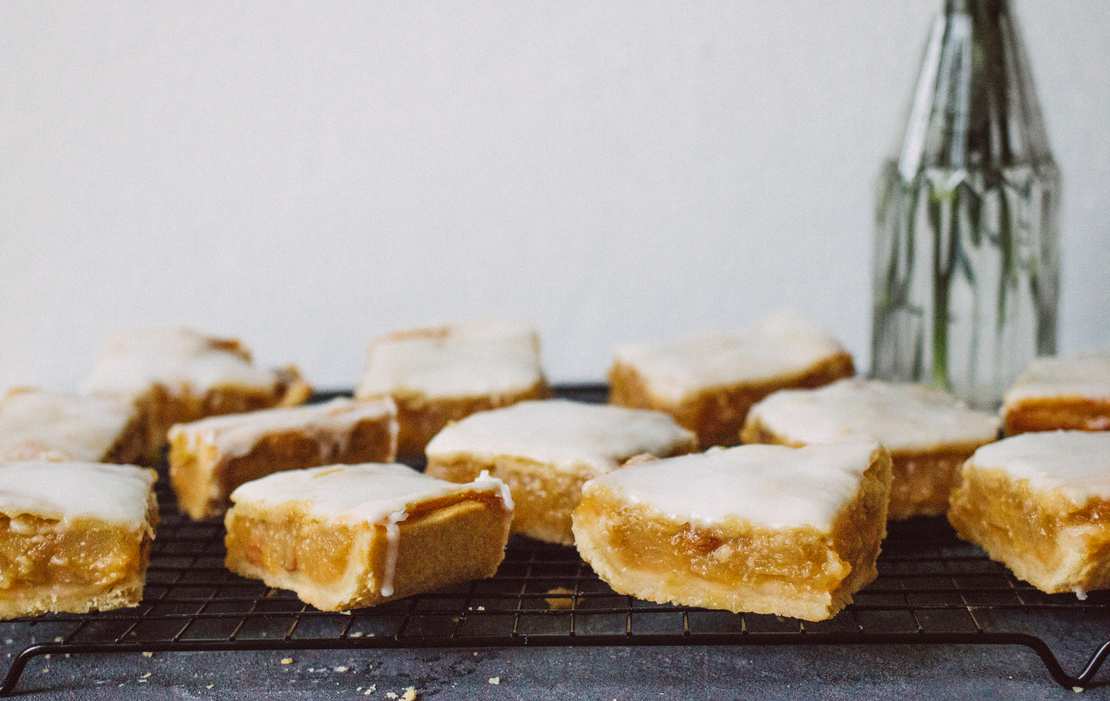 If you'd ask me about my favorite cake, I'd probably answer that I can't decide and that I love all oft hem. But whenever I eat this glazed apple cake, I hear myself saying 'Oh, that's the best!'
I guess, it's the only apple cake that (in my opinion) is best when it comes out of the fridge – not warm and fresh out of the oven. What makes this cake so tasty is a cool apple filling and a crispy glaze.
And so far, I only knew this from apple cakes from a bakery but it's suprisingly not that complicated to bake this cake at home. I think the most important utensil is a proper cake pan. Depending on how thick you want the filling to be, rather choose a smaller one. A round cake pan works just fine!
Glazed Vegan Apple Cake
1 cake (21 x 25 cm)
60 minutes (+ 25 minutes baking time)
Ingredients
For the dough:
500 g (4 cups) flour
250 g (1 cup) vegan butter
5 tbsp sugar
1 pinch salt
8 tbsp ice-cold water
For filling:
700 g (25 oz) apple puree
1 kg (35 oz) apples
2 tbsp raisins
1/2 tsp cinnamon
For glazing:
200 g (1.5 cups) confectioner's sugar
3 tbsp lemon juice or water
Instructions
Let's start with the short pastry. Add flour, sugar and salt to a bowl and stir to combine. Add diced cold butter on top and start kneading with cold hands. Then add ice cold water and knead until a smooth dough forms. If it's too dry, add a little more water, but make sure that the dough doesn't get sticky. Wrap in plastic wrap and plet rest in the fridge for at least 30 minutes.

In the meantime peel and finely dice apples. Add apple puree to a saucepan over medium heat, then add diced apples and simmer for approx. 15 minutes until the apple softens. Add raisins and cinnamon and keep simmering for 5 more minutes. Then remove from heat and let cool down a bit.

Grease and flour a cake pan, you can do this cake in a round or rectangle form, as you like. Roll out two thirds of the dough on a silicone baking matt or between two sheets of plastic wrap, then transfer it carefully into your cake pan. Make sure that the dough covers the bottom and the sides as well. Add the apple filling. Then roll out the remaining dough and carefully transfer it onto the apple filling so it's covered. Slightly press the dough on all sides to "seal" the cake.

Bake the cake in the oven at 180°C/350°F (circulaiting air) for approx. 15 – 20 minutes or until the top side is golden brown. Remove from oven and let cool down.

For the glaze mix confectioner's sugar and water or lemon juice. Brush the cake with it and let dry before serving the cake.