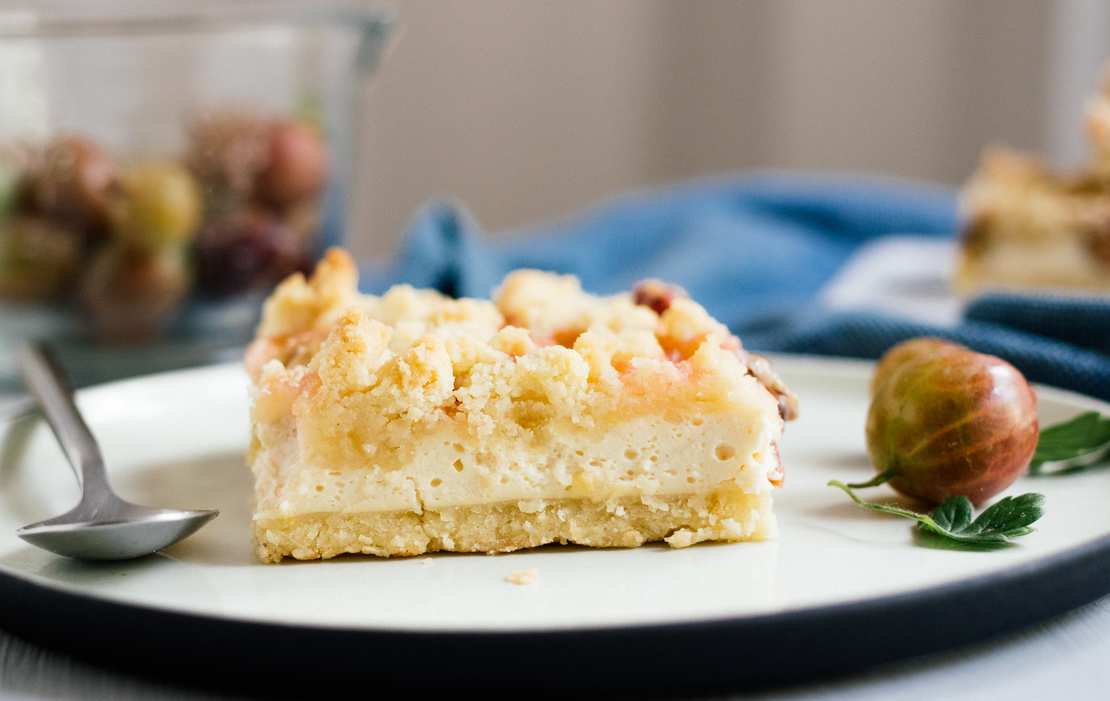 Vegan Gooseberry Crumble Cake
If you're planning your own or invited to a picnic, a barbecue or a summer party, you need a big bowl of pasta salad and a dessert that satisfies a big group of people. For these occasions a sheet cake is one of the best ideas you can have, cause they are cheap, easy to do, and quick.
All you need is a bowl and a baking sheet. And an oven, obviously! You don't need a baking tin (which we always forget at parties) or other complicated things. If gooseberries are not in season right now, you can easily replace them with apples and a pinch of cinnamon, pears, rhubarb, any other berries or nectarines, and peaches. This cake is just too easy to be true.
Vegan Gooseberry Crumble Cake
1 baking tray (20-25 pieces)
30 minutes (+ 45 minutes baking time)
Ingredients
dough
500 g (4.25 cups) flour
250 g (1.1 cups) plant-based butter
150 g (0.6 cups) sugar
"quark" or yogurt
1200 g (42 oz) plant-based quark or yogurt

50 g (1.7 oz) starch

1/2 lemon

50 ml (0.2 cups) agave syrup

750 g (26.5 oz) gooseberries
crumbles
200 g (0.88 cups) plant-based butter
150 g (0.6 cups) sugar
350 g (3 cups) flour
Instructions
Mix the flour, plant-based butter and sugar for the dough in a large bowl and shape into a ball.
Cover a baking sheet with parchment paper and evenly roll/spread the dough on it.
For the quark layer, mix the plant-based quark (or yogurt) with agave syrup. Mix the starch with the juice of half a lemon and add it as well. Mix well with a whisk, so no lumps are visible. Put the quark on top of the dough and distribute evenly.
Wash the gooseberries, and top and tail each berry. Spread all the gooseberries on the quark layer.
Mix all ingredients for the crumbles in a bowl. Then spread the sprinkles over the gooseberries with the help of your hands.
Bake for 45 minutes in the preheated oven (middle rail) at 180 ° C. Cut into pieces or keep in the refrigerator for 2-3 days.