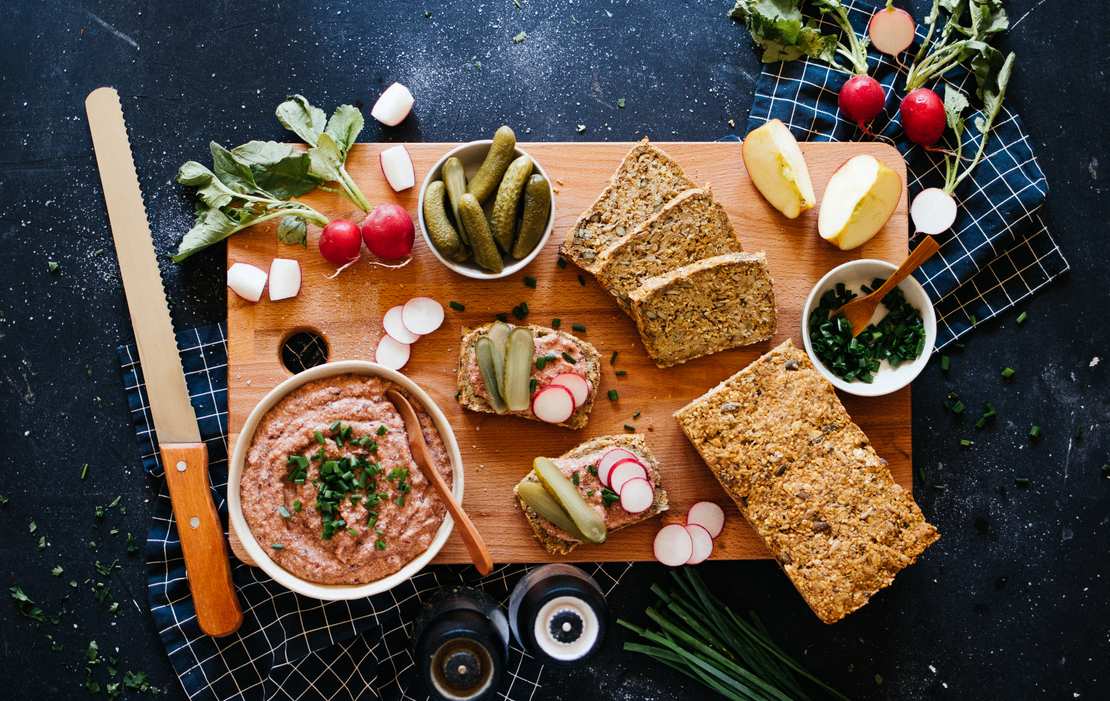 Homemade Vegan Liverwurst with Freshly Baked Bread
Guess what, liverwurst played a rather big culinary role in our childhood. For me it was a simple but great spread for a slice of bread, while Julia always ate it with her favorite dish potatoes and quark. Of course, things changed since we went vegan, but today, we want to take a closer look at this memorable spread from the past.
We were also used to eat different kinds of liverwurst when we were young: Julia ate the rather greyish variant, but I grew up with the pink one. The difference between them is that the pink liverwurst is made with pickling salt which enables the color change while the grey liverwurst is made with sodium chloride only (which is regular salt). Since I've never eaten the grey option, I focused on the pink version that I grew up with. But no matter if it's grey or pink – it's extremely difficult to veganize a product that consists almost entirely of meat, bacon, and liver. I still took up the challenge.
The base of our vegan liverwurst is made of kidney beans and firm tofu. Kidney beans add a nice color and a certain creaminess to our vegan liverwurst, while the tofu provides a bit more texture. We also added apples and onion to add more flavor to the spread. When seasoning it to taste, however, please rely on your own taste and measure out the spices accordingly. For example, I like this vegan liverwurst to be on the sweet-ish side, so I add more agave syrup, but I'm aware that others rather want to have a really savory vegan spread on their bread.
Speaking of bread: we served our vegan liverwurst spread with Wunderbrød Gold from Bauckhof. The organic bread mix consists of wholegrain oat flakes, golden flax, sunflower seeds, sesame seeds, golden millet, pumpkin seeds, flea seed husks, sea salt, and turmeric. Therefore, it's gluten-free, vegan, yeast-free, nut-free, soy-free, and is produced without any extra sugar. Since April, the oats processed in this bread are produced at their new oat mill, which Bauckhof built for their own uses. Because of this they can save 180,000 kilometers of transport which improves their carbon footprint enormously. Bauckhof can now process 20,000 tons of oats, buckwheat, millet, and more per year. Check out their website to not only find a 360-degree tour of the new mill, but also to see their floor overview and many more information. We can only recommend to take a look there – it's really interesting!
Homemade Vegan Liverwurst with Freshly Baked Bread
4-6 servings
30 minutes (+ approx. 4 hours)
Ingredients
For the bread:
600 g (21 oz) organic bread mix (e.g. Wunderbrød GOLD by Bauckhof)
For the vegan liverwurst:
2 onions
2 apples
350 g (12.5 oz) canned kidney beans
100 g (3.5 oz) firm tofu
2 tbsp tomato paste
2 tsp agave syrup
1 tsp soy sauce
0.5 tsp dried marjoram
1 tsp onion powder
1 tsp garlic powder
2 tbsp nutritional yeast
vegetable oil for frying
salt
pepper
sugar
water
For serving:
fresh chives
radishes
gherkins
Instructions
Baking bread
Prepare your bread mix according to the package instructions. For us, this meant to add the mix to a bowl and pour over 500 ml (2 cups) cold water. Stir to combine and let the mixture soak for approx. 3 hours, or overnight.
Grease a loaf pan (25x10cm / 10x4 inches), then add the dough, press it down a bit until it spreads up to the edges and smooth it out.
Transfer the loaf pan to the cold oven (do not preheat it) and bake at 200°C/390°F (bottom and top heat) for approx. 80 minutes.
Once the bread is done, remove it from the oven and directly remove it from the loaf pan. Before cutting, let it cool out completely.
Tip: To speed up the preparation: Add 550 ml (2.33 cups) boiling water to the bread mix, stir to combine, and let the mixture rest and soak for approx. 20 minutes. Preheat oven to 200°C/390°F (bottom and top heat) and let the bread bake for approx. 70 minutes.
Vegan liverwurst
Peel and halve onions, then cut into stripes. Peel apples, remove the core, then thinly slice them.
Heat vegetable oil in a frying pan. Fry onions and apples for approx. 2-3 minutes or until the onion is translucent. Sprinkle a pinch of sugar on top and let onions and apples caramelize. As soon as both are softened, remove from heat, and let cool down.
Squeeze out some liquid from the tofu – you can do so by wrapping the tofu in paper towels, then weight it down with a pot or a frying pan. Let the tofu rest like this for approx. 5 minutes. Drain and rinse canned kidney beans.
Add tofu, kidney beans, fried onions and apples, tomato paste, agave syrup, soy sauce, dried marjoram, onion powder, garlic powder, salt, and pepper to a blender or food processor. Mix until a finely crumbly mixture forms.
Add a bit of water little by little until you get a spreadable mixture.
Season the vegan spread with salt, pepper, agave syrup, and spices to taste. Serve with your baked bread, chopped chives, gherkins, and radishes on bread.