Mashed potatoes with creamed spinach and vegan fried eggs
Mashed potatoes, creamed spinach, and eggs: a classic dish from our childhood. And for sure, also from yours. But when you switch to a plant-based diet, you sometimes have the feeling that you can't eat a lot of classic dishes any more. But that's totally wrong, and we want to prove this with a vegan version of this childhood classic!
So let's start with the simple parts: preparing vegan mashed potatoes is way too easy! Just replace the dairy milk with a plant-based drink (e.g., oat milk) and the butter with a vegan one. The creamed spinach works the same way – just replace the dairy cream with a vegan one (e.g., oat cream).
Only the vegan fried eggs are a bit complicated, although the preparation is quite simple. The consistency is provided by a base of plant-based cream and silken tofu (you get it in supermarkets or organic markets). We also used the Indian mineral salt Kala Namak to create an eggy taste. Using turmeric turns the egg white into egg yolk, and your vegan fried eggs are ready for frying! Not that complicated, right?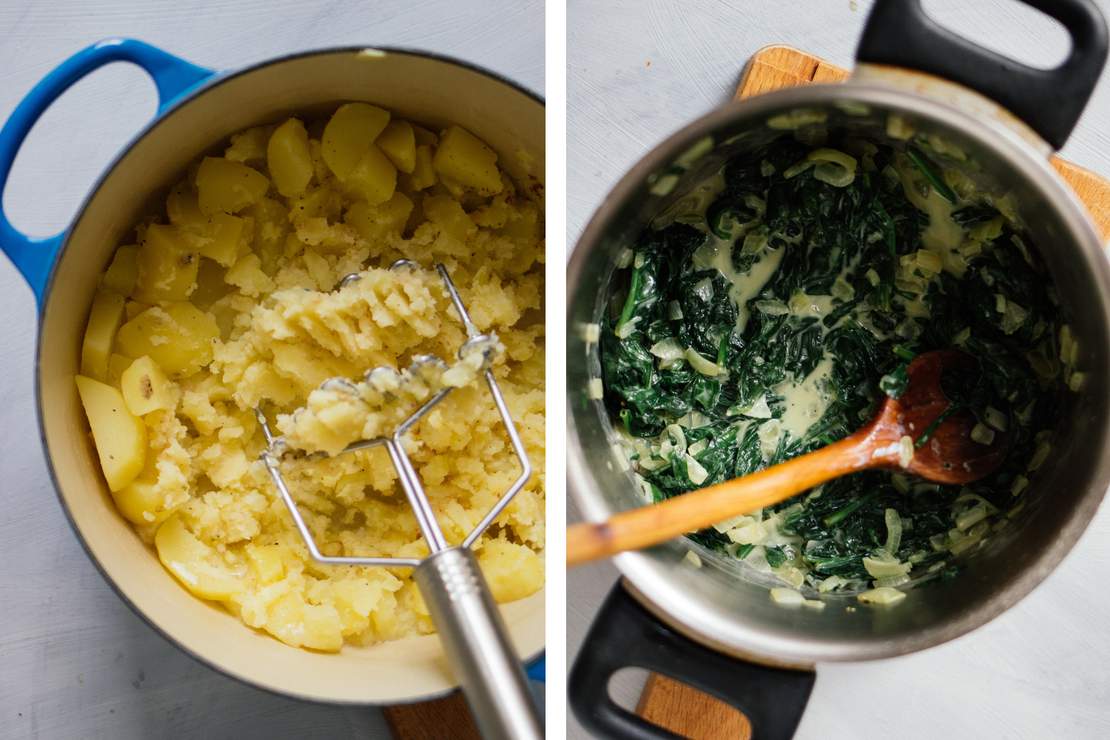 Mashed potatoes with creamed spinach & vegan fried eggs
Ingredients
mashed potatoes
800 g floury-boiled potatoes
5 tbsp plant-based butter
50 ml plant-based milk
0.5 tsp nutmeg
salt
pepper
creamed spinach
1 tbsp plant-based butter
1 onion
300 g fresh baby spinach
50 - 100 ml plant-based cream
salt
pepper
8 vegan fried eggs
vegan "egg white"
200 g silk tofu
2-3 tbsp (25-30 g) chickpea flour
100g plant-based cream
1 tsp (7 g) starch
1 tsp (4-5 g) kala namak
vegan "egg yolk"
2-3 tbsp (60 g) of the egg white
1 tsp turmeric
1 tsp (5 g) chickpea flour
Instructions
mashed potatoes
Bring a pot of salted water to a boil.
Peel the potatoes and cut into small cubes. Cook for 10-15 minutes until soft. Then drain off the water.
Mash the potatoes and add plant-based butter and milk.
Season with nutmeg, salt, and pepper.
creamed spinach
Wash the spinach. Peel and finely chop the onion.
Heat the butter in a large pan (or pot) and briefly sauté the onion.
Add the spinach. Close the pan (or pot) with a lid and keep steaming until the leaves are just wilted.
Add the plant-based cream and season with salt and pepper.
vegan fried eggs
Place all the ingredients for the egg whites in a tall container and puree. Put aside.
Then add 2-3 tbsp of the egg white to a small bowl and mix with the remaining ingredients for the egg yolk.
Heat a small pan on medium heat, add some oil and add about 2 tbsp of the egg white. Wait a minute and add 1 teaspoon of the egg yolk on top of the egg white.
Fry for 4-5 minutes and carefully remove from the pan.
serving
Serve the mashed potatoes with the creamed spinach and two fried eggs per person. Season again with salt and pepper before serving.