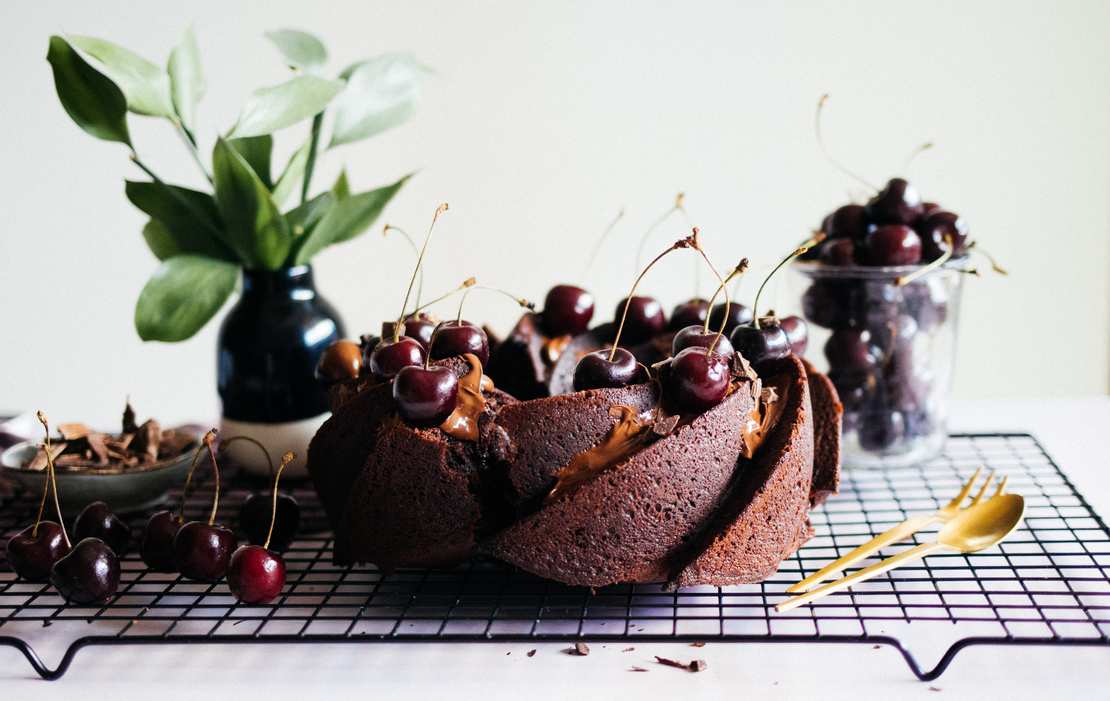 Moist, vegan Chocolate Cherry Bundt Cake
During the summer season, I try to eat as much of the seasonal produce that is now filling up the markets as possible. Time is short, but I still want to make the most of fruit and vegetables such as raspberries, strawberries, watermelon, spinach, and Swiss chard. So I often end up with fresh berries for breakfast, spinach and tomatoes for lunch, and a few slices of watermelon as a late night. I manage this with most of the produce, but cherries pass unnoticed every year.
So this year, I decided to put cherries in all kinds of baked goods. The advantage of them is that they keep their moisture while baking, so you don't need to worry about a soggy cake. Today, I threw fresh cherries in a chocolate Bundt cake, but you could also use them for a crumble cake, fold them into a muffin batter or add them on top of a yeast cake.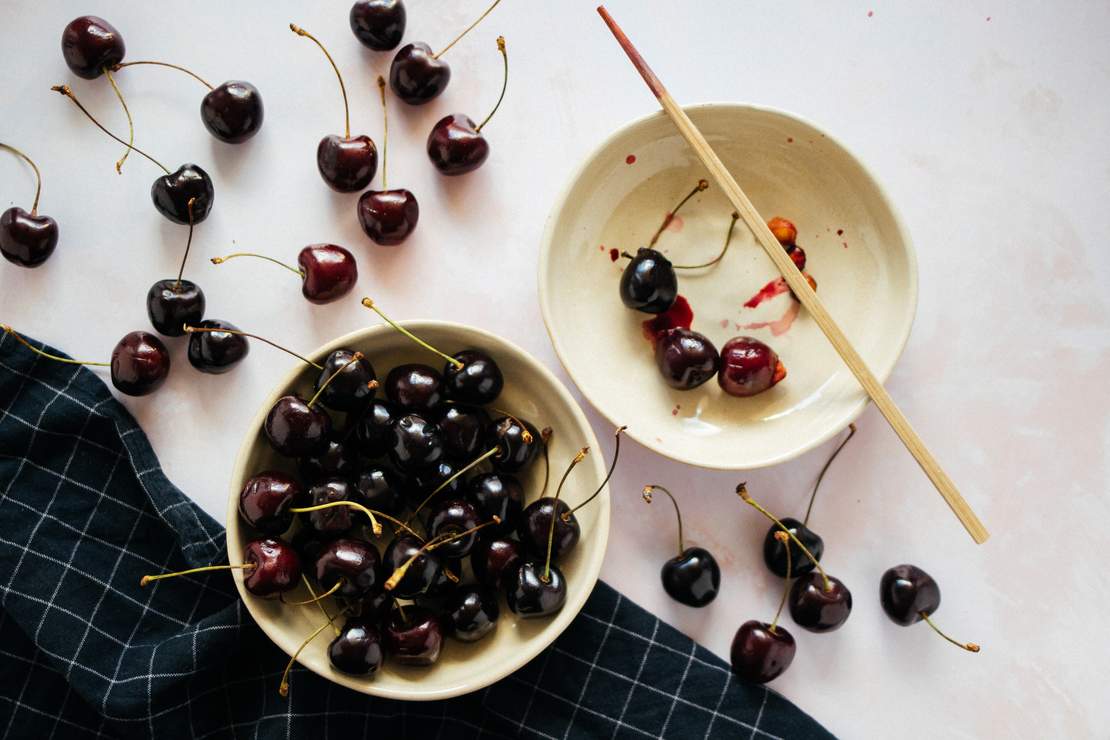 Vegan Chocolate Cherry Bundt Cake
12 pieces
30 minutes (+45 minutes baking time)
Ingredients
For the batter:
350 g (12.5 oz) fresh cherries
340 g (2.75 cups) flour
40 g unsweetened cocoa powder
175 g (1 cup) sugar
12 g (1 tbsp) baking powder
8 g (1 tsp) vanilla sugar
330 ml (1.33 cup) sparkling water
100 ml (0.5 cup) vegetable oil (canola oil or sunflower oil)
50 g (2 oz) bittersweet chocolate chips
plant-based butter for greasing
cocoa powder or flour for dusting
For garnish:
50 g (2 oz) fresh cherries
250 g (9 oz) bittersweet chocolate
Instructions
Preheat oven to 180°C/355°F (circulating air). Wash cherries and remove stems and cherries. For the latter, it's easiest to do this with a glass or metal straw, or chopsticks.
In a bowl, mix flour, unsweetened cocoa powder, sugar, baking powder, and vanilla sugar. Add sparkling water and oil and stir quickly into a smooth batter. Only stir until all flour is incorporated, but don't over stir or else your cake won't be fluffy. Last but not least, fold in chocolate chips and cherries.
Grease and flour a Bundt pan (25x9cm / 9x3.5inch or any regular one). For "flouring" it's actually best to use unsweetened cocoa powder as this will match the color of the chocolate cake.
Transfer batter into the prepared pan and bake at 180°C/355°F for approx. 45 minutes, or until an inserted toothpick comes out clean. Remove from the oven and let the cake cool out.
For garnish, melt 200 g (7 oz) of bittersweet chocolate in a heatproof bowl over a pot of simmering water. Chop the remaining 50 g (2 oz) chocolate and set aside. Pour melted chocolate over the cooled cake and garnish with fresh cherries and chopped chocolate.