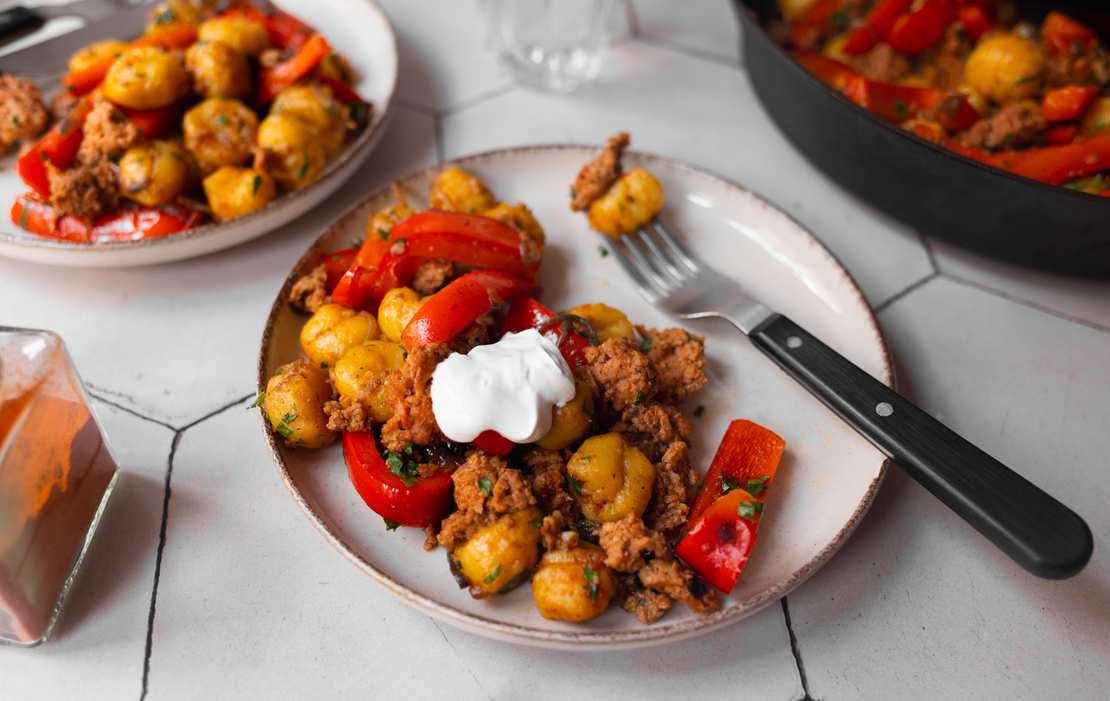 Quick Pan-fried Gnocchi with Vegan "Minced Meat" and Bell Pepper
Sure, we love lasagna, casseroles and co. But sometimes, we don't have enough time to cook these. Therefore, we have created a category for you on the blog with quick and easy recipes which come together in just 20 minutes. Over the past few years, I have learned to love a quick dish. Since we spend a lot of time in the kitchen at the office, in the evenings, we like it quick. So, in addition to veggie styr-fries, fried potatoes or quick pasta dishes, this gnocchi pan has established itself – and quite rightly so!
The recipe has three main components: gnocchi, vegan "raw" ground beef, and red bell pepper. You can now find vegan gnocchi in almost every supermarket in the refrigerated section – but be sure to check the ingredient list, as some contain eggs. Vegan "raw" minced meat isn't hard to find. If you can't find it, you can also use other vegan mince or soy granules (a different meat substitute might require a different preparation, so please follow the package instructions). You can also replace the red peppers with yellow ones if you like. Or you can replace them with a completely different vegetable. Beans, peas, zucchini or eggplant, will certainly work well too. I really like the combination of red peppers, vegan mince and paprika powder, so no changes for me. The dish always reminds me of Hungarian cuisine, as paprika in any form is a big part of many dishes there.
Last but not least: This dish doesn't need any sauce since it's basically a stir-fry. However, to ensure it's not too dry, we reworked the dish in Spring 2023, added some vegetable broth, and topped the whole thing with plant-based crème fraîche.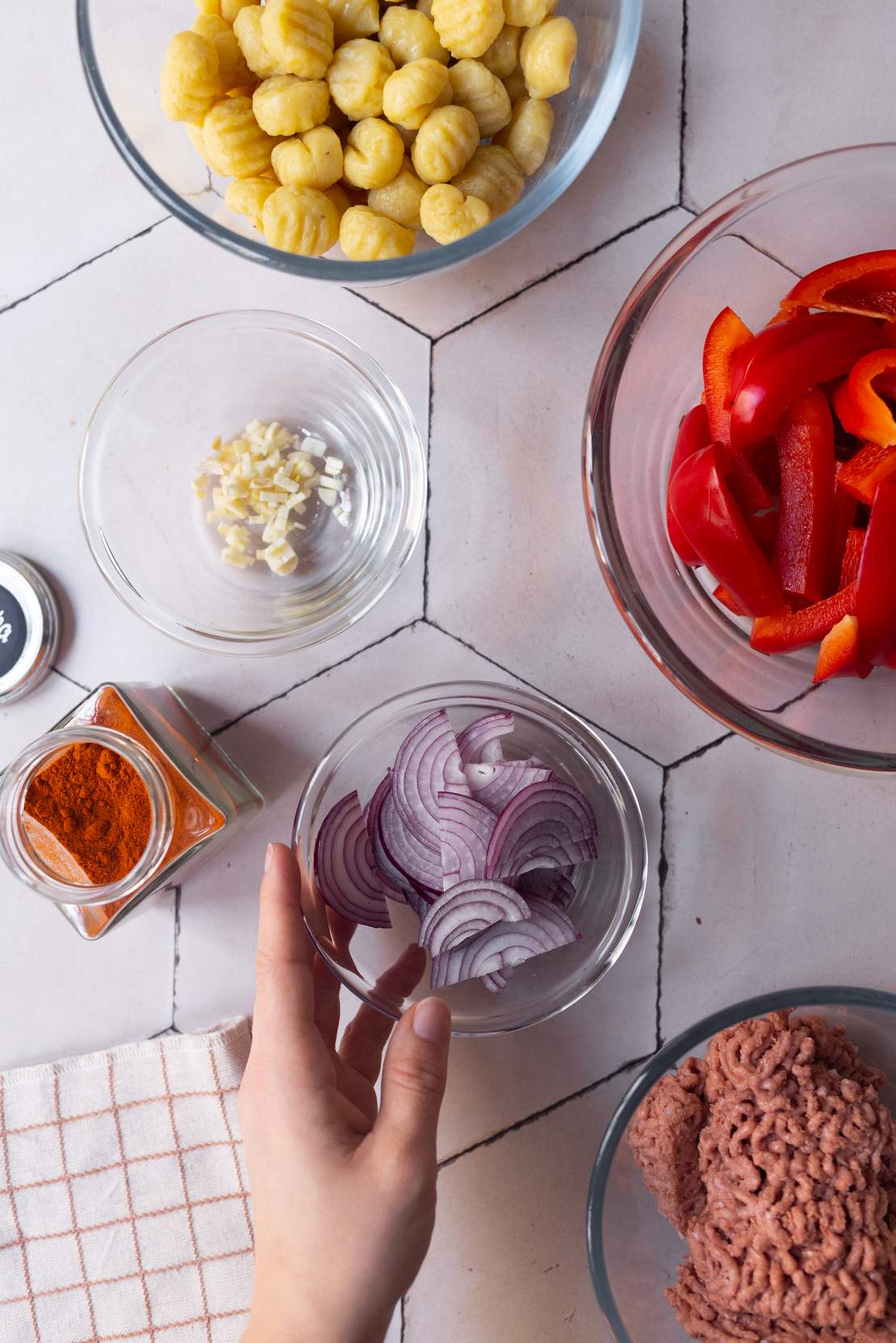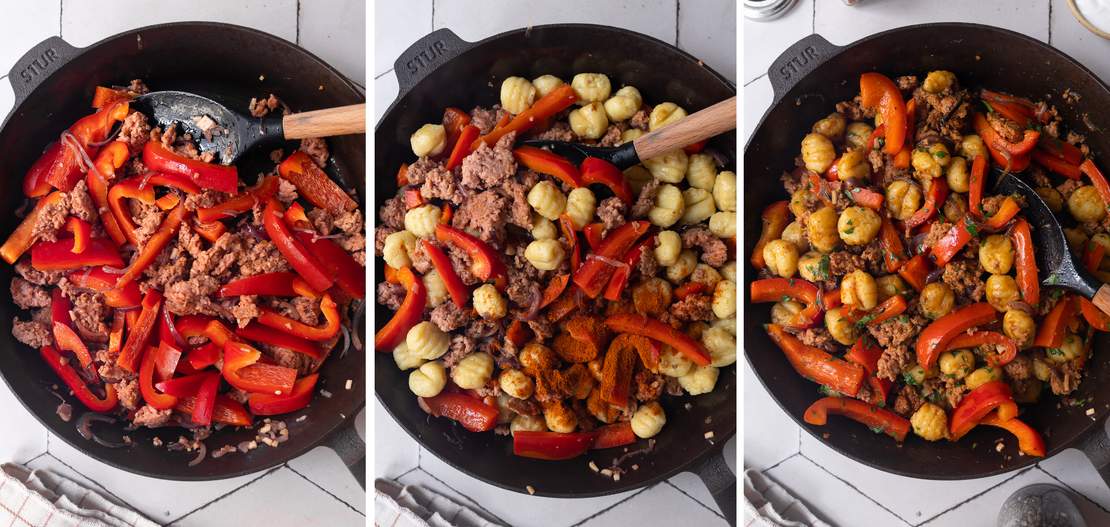 Quick Pan-fried Gnocchi with Vegan "Minced Meat" and Bell Pepper
Ingredients
1 red onion
1 garlic clove
1 red bell pepper
200 g (0.5 lb) vegan "raw" minced meat
400 g (1 lb) vegan gnocchi
50 ml (0.25 cup) vegetable broth
vegan butter
sweet paprika powder
soy sauce
fresh parsley
vegan crème fraîche
salt
pepper
Instructions
Peel red onion and garlic. Then, finely chop the garlic, halve the onion and cut it into thin slices. Next, wash the bell pepper, remove the seeds, and cut it into strips.

Heat the vegan butter in a pan over medium heat and sauté onion and garlic until the onions are translucent. Add the vegan mince and sauté well for 3–4 minutes. Next, add paprika and season with paprika powder, soy sauce, salt and pepper.

Add the vegan gnocchi and fry for another 2–3 minutes. Deglaze with vegetable broth and let simmer for 4–5 minutes until the liquid is nearly gone. Season with paprika powder, salt and pepper, sprinkle with fresh parsley and serve with vegan crème fraîche.