Ratatouille on Crispy Baked Baguette
Since the French cuisine is not necessarily known to be super vegan-friendly, I put a lot of hope in a special dish while I was on holiday there: ratatouille. The tricky thing was that I was traveling through the north of the country, and the vegetable stew originates in Provençal cuisine, so it's rather popular and well known in the south.
That's why I shamelessly cooked ratatouille myself during my vacation. It's an almost unbeatable summer dish that highly depends on the fresh seasonal ingredients and their quality. Aromatic tomatoes, zucchini, eggplant, bell pepper, onion, garlic, and a few herbs – that almost all you need. Well, except time. While there are some ratatouille recipes out there that are cooked rather quickly, it's really worth it to let it simmer for a longer time (just like almost all tomato dishes).
If you're cooking ratatouille at a time when tomatoes are not in season, I would rather recommend using whole canned tomatoes than bland fresh ones. In traditional recipes, they are often skinned, but we skipped that step, and the ratatouille will still taste great.
In general, this recipe can be adapted very easily to your preferences and to what's in your kitchen: feel free to use more or less of a specific vegetable or even leave it out altogether if you don't like it. Instead of dried herbs, you can also use fresh chopped herbs, of course. And if desired, add some lemon juice or wine vinegar to the dish. We served the ratatouille on crispy slices of bread, but you could also eat it just as it is the classic way.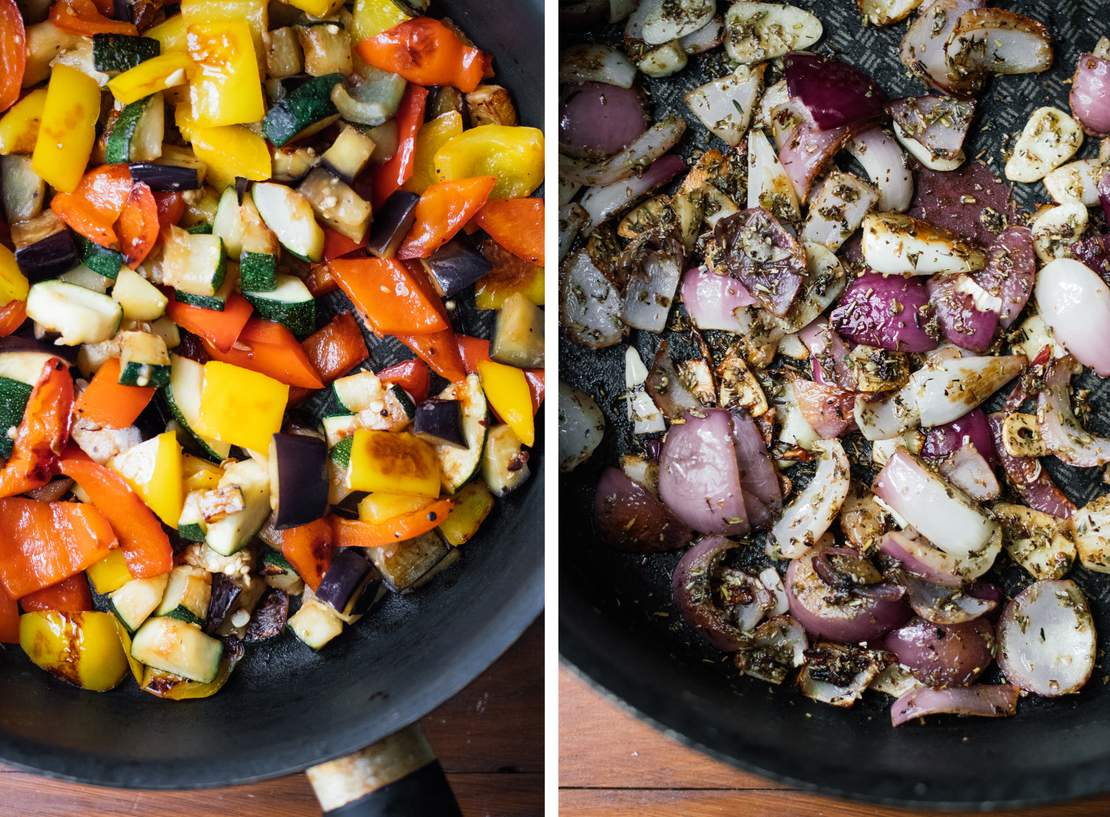 Ratatouille on Crispy Baked Baguette
Ingredients
For the crispy baguette:
For the ratatouille:
1 eggplant
1 zucchini
2 bell peppers
3 red onions
3 large tomatoes
2 garlic cloves
100 g (3.5 oz) olives
1 tsp dried rosemary
1 tsp dried thyme
1 tsp dried oregano
1 tsp dried marjoram
200 ml (0.75 cups) tomato puree
olive oil for frying
fresh basil for serving
salt
pepper
Instructions
Chop eggplant, zucchini, bell pepper, red onions, and tomatoes. Peel and thinly slice the garlic. Slice olives.
Note: It's totally fine if you cut rougher pieces, especially when you want to eat the ratatouille in a classic way.
Chiffonade basil leaves, which means: layer the basil leaves on top of each other, then tightly roll them together. Now you only need to finely slice the roll to get wonderful thin stripes.

Heat olive oil in a large frying pan. Start by frying zucchini, eggplant, and bell peppers for approx. 15 minutes. They should be softer but still, keep some bite — season with salt and pepper. Remove the vegetables from the pan and set aside.

Heat some more olive oil in the frying pan. Add onions, garlic, and dried herbs and fry for approx. 5 minutes or until the onion is translucent. Add chopped tomatoes and keep frying for 5 minutes before adding the fried eggplant, zucchini, and bell pepper, as well as tomato puree. Season with salt and pepper, close with a lid and let the ratatouille simmer for approx. 20 minutes in total. 5 minutes before the end of the cooking time, add olives.

In the meantime, preheat oven to 170°C/340°F. Slice baguette and transfer the slices to a (lined) baking sheet. Drizzle with olive oil and season with salt. Bake for approx. 8-10 minutes or until the bread is golden brown on the edges and crispy.

Serve ratatouille with crispy bread on the side or add some of it directly on the crispy bread slices to turn this into a finger food. Garnish with fresh basil.