Simple Spaghetti Aglio e Olio
It would never occur to me to order spaghetti aglio e olio at a restaurant. The preparation and the ingredients are much too simple for me to spend a lot of money on such a dish. But, unfortunately, there is only so much you can do about the selection of vegan dishes in restaurants and sometimes you have to take what is available. The magic trio of penne arrabiata, spaghetti napoli and spaghetti aglio e olio says hello!
Of course, that doesn't mean I don't like spaghetti aglio e olio. On the contrary, I like it very much if prepared well – neither too oily nor too dry. Spicy, with a dash of acid, is the way to go. In recent years, I have achieved, in my opinion, the perfect recipe for vegan and very simple spaghetti aglio e olio. Not only is the quality of the ingredients (especially the quality of olive oil) super important, but also the many small components that are easily forgotten.
For me, these are cherry tomatoes, parsley, and lemons. The tomatoes add a nice fruity flavor, the parsley makes it more flavorful, and the lemon adds freshness and acidity. Ultimately, I like to top with plant-based parmesan, which you can now find at supermarkets or prepare yourself with cashews. And that was it already. Your kitchen will become a restaurant, I promise!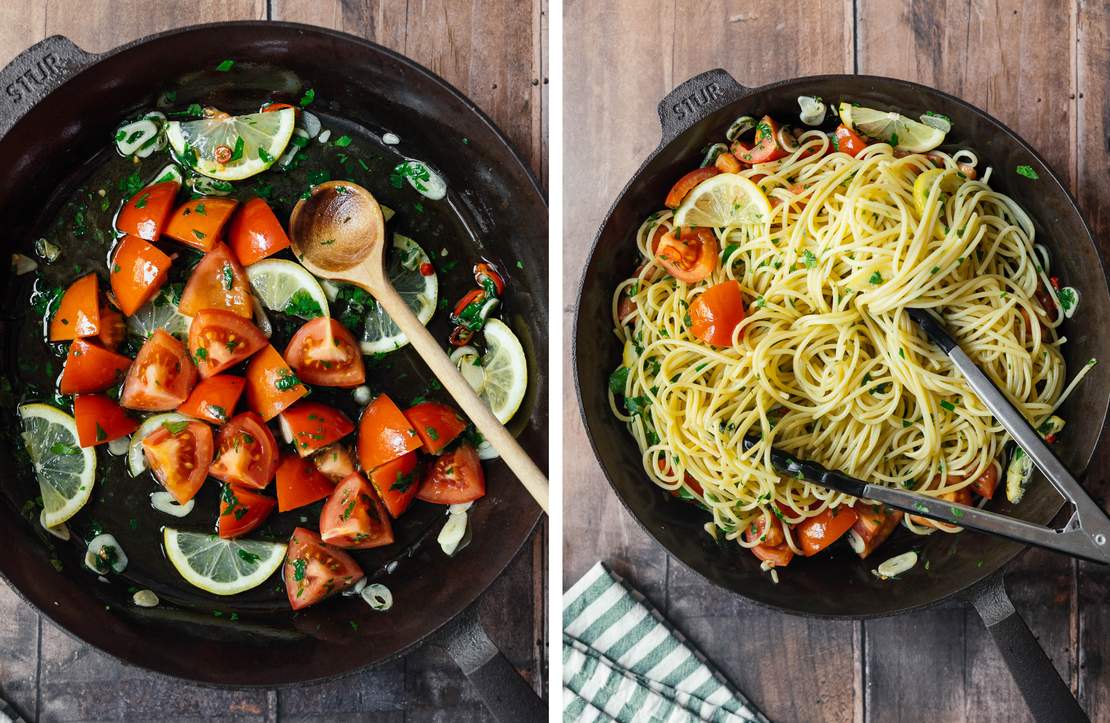 Simple Spaghetti Aglio e Olio
Ingredients
300 g (0.66 lb) spaghetti
lots of olive oil
3 garlic cloves
1 lemon
1 small red chili pepper
5 g (0.25 oz) fresh parsley
250 g (0.5 lb) cherry tomatoes
plant-based parmesan
salt
pepper
Instructions
Prepare the pasta according to the package instructions, then drain and set aside.

In the meantime, peel and slice the garlic cloves. Next, wash the lemon and chili well and slice them too. Finally, chop the parsley and wash and halve the tomatoes.

Heat a pan and cover the bottom with lots of olive oil. Add garlic and chili and fry for 3–4 minutes.

Add parsley, tomatoes and lemon slices and fry for another 1–2 minutes. Now add the pasta and combine everything. Season to taste with salt and pepper and serve with vegan parmesan.
Vegan Parmesan Cheese
Ingredients
100 g (3.5 oz) cashews
50 g (2 oz) chopped almonds
3 tbsp nutritional yeast
1 tsp sea salt
0.5 tsp garlic powder
Instructions
Add all ingredients to a food processor and mix until you get fine crumbles. No worries, in case there should be bigger chunks left, that just makes your vegan parmesan a bit crunchy.

Store in an airtight container or jar and sprinkle on top of your pasta dishes or mix it into your pesto.