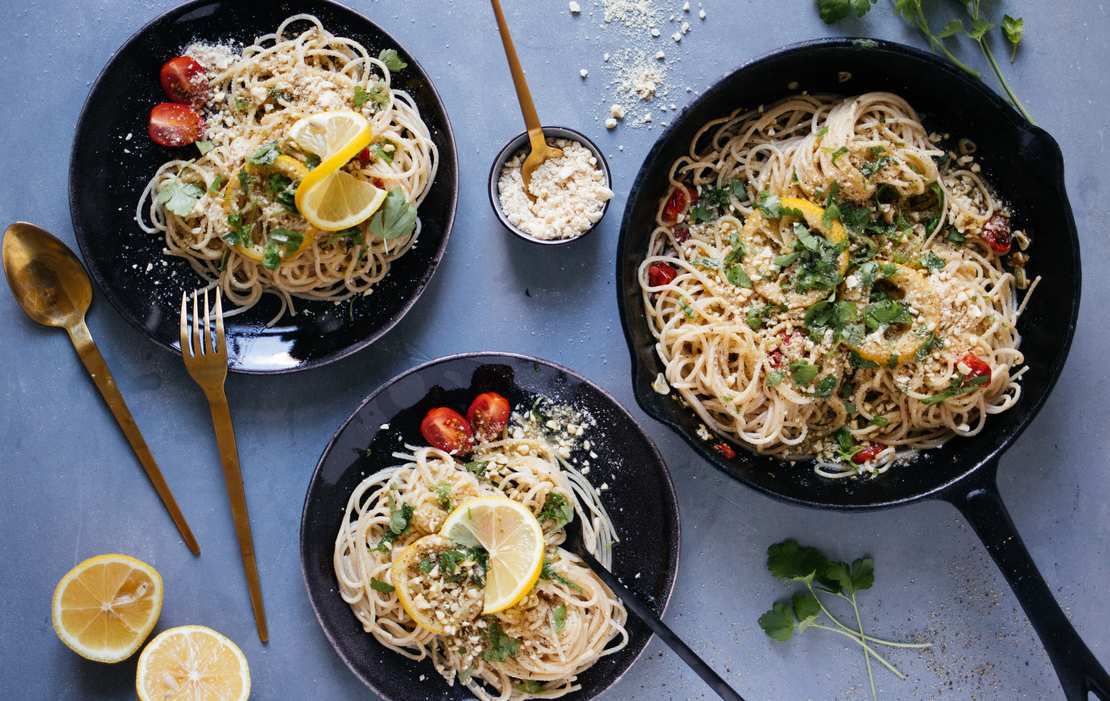 Simple Spaghetti Aglio e Olio
Cooking Spaghetti Aglio e Olio is not a really hard task! If you use high-quality ingredients, you'll have a great, fresh pasta dish in less than 20 minutes, and it's turning your whole kitchen into a garlic cave - oh, what a dream!
However, there are a few things that need to be considered here as well. For example, we love to fry a few slices of fresh lemons, as they add a fresh and sour touch to the dish. Also, never, never, never miss vegan parmesan and some fresh tomatoes on top. Check all the remaining information below in the recipe.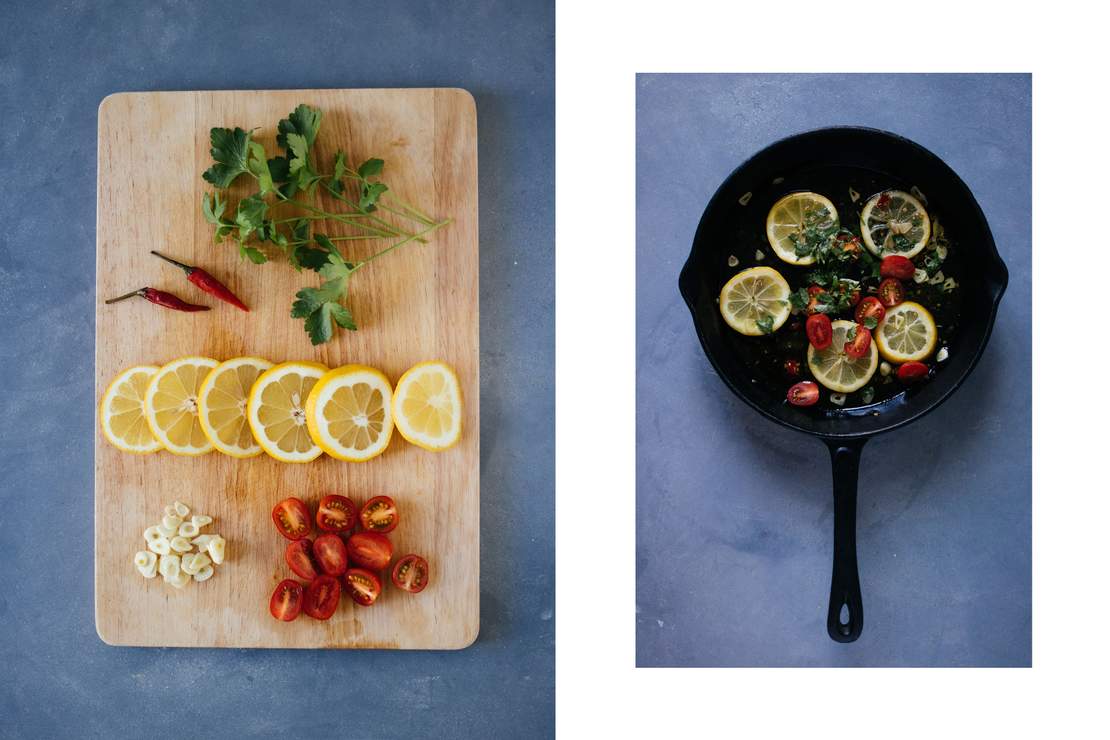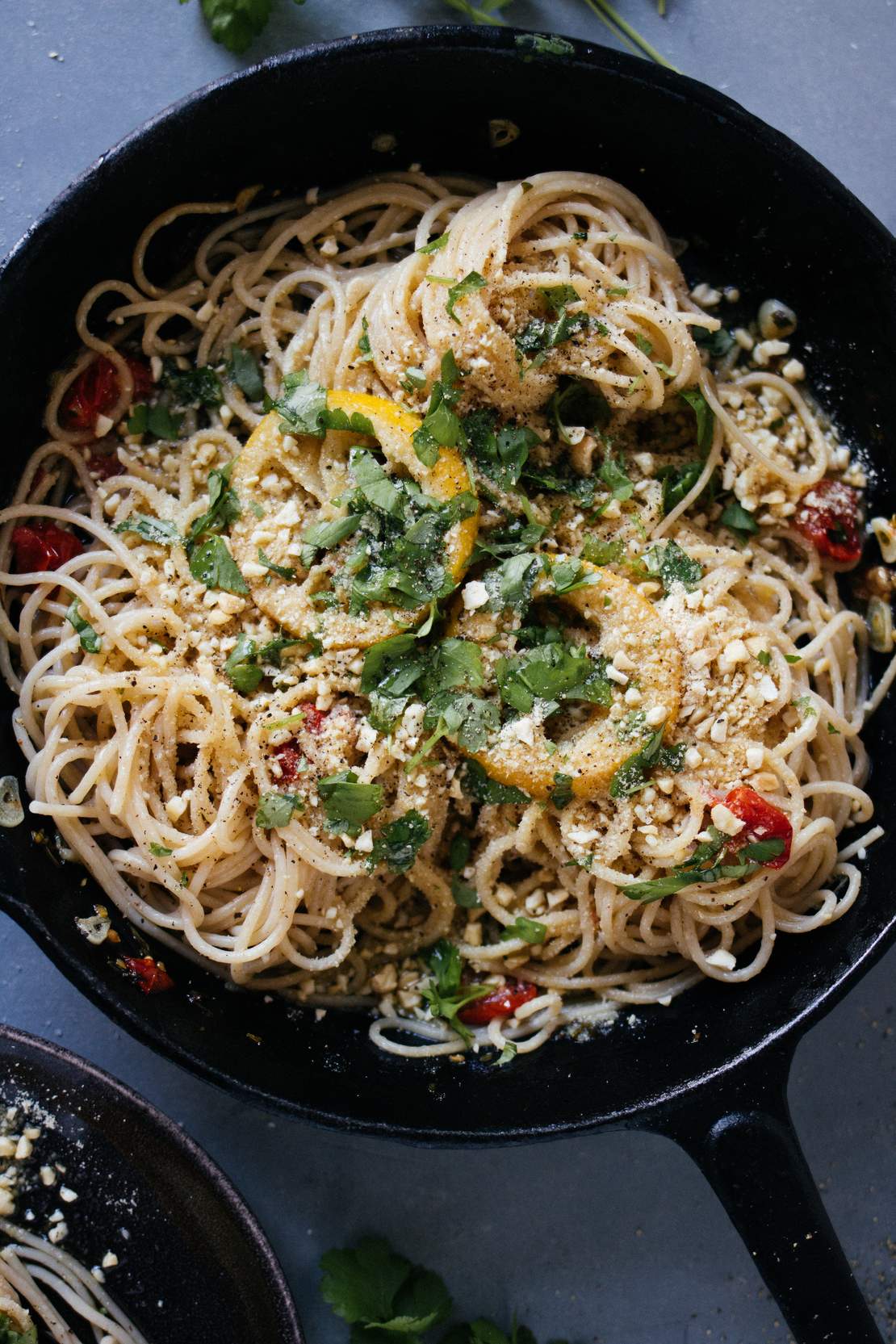 Simple Spaghetti Aglio e Olio
Ingredients
500 g (17.6 oz) spaghetti
a lot of high quality olive oil
2-3 cloves of garlic
2 small chilis
2 lemons
10 g (0.35 oz) fresh parsley
10 small, fresh tomatoes
salt&pepper
vegan parmesan (recipe on the blog)
Instructions
Bring a large pot of salted water to a boil. Cook the spaghetti in the pot and let drain.
Peel and slice garlic. Wash one lemon and both chili and cut into slices as well.
Wash the parsley, shake dry and chop. Wash and halve the tomatoes.
Cover the bottom of a pan with olive oil and heat. Add the garlic, chili and lemon slices and fry well for 3-4 minutes.
Add parsley and tomatoes and fry for another 2-3 minutes.
Add the pasta and stir in the oil. Season with salt and pepper and more olive oil. Garnish with more parsley, fresh lemon juice, vegan parmesan, and fresh tomatoes.
Vegan Parmesan Cheese
150 g (5.5 oz) vegan parmesan cheese
5 minutes
Ingredients
100 g (3.5 oz) cashews
50 g (2 oz) chopped almonds
3 tbsp nutritional yeast
1 tsp sea salt
0.5 tsp garlic powder
Instructions
Add all ingredients to a food processor and mix until you get fine crumbles. No worries, in case there should be bigger chunks left, that just makes your vegan parmesan a bit crunchy.
Store in an airtight container or jar and sprinkle on top of your pasta dishes or mix it into your pesto.