Tagliatelle with Cauliflower Tomato Sauce
When I cook for people who are not vegan, I often end up with vegan bolognese. Everyone likes this dish. And because I've been repeatedly cooking our rather classic soy bolognese recipe, it became somewhat known in our circle of friends. Some of them stuck with the vegan recipe even though they usually eat meat, which is the best compliment we can get! But of course there are also people who can't eat soy, like my sister. That's why I started looking for soy-free alternatives and the easy-care vegan bolognese is a grateful project for it. I think if we're being honest, minced meat is simply not the most important detail about this dish anyway. It's much more about a flavorful sauce and pasta cooked al dente. As soon as you have something that adds the right bite to a bolognese, it doesn't really matter whether this is because of minced meat, soy, lentils, or even cauliflower which we'll use in this recipe.
In order to turn a large cauliflower into bolognese, it needs to be chopped first. You can either let a food processor do all the work for you, or grab a large knife and do it yourself. For the latter, it makes sense to work in "batches" of cauliflower, so you don't cause a big chaos in your kitchen. Unlike soy meat, the cauliflower bolognese should simmer (covered with a lid) for a while to soften the cabbage.
With this amount of cauliflower you will definitely serve a very healthy bolognese version, which is actually more digestible than you might think when hearing "cabbage". Cauliflower is actually known for being wholesome for people with sensitive stomachs and intestines.
As a topping for any kind of bolognese, we recommend a vegan parmesan mix made from nuts, nutritional yeast, and spices.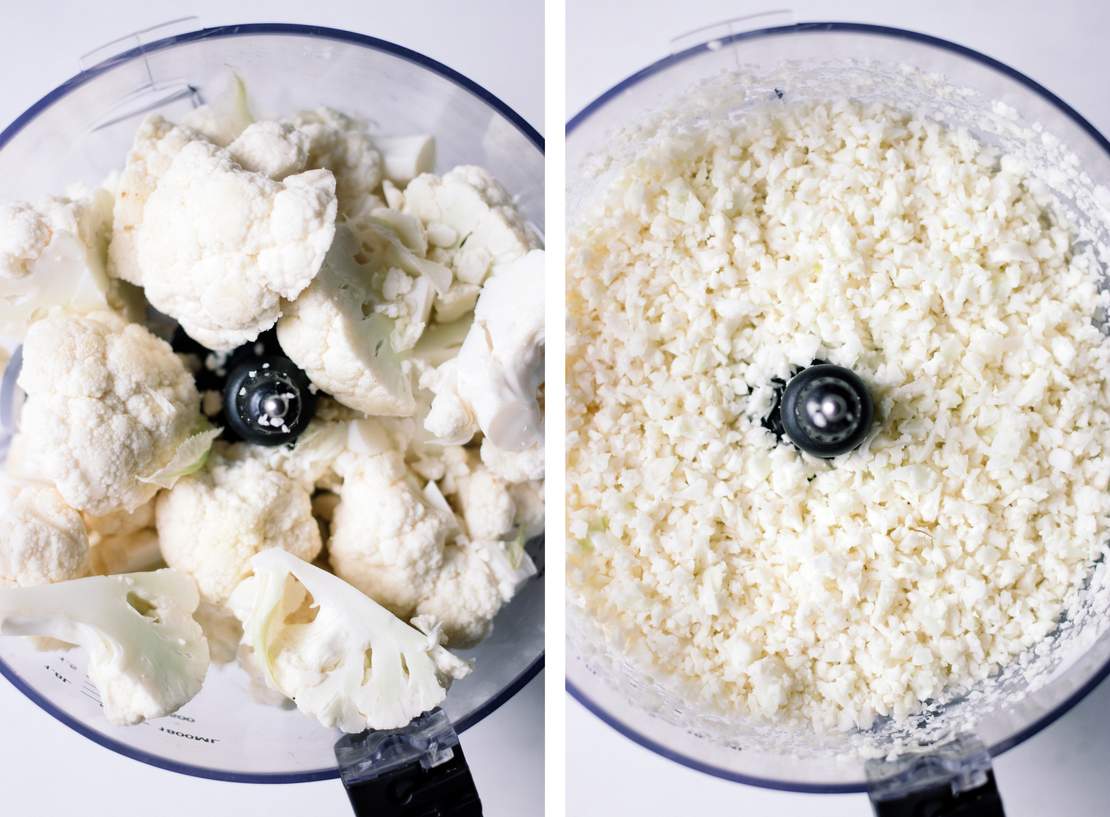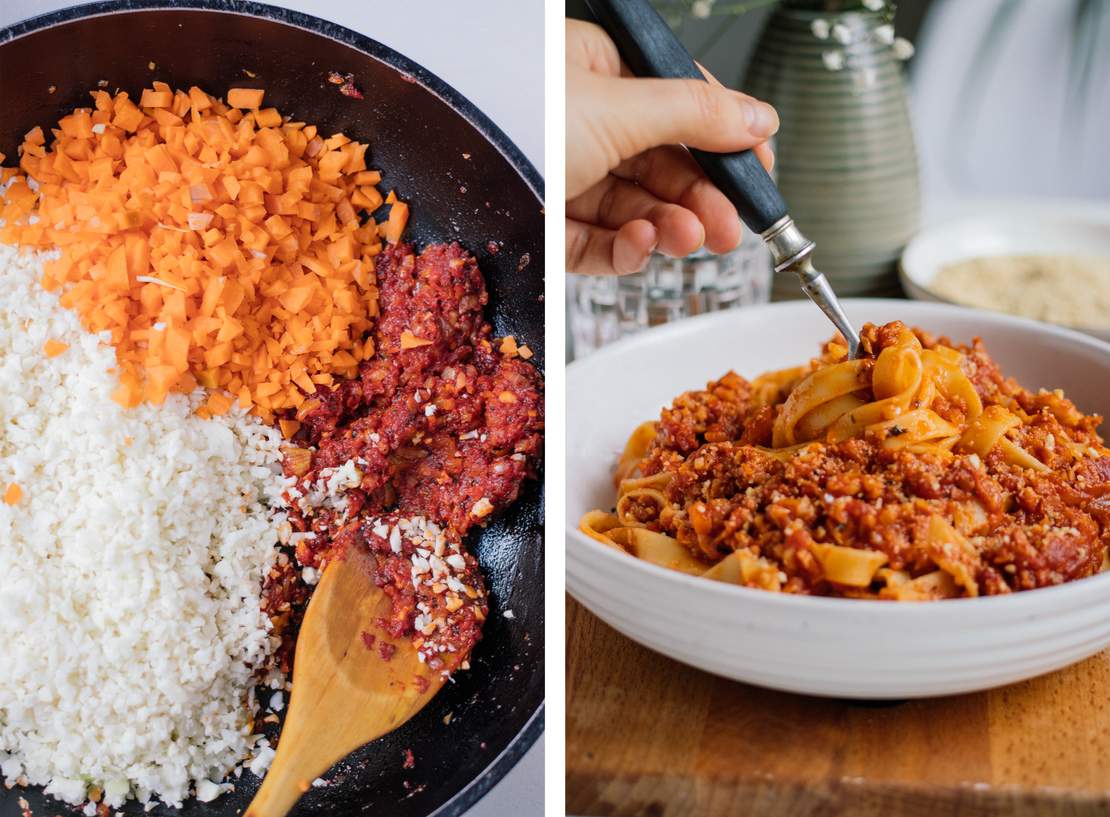 Tagliatelle with Cauliflower Tomato Sauce
Ingredients
400 g (14 oz) tagliatelle
500 g (18 oz) cauliflower
2 onions
2 garlic cloves
1 carrot
4 tbsp tomato paste
1 tsp dried basil
1 tsp dried oregano
0.5 tsp chili flakes
3 tbsp vegan red wine
400 g (14 oz) chopped canned tomatoes
1 tsp maple syrup
vegetable oil for frying
vegan Parmesan cheese for serving
salt
pepper
Instructions
Peel and finely chop onions and garlic. Use a food processor or a large knife to finely chop the cauliflower until it's the size of rice grains. Peel and chop carrot.

Heat vegetable oil in a large frying pan and fry onions until translucent. Add garlic and keep frying for 1 minute. Then add tomato paste, dried basil, oregano, and chili flakes. Keep frying for approx. 2-3 minutes, or until the tomato paste turns darker. Add chopped cauliflower and carrot, stir to combine, and season with salt and pepper. Fry for approx. 5 minutes.

Deglaze with red wine, then add chopped tomatoes and maple syrup. Cover with a lid and simmer for approx. 20 minutes, the cauliflower should soften now. Then remove the lid and keep simmering the sauce for approx. 10 minutes. Season with salt and pepper to taste.

While the sauce simmers, cook pasta according to package instructions. Before draining them, reserve one cup of the cooking water and set aside. Drain pasta, then directly add them to the cauliflower tomato sauce and toss to coat. Add as much of the cooking water as needed until a smooth sauce forms and sticks to the pasta. Serve with vegan Parmesan cheese.