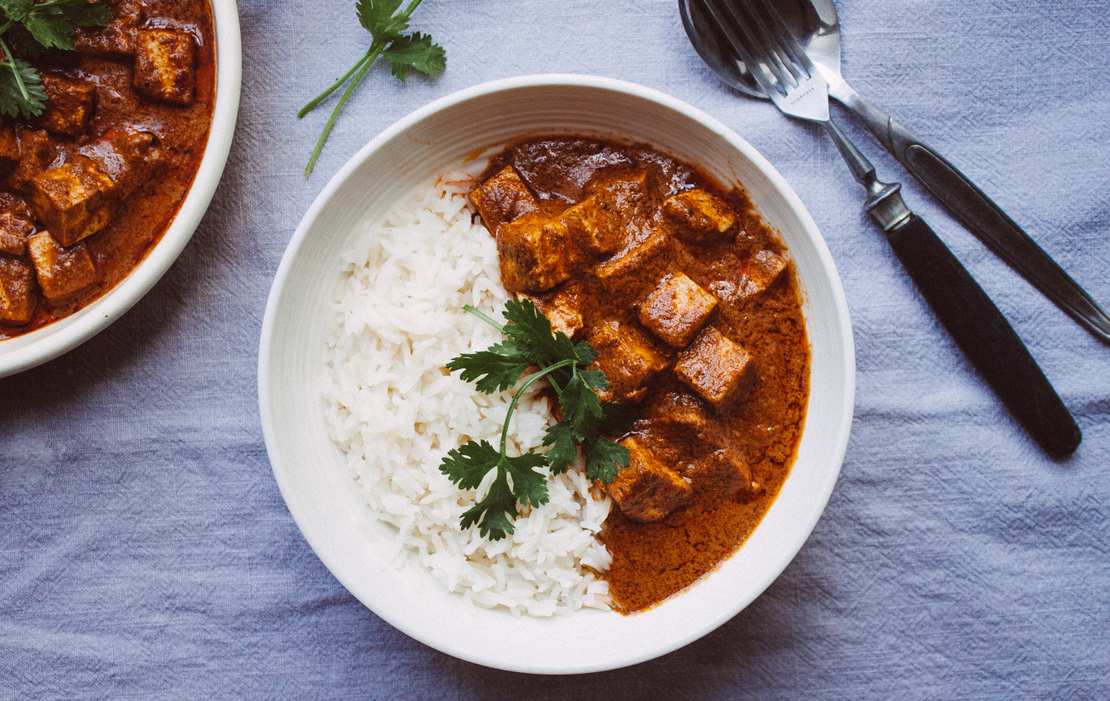 Tikka Masala is probably one of THE Indian curry dishes that we could always eat. But in fact, it's not even 100% Indian, but rather a beautiful combination of British and Indian food culture. Chicken Tikka is the Indian part and the sauce comes from the British side. There are several stories about the origin of this dish. One features a British man who ordered Chicken Tikka in an Indian restaurant and complained that the dish was too dry. The chef poured a can of Campbell's tomato soup on it and there we have Tikka Masala. That would actually be a nice story, but who knows.
"Normally" you'll find chicken in this spiced tomato sauce, but this is very easy to avoid. We love to eat it with tofu or vegetables. So if you're allergic to soy, simply switch out tofu with potatoes, sweetpotato, carrots, or else. Or maybe chickpeas? Bell pepper? You can do whatever you like!
There are probably 10000 recipes for this dish - this one is our favorite one. If you have any more tips or your own twists of the recipe, let us know in the comments!
Tofu Tikka Masala
Ingredients
FOR PASTE:
2 shallots
3 cloves garlic
25 g (1 oz) ginger
3 tbsp coconut oil
3 tbsp garam masala
1 lime (juice)
1 tsp ground cilantro
1 tsp cumin
1 tsp chili pepper
1 tsp paprika
1 tsp white pepper
1 tsp pepper
ALSO
200 g (7 oz) rice
2 tbsp coconut rice
400 g (14 oz) tofu
3 tbsp tomato puree
100 g (3.5 oz) sieved tomatoes
300 ml (1.25 cups) coconut milk
2 tbsp vegan butter
2 tbsp plant-based yogurt
salt & pepper
Instructions
Add all ingredients for the paste into a bowl and blend with a hand mixer until a smooth paste forms.

Prepare rice by adding rice and 300 ml water (the ratio should always be rice:water - 1:1,5) to a saucepan and add salt. Bring to boil, then reduce the heat and let simmer for approx. 20 minutes until all water is soaked in by the rice which should be soft by now. If it's still too firm for your taste, you can add some more water and wait until it's all soaked in again.

Dice tofu in the meantime. Heat coconut oil in a large frying pan, then add paste on low heat. Add diced tofu and fry for approx. 6-8 minutes. Add tomato puree and fry for another 2-3 minutes. Add sieved tomatoes and coconut milk and stir until a creamy sauce forms. Let simmer for at least 10 minutes. Season with salt and pepper to taste.

Remove from heat and then add vegan butter and plant-based yogurt. Stir again and serve with rice.