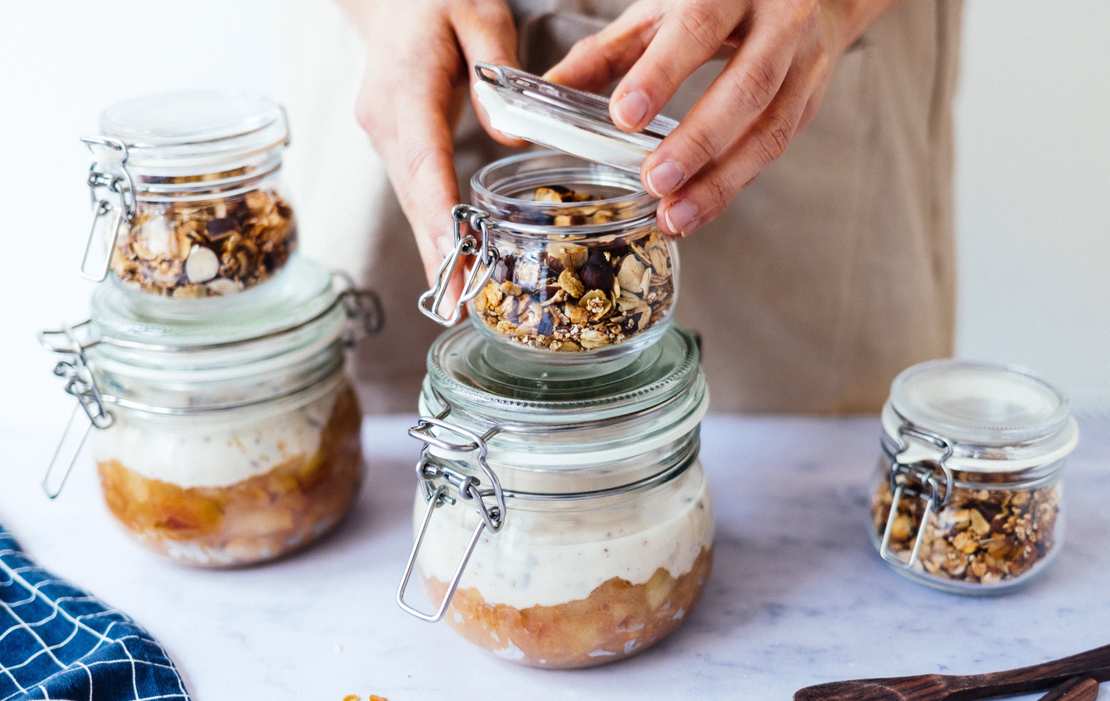 Vegan Apple Crumble Yoghurt
It's finally Veganuary again, and, as every year, we asked you what topics interest you the most during this time. One of the most mentioned answers was the topic "Meal Prep", so the preparation of meals. Of course, we are very happy to comply with this request and have already conjured up a homemade instant pasta with tomato sauce for you this week. Today we show you a sweet breakfast so the good old sandwich can lean back for a moment.
We prepared our "Apple Crumble Yogurt" like a construction kit, which you can, of course, adapt depending on the season or taste. There is a fruity, crunchy, and creamy ingredient, which together provide a filling, but still fresh breakfast. The amount of the recipe is enough for five small to normal breakfast servings. However, if you are very hungry, we'd rather recommend the amount for three servings.
The quick granola: Usually, granola is made of dry components (like oatmeal, nuts, and seeds) and liquid ingredients (like nut mush, mashed banana, or applesauce) mixed and baked in the oven. We've come up with a slightly simpler and, most importantly, faster version for which you only need one pan and significantly fewer ingredients. We roast oat flakes, hazelnuts, and amaranth in a pan until it smells delicious. Of course, you can also use other nuts or pseudocereals at this point. You can prepare the granola on the weekend and store it in smaller jars. This way, it stays crunchy for several weeks. You should keep the granola separate from the wet ingredients anyway, so it stays crunchy until the last second.
The fruit puree: Especially in autumn and winter, the choice of fresh fruit is somewhat limited. Therefore, we have prepared the recipe with apples since you can actually buy them regionally all year round. In spring, of course, a rhubarb compote is also great, and in summer, countless berries are perfect for your breakfast. You can also prepare the fruit puree quite relaxed on the weekend. It is best to fill it while it's still hot into clean and washed jars. It will keep for several weeks in the refrigerator.
The plant-based yogurt: Between the homemade applesauce and quick granola, we layered Lughurt Stracciatella from LUVE. For us, it's one of the best plant-based yogurt alternatives that reminds us very much of our childhood. Therefore, we almost have to control ourselves a bit to not eat the whole Lughurt already on Monday, oops! In any case, we love the combination of apple and chocolate and can only recommend it to you.
All products of LUVE are produced from lupines from Mecklenburg-Vorpommern in Germany and thus support regional agriculture. The products are also naturally lactose-, soy- and GMO-free and come without artificial colors or flavor enhancers. We regularly have LUVE products in our office because besides vegan yoghurt LUVE also has plant-based cream cheese, drinks, ice cream, and more! You can find the products at EDEKA, real, Kaufland, REWE, or at online delivery services and the online stores "Vantastic Foods" and "Kokku".
Vegan Apple Crumble Yoghurt (as breakfast to go)
5 small servings / 3 large servings
30 minutes
Ingredients
8 apples
1 tsp cinnamon
1 lemon (juice)
300 ml (1.25 cups) water
90 g (1 cup) seeded oat flakes
60 g (2 oz) chopped hazelnuts
10 g (0.33 oz) puffed amaranth
2 tsp agave syrup
600 g (2.5 cups) vegan stracciatella yogurt (e.g. Lughurt Stracciatella from LUVE)
Instructions
Wash, core, and dice the apples. Transfer apple pieces to a saucepan. Add cinnamon, juice of one lemon, and water and let simmer over medium heat for about 20 minutes until apple pieces are completely soft and crumble a little. Stir several times while simmering.

Toast the oats, hazelnuts, puffed amaranth, and agave syrup in a non-stick pan over low-medium heat for about 10 minutes, until deliciously fragrant.

Layer the plant-based stracciatella yogurt and applesauce in a canning jar or can. It's best to keep the granola in a separate container to keep it crunchy and spread it on top of the vegan yogurt just before eating.