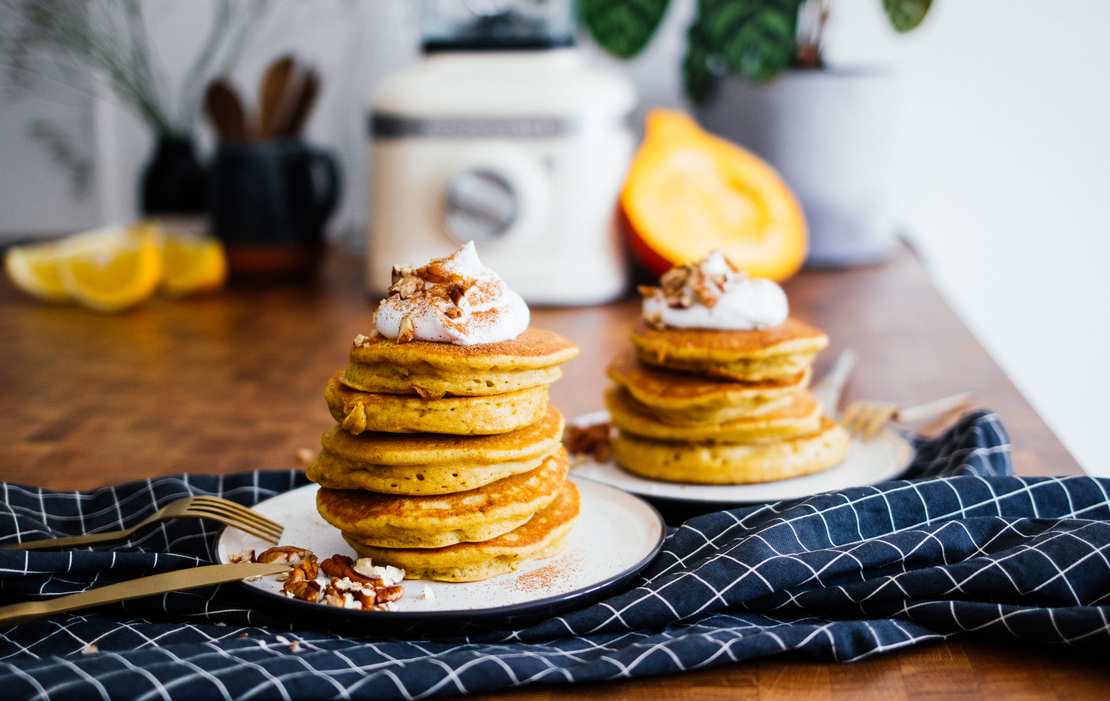 Vegan Pumpkin Spice Pancakes
We just love to combine sweet recipes with pumpkin. When thinking of pumpkin recipes, what comes to most people's mind are pumpkin soup or roasted vegetables. But by the third place latest we think of something sweet, like our vegan pumpkin snickerdoodles or this vegan pumpkin cake with tahini orange frosting. Today, we've prepared another sweet pumpkin recipe for you AND added some pumpkin pie spice on top. It's time for vegan pumpkin pancakes!
We've used Hokkaido pumpkin for this recipe which is great because you don't have to peel it (to save yourself some time). But you could also use butternut pumpkin which doesn't need to be peeled either but takes a bit longer to cook. If you want to save even more time to enjoy a calm breakfast, cook the pumpkin the day before. This way, you only need to mix all the ingredients the next morning.
For this recipe we used a homemade pumpkin pie spice mixture, which is done super easy and fast (check out the recipe below). If you're lucky you could find a pre-made mixture in your supermarket, which you can use just as well.
We prepared the pancake batter directly in the K400 Artisan Blender by Kitchen Aid. We started by blending the cooked pumpkin with plant-based milk, then added all other ingredients until a smooth batter forms. But of course this blender doesn't just come handy when you're preparing pancakes, but is also a great small kitchen appliance for soups, nut butters, dips, purees, sauces, smoothies, and more. It works with a 3-part system: asymmetric stainless steel blades, a ribbed blender made out of glass that pulls back the ingredients into the mixing swirl, and the intelli-speed motor with 1.5 HP that is able to identify what's in the blender to maintain the optimal speed of mixing. And last but not least: this blender is also a beautiful gadget on any kitchen counter, isn't it?
Pumpkin Pie Spice
Ingredients
2 tbsp cinnamon
1 tsp ground ginger
0.5 tsp ground allspice (pimento)
0.5 tsp nutmeg
Instructions
Mix all spices in a small bowl.
Vegan Pumpkin Spice Pancakes
Ingredients
For the batter:
200 g (7 oz) Hokkaido pumpkin
200 ml (1 cup) plant-based milk
1-2 tsp pumpkin pie spice
200 g (1.66 cup) flour
80 g (0.5 cup) sugar
8 g (1 tsp) baking powder
1 pinch salt
vegetable oil for frying
Toppings:
50 g pecans
200 ml (1 cup) vegan whippable heavy cream
8 g (1 tsp) whipping cream stiffener
8 g (1 tsp) vanilla sugar
1 tsp pumpkin pie spice
Instructions
Bring a pot of water to a boil. Halve and deseed the pumkin, then chop into smaller chunks. Add the pumpkin to the boiling water and simmer for approx. 10 minutes, or until soft.
Drain and add the cooked pumpkin and plant-based milk to blender. Mix for approx 30 seconds.
Add pumpkin pie spice, flour, sugar, baking powder, and salt. Mix on medium speed for approx. 1 minute until a smooth batter forms.
Heat a non-stick frying pan over medium heat. Add some vegetable oil followed by a dollop of the batter. Bake from both sides until golden brown. You know that it's time to flip when you can see small bubbles on the surface of the pancake batter. Remove the pancake from the pan and repeat with remaining batter.
For the topping, chop pecans and beat vegan heavy cream with stiffener and vanilla sugar until stiff. Top your pancakes with a dollop of vegan whipped cream, some chopped pecans and extra Pumpkin Pie Spice.