Vegan Gooseberry Crumble with Coconut Crumbles
The short gooseberry season starts at the beginning of July, which then lasts until August. Unfortunately, gooseberries have been neglected on the blog among all other berries. To counteract this, we have thought a few thoughts, and this wonderful crumble with coconut sprinkles and white chocolate jumped out for you. Here you have not only a new flavor combination of the classic crumble but, at the same time, a quick and easy way to use up lots of (maybe even self-harvested?) seasonal fruit.
The crumble is a very simple and quick recipe for summer because you can quickly knead the dough for the crumble with ingredients from the pantry, put it over the gooseberries and bake everything at once. Of course, the filling can also be changed individually here because I can imagine that almost any fruit fits the coconut and white chocolate combination.
However, especially frozen fruit or fruits such as strawberries and apples must be cooked with cornstarch beforehand so that the crumble does not float away in a fruit sauce at the end. To do this, cut the fruit into bite-sized pieces and place them in a pot. Now add enough water to cover the bottom of the pot. Optionally, you can also add sugar, cinnamon or agave syrup. In a measuring cup, mix about two tablespoons of cornstarch with 50 milliliters of cold water. While you let the fruit boil, you can gradually add some of the starch water mixture until you reach the desired consistency.
Depending on your mood, you can also double the amount of fruit (or crumbles, if Isa has her way). We also recommend serving the dessert warm and with vegan whipped cream, ice cream or yogurt. It makes the whole thing even creamier!
We baked the crumble in several small baking dishes so that the portions are already evenly divided. But you can also put it together in one big pan – and everyone can choose their share.
If you don't like coconut or are looking for other crumble variations, you can also find the Chocolate Crumble with Plums, a Crumble with Rhubarb and Vanilla Ice Cream,, Cherry Cobbler or the Christmas Edition with Baked Apple and Marzipan on the blog.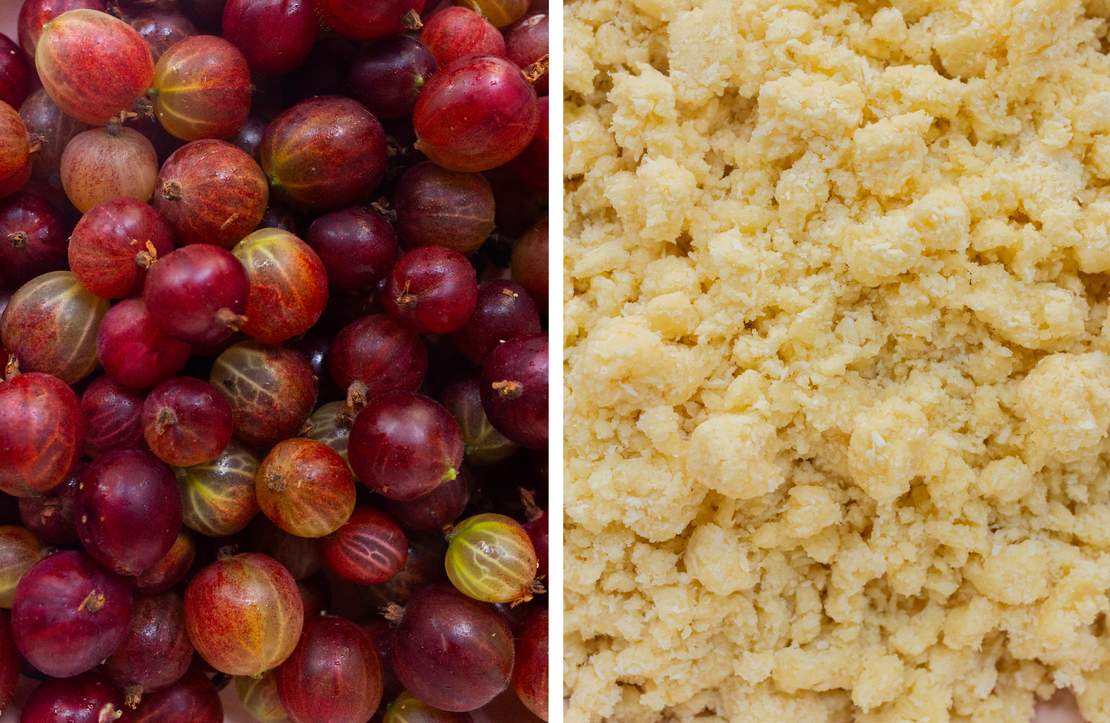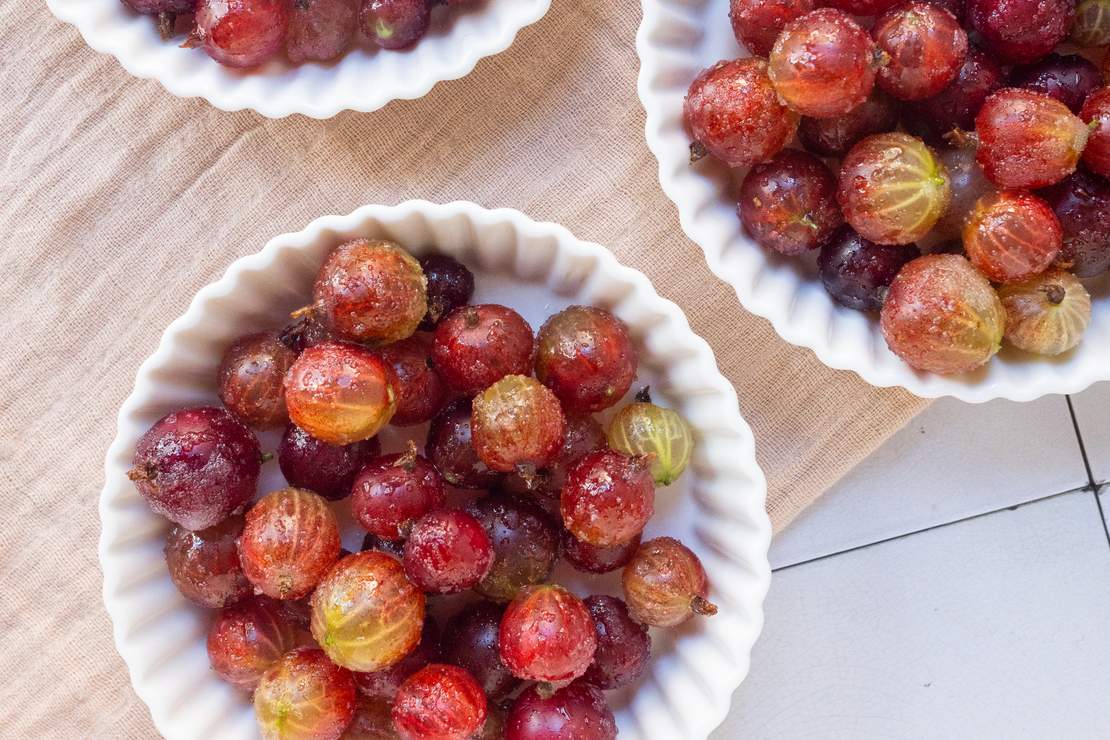 Vegan Gooseberry Crumble with Coconut Crumbles
1 Crumble (20 x 25 cm / 7.8 x 9.8 inch) or 6 servings
15 Minutes (+ 30 Minutes Baking Time)
Ingredients
For the coconut crumbles::
120 g (0.5 cup) sugar
180 g (1.5 cups) wheat flour
100 g (0.8 sticks) plant-based margarine
100 g (0.75 cup) coconut flakes
Also:
800 g (28 oz) gooseberries
50 g (0.25 cup) sugar
vegan butter for greasing
100 g (3.5 oz) vegan white chocolate (melted)
Instructions
Knead together the ingredients for the crumbles. Remove the stalks from the gooseberries, wash them and mix them with the sugar.

First put the gooseberries, then the crumbles in a greased baking dish (20 x 25 cm) or into multiple smaller dishes.

Bake the crumble at 180 °C / 350 °F (convection heat) for about 30 minutes. Let cool and decorate with melted white chocolate.