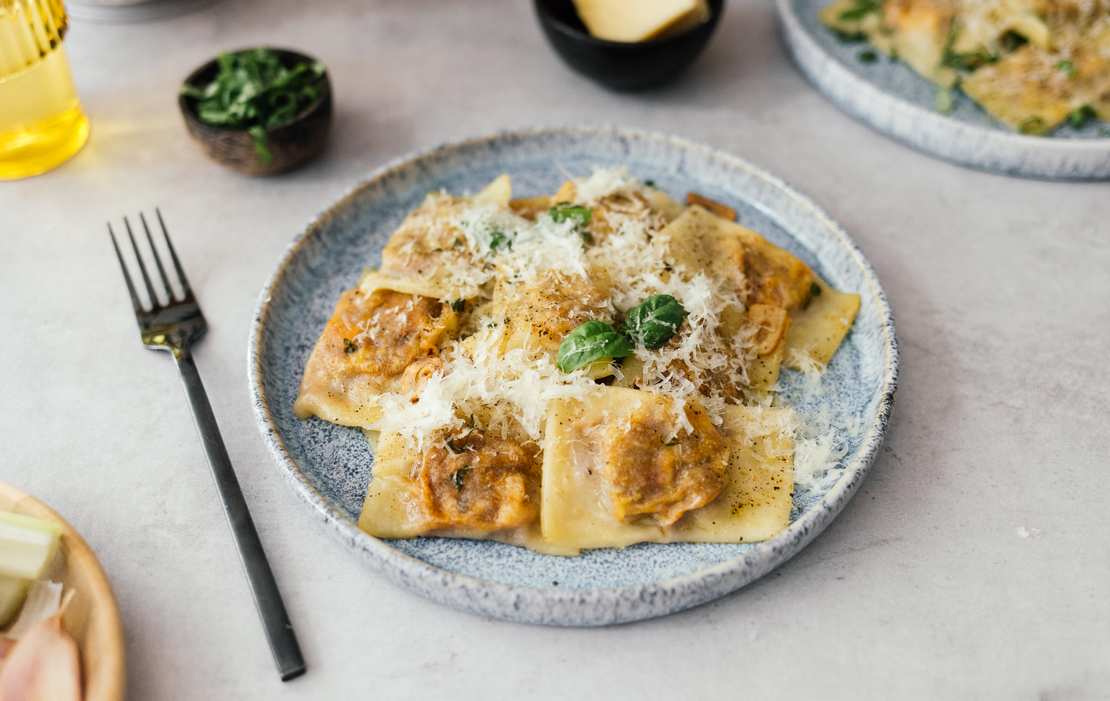 Vegan Bolognese Stuffed Ravioli
Spaghetti Bolognese is definitely one of the top 3 dishes I've eaten the most often in my life. Of course, it was also one of the first recipes on our blog - even though we have so far always deviated from the classic Italian Bolognese. Traditionally, its basis is "soffritto," which is finely chopped onions, carrots, and celery. Unfortunately, I don't like celery at all and have always left it out. Today, however, it may also go in the pot - everything else will be different than usual, though.
The vegan Bolognese today is no sauce but the filling for our homemade ravioli. At this point, I have to say: I like homemade pasta very much, but I understand why many people (including me) rarely do this extra work. Store-bought pasta tastes just fine, too. My exception, however, is any filled pasta shapes because I find that they always taste the same (dull) when bought - no matter what filling they have. You just can't taste any difference - unlike homemade tortellini, ravioli, and co. This is why they are unbeatable for me and always worth preparing at home. And today, the classic Bolognese sauce simply ends up IN the pasta and not around it. But because you're already having a lot of work when doing ravioli yourself, the actual sauce in this recipe is going to be easy peasy. It's made with melted vegan butter, almond butter, garlic, and basil, and the cooked ravioli get tossed in it just before serving.
Another little shortcut in today's recipe is the "Bauck Bio VeggieMix Bolognese" from Bauckhof, which you can prepare quickly and easily. The ready-to-cook mix is based on red lentils, green spelt, and oat groats – and tastes fantastic. It just needs to be mixed with canned tomatoes and water before cooking it – just like that it could be served as a sauce. Actually, you would use significantly more water and tomatoes for this than indicated in this recipe – that's simply because we don't want our filling to be too runny. But the simple preparation remains the same. We are definitely big fans of all the veggie mix varieties and of Bauckhof anyway. You can find their organic products online and in organic food stores. You can find even more recipes with their products here on our blog!
Vegan Bolognese Stuffed Ravioli
3-4 servings (approx. 30-40 ravioli)
60 minutes
Ingredients
For the pasta dough:
100 g (0.66 cup) durum wheat semolina
150 g (1.25 cups) wheat flour type 405
1 pinch of salt
125 ml (0.5 cup) water
For the filling:
1 package Bauckhof Bolognese
100 g (3.5 oz) chopped canned tomatoes
250 ml (1 cup) water
1 celery stalk
1 carrot
1 red onion
2 tbsp tomato paste
vegetable oil for frying
salt
pepper
For the sauce:
2 cloves of garlic
15 g (0.5 oz) basil
50 g (0.5 stick) vegan butter
1 tsp white almond butter
vegan parmesan cheese to serve
Instructions
For the pasta dough, mix semolina, wheat flour, and a pinch of salt. Slowly add water and mix the ingredients by hand or with a stand mixer to form a smooth dough. If necessary, add a little more water. Then let the pasta dough rest at room temperature for at least 30 minutes.

In the meantime, prepare the filling. Pour the vegan bolognese mixture, canned tomatoes, and water into a saucepan. Bring the mixture to a boil once and then simmer over medium heat for about 15 minutes. If it becomes too thick, add a little more water.

At the same time, finely dice celery, carrot, and onion. Heat vegetable oil in a pan and sauté the vegetables over medium heat for about 10 minutes, then stir in tomato paste and season with salt and pepper. Sauté for another 5 minutes.

Mix the sautéed vegetables with the vegan bolognese mixture. Make sure the mixture is not too runny so it doesn't spill on the pasta dough. If the filling is too liquid, let it simmer longer. Season again with salt and pepper before filling.

Quarter the pasta dough and hand roll out each dough with a pasta machine or rolling pin into long, thin (about 1 mm / 1/32 inch thick) sheets. If the dough sticks a bit, dust it with some durum wheat semolina. For each ravioli, place a dollop (about 1 tsp) of the filling on one pasta sheet - the fillings should be about 3 cm / 1 inch apart. Brush the dough around the filling with a little water, then fold the dough over the filling from the long side, pressing down gently but thoroughly so as little air as possible remains in the ravioli. Straighten the edge of the pasta dough with a knife and cut the pasta sheet into individual ravioli. Repeat with the remaining pasta dough and filling.

Bring a pot of salted water to a boil. Cook the ravioli in it for approx. 5 minutes.

In the meantime, thinly slice the garlic and cut basil into strips. Melt vegan butter in a large pan, stir in almond butter and sweat the garlic slices in it for a few minutes over low heat.

Transfer the cooked ravioli directly from the pot to the pan and toss in the melted butter sauce. Then add the basil and toss again just briefly.

Serve the Bolognese ravioli directly and sprinkle with plenty of vegan parmesan cheese if desired.