One-Pot Pasta with Savoy Cabbage and Plant-Based Mince
When I think of hearty dishes, I directly think of casseroles, stews, and classic comfort food – dishes that often take several hours to prepare because they have to simmer for a long time, are baked in the oven or contain many animal products. But don't be fooled by these thoughts because, of course, you can also cook deliciously hearty vegan meals – and it doesn't take forever, I promise!
When it comes to such vegan comfort food, the "secret ingredient" is often cabbage. It adds a great hearty touch to dishes and is pretty easy to prepare. For our one-pot pasta (aka pasta stew), we cut savoy cabbage into strips and add it to our pot at the end. Before that, plant-based mince, onions, bell peppers, and spices are sautéed, then deglazed with vegetable stock. To ensure we only use one pot, we add small pasta, which can be cooked directly with all the other ingredients. It's quickly made, wonderfully hearty, and vegan, as promised!
If you now also feel like cooking a hearty pasta stew at home, we recommend you to stop by Byodo in an organic market or their online store beforehand. Byodo is a natural food company from Upper Bavaria which produces products exclusively from 100 % organic ingredients and pays attention to sustainable action and environmentally conscious production.
For our one-pot pasta, we used their light croissant-shaped pasta, their tomato and vegetable paste, their Mediterranean olive oil for frying, and their sea salt. The durum wheat semolina for the pasta comes from Italy, where Byodo's pasta is also produced. Therefore, it's an original Italian pasta! The pasta gets a rougher surface because of a traditional Italian manufacturing process with bronze matrices (instead of Teflon) which makes the pasta absorb the sauce particularly well. Byodo is currently converting all packaging to FSC-certified paper packaging, which we think is really great. The packaging can be disposed of as usual via waste paper and is recyclable.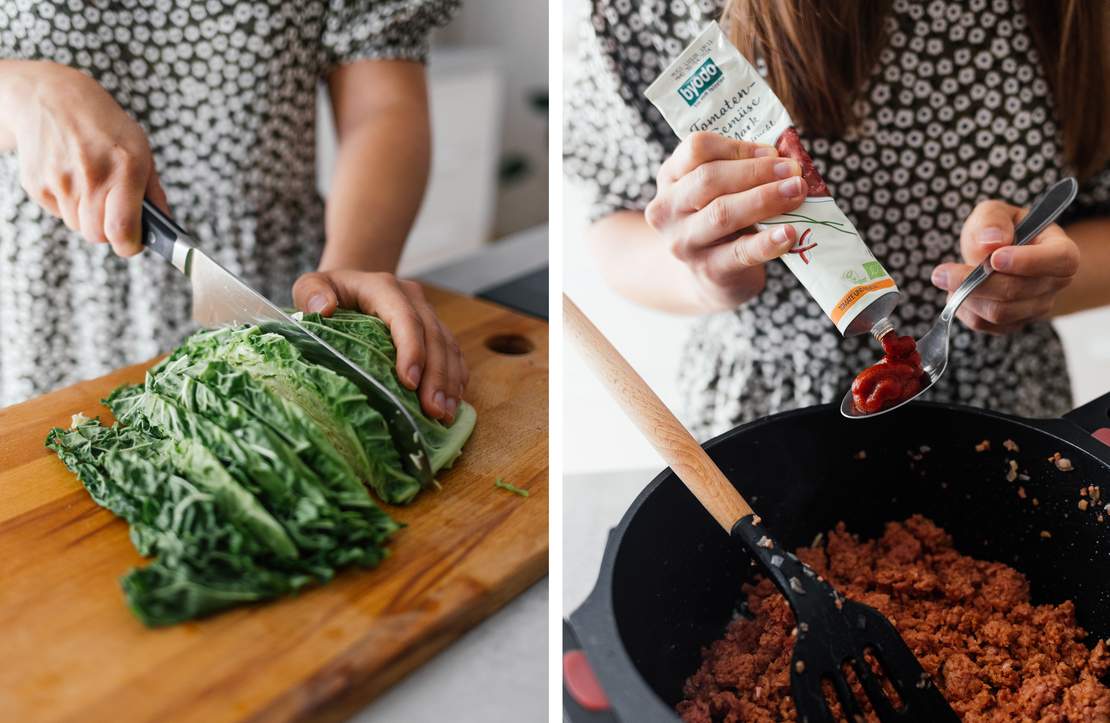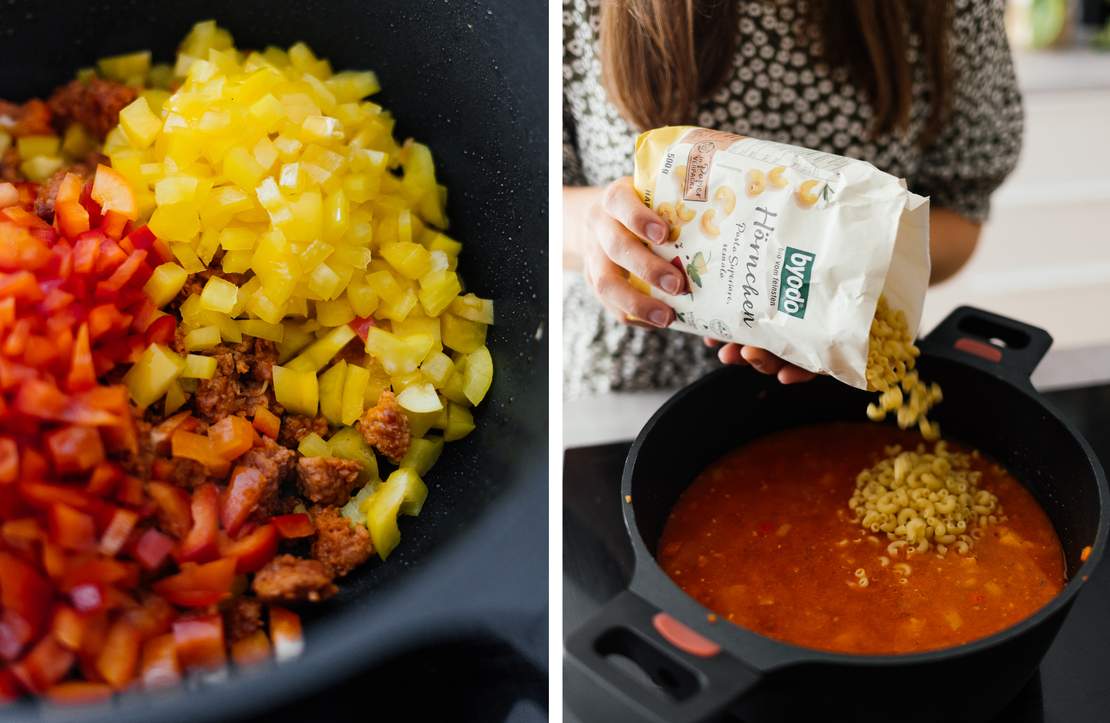 One-Pot Pasta with Savoy Cabbage and Plant-Based Mince
Ingredients
1 onion
1 garlic clove
500 g (18 oz) savoy cabbage
1 red bell pepper
1 yellow bell pepper
500 g (18 oz) vegan fresh mince
1 tsp sweet paprika
0.5 tsp ground nutmeg
3 tbsp tomato and vegetable paste (e.g. from Byodo)
1 l (4 cups) vegetable broth
250 ml (1 cup) strained tomatoes
250 g (9 oz) pasta (e.g. from Byodo)
2-3 tbsp nutritional yeast
300 g (10.5 oz) vegan crème fraîche
Mediterranean olive oil for frying (e.g. from Byodo)
fresh parsley
premium sea salt (e.g. from Byodo)
pepper
Instructions
Peel and finely dice onion and garlic. Next, cut savoy cabbage into thin strips and dice both bell peppers.

Heat olive oil in a large pot over medium heat. Add diced onion and sauté for approx. 2-3 minutes, or until translucent. Then add garlic and continue to sauté for about 2 minutes. Now add the vegan mince, paprika, nutmeg, and tomato paste. Sauté until everything is well browned.

Add the diced bell peppers and sauté briefly. Then pour in vegetable broth and strained tomatoes, add the pasta and cook until al dente. About 2-3 minutes before the indicated cooking time, stir in savoy cabbage.

Season the one-pot pasta with nutritional yeast, paprika, nutmeg, salt, and pepper. Serve with a dollop of vegan crême fraîche and fresh parsley.