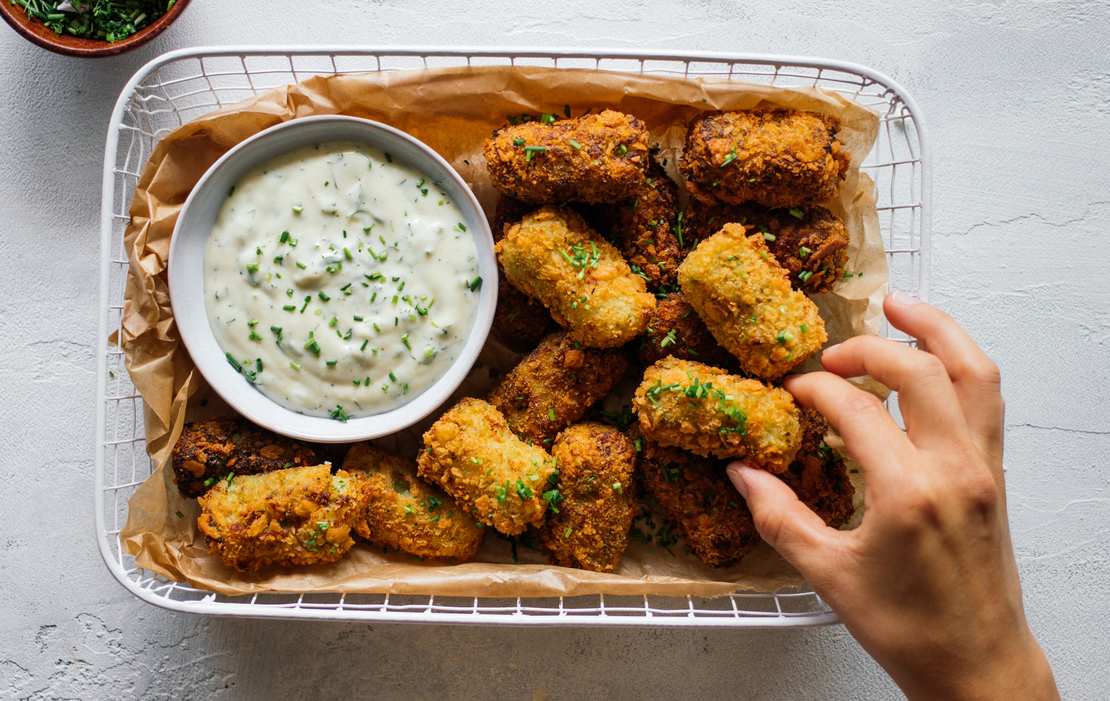 Vegan Broccoli Tater Tots with Herb Dip
Crispy on the outside, soft on the inside - that's how the perfect potato croquettes should be. We already have a recipe for classic croquettes as a side dish on the blog, but for today's recipe, we added some broccoli. The croquettes were so delicious that we served them right away as a snack with an herb dip. But of course, you can also kick the dip and eat them as a side dish.
I tested a few things with this recipe, and my learnings might help you to adjust this dish.
Pan-frying, deep-frying, or baking? I tried all three methods, and here's my (maybe not too surprising) verdict: for me, deep-frying is the absolute best way to prepare croquettes. They become evenly golden brown and crispy on the outside, plus it's the fastest method and takes only a few minutes. However, I think that pan-frying is a good alternative if you are afraid of deep-frying or want to use less fat (just always remember to flip the croquettes while frying). Even though you don't need any fat when baking croquettes, they are also the least crispy. Baking also takes the longest, so the filling had enough time to lose its shape. It was quite unsatisfying. But try it yourself and tell us how you like to prepare croquettes the most!
Breadcrumbs, panko, or none of these? I admit that it's not always easy to find panko while grocery shopping. The Japanese breadcrumbs are much coarse than fine breadcrumbs, but that's exactly what makes the breading super crispy in the end. It's why I only use panko these days, but I get that not everyone has an Asian market or a well-equipped supermarket nearby, so you can, of course, also use fine breadcrumbs. Just make sure to pick one of them as unbreaded soft croquettes are just not the deal.
Vegan Broccoli Tater Tots with Herb Dip
approx. 15 tater tots
45 minutes
Ingredients
For the tater tots:
400 g floury potatoes
150 g broccoli
2 tbsp flour
1 tsp vegan butter
salt
pepper
nutmeg
flour for breading
plant-based milk for breading
panko breadcrumbs for breading
vegetable oil for frying
parsley for serving
For the dip:
150 g plant-based yogurt
30 g vegan mayonnaise
1 tsp lemon juice
5 g chives
5 g parsley
5 g dill
2 tsp mustard
0.5 tsp onion powder
0.5 tsp garlic powder
salt
pepper
Instructions
Add potatoes to a pot, cover with water, and season with salt. Bring to a boil and let potatoes simmer for approx. 15-20 minutes, or until soft. Cut broccoli into florets and add to the pot of potatoes approx. 2 minutes before the end of the cooking time.

While the potatoes cook, prepare the herb dip. Finely chop chives, parsley, and dill, then add to a bowl. Add vegan yogurt, vegan mayonnaise, lemon juice, and mustard, and stir to combine. Season with onion and garlic powder, salt, and pepper to taste. Refrigerate until serving.

Drain potatoes and broccoli and rinse under cold water. Finely chop broccoli and set aside. Let potatoes cool down to touch, then peel and mash them roughly – it's totally fine to end up with some chunks.

Mix mashed potatoes, chopped broccoli, flour, and vegan butter in a bowl. Season generously with salt, pepper, and nutmeg.

For the breading, prepare three shallow bowls – one with flour, one with plant-based milk, and one with panko breadcrumbs. Form the potato-broccoli mixture into small tater tots by hand. First, roll them into flour, then in plant-based milk, and finally cover them in breadcrumbs from all sides. Repeat with the remaining potato mixture.

Heat vegetable oil in a small pot or a small and deeper frying pan until it reaches 180°C/355°F. Deep-fry broccoli tater tots in batches (3-4 per batch should be fine) until golden brown. Let drain on paper towels and serve with chilled herb dip.