Vegan Picnic Sandwich XXL à la Muffuletta
Especially when it's warm outside, and you want to meet friends outside for a picnic, such a large sandwich comes really handy. It can be easily transported as a whole and then only needs to be cut into smaller portions, whereas with ten small sandwiches you would have to pack each one individually. And let's be honest: it's already a highlight to cut this sandwich and present the inside. Everyone will give a delighted "oooh" and "aaaah" when they see how many toppings are revealed on your sandwich. The most ingenious idea about the muffuletta is that you hollow out the bread a bit, so there's more room for the toppings. Let's go through it layer by layer.
The bread: To follow the original muffuletta, you would actually go for a wheat bread sprinkled with sesame seeds, but of course, any other bread will do. Depending on how many people you want to feed, you can use a large bread or an even larger bread – ha. We found this great ciabatta that was enough for four people.
By the way, you can transfer the hollowed-out bread crumbs to a baking sheet, drizzle them with olive oil, and season with salt and pepper. Bake them until crispy and enjoy them as a snack or as a rough croûton on your next salad or soup.
The topping: I honestly find the many layers of sausage and cheese cold cuts in the original muffuletta quite unappetizing and I also imagine it to be quite heavy to bite into. I, therefore, didn't want to recreate the vegan version 1:1 with plant-based substitutions but decided to go for a mix of vegetables. Most of the vegetables on my sandwich are raw (cucumber, arugula, avocado, carrot, basil, red cabbage, and garden cress), but the bell peppers are grilled for contrast. You could, of course, do this on your own, but I'm taking the easy way out at this point and went for grilled bell peppers from a jar. As an homage to the original, I added at least a layer of vegan cheese and vegan sausage, but you can definitely leave them out – veggies only would be perfectly fine!
I hope that I don't need to mention that you can omit or replace any vegetables or that you could also blanch or fry some of them or leave everything raw. But since I now mentioned it anyway, I will also add: you can also choose your favorite vegan pesto or replace it with another spread.
The olive salad: The olive salad may not be missing in the traditional sandwich. It's actually made with an Italian relish of pickled vegetables, so our version is rather a slimmed-down, but still very tasty one with capers and peperoncini. We'll link you to a recipe that's more similar to the original, in case you're interested.
When you've made your own muffuletta, we're curious to know what toppings you've chosen – just comments below!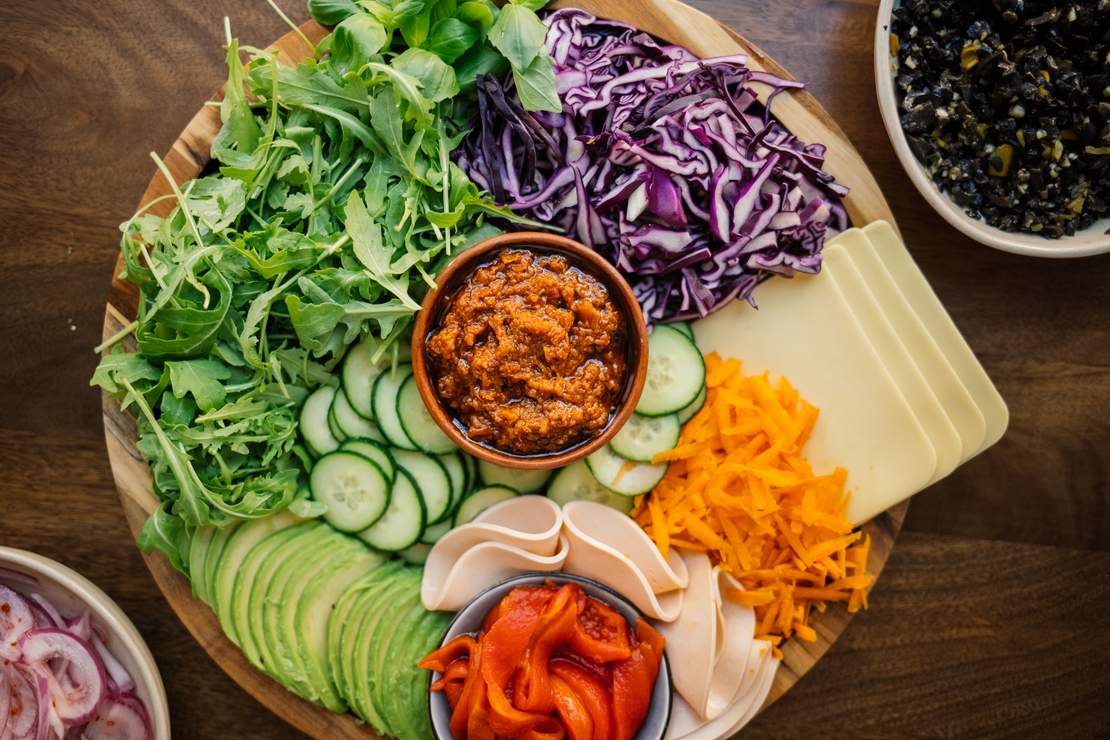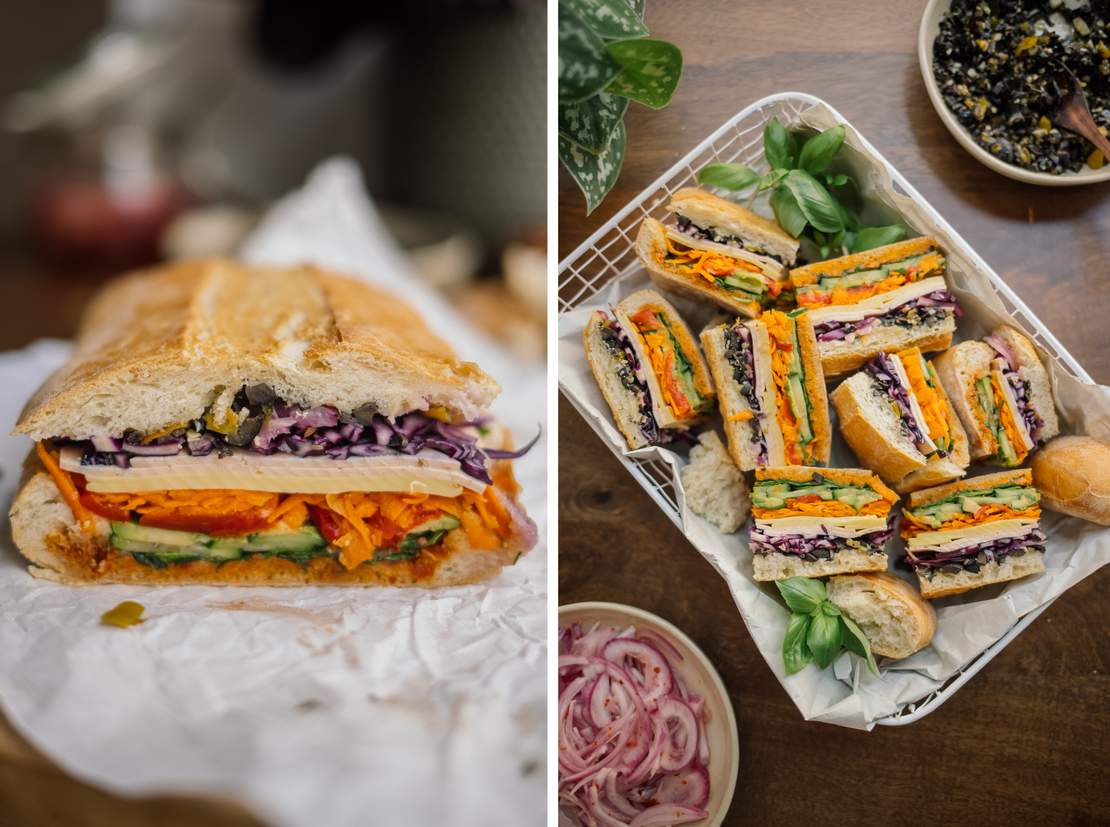 Vegan Picnic Sandwich XXL à la Muffuletta
1 large sandwich (4 servings)
40 minutes (+ resting time)
Ingredients
For the sandwich:
1 ciabatta (or any other oblong bread)
125 g (0.66 cup) vegan pesto
0.25 cucumber
2 handfuls argula
0.5 avocado
10 g (0.33 oz) fresh basil
1 carrot
150 g (5.5 oz) jarred grilled bell peppers
4 slices plant-based cheese
6 slices plant-based sausage
50 g (2 oz) fresh red cabbage
salt
pepper
For the pickled onions:
1 red onion
100 ml (0.5 cup) apple cider vinegar
100 ml (0.5 cup) water
1 tsp sugar
0.5 tsp mustard seeds
salt
For the olive salad:
100 g (3.5 oz) olives
1 garlic clove
1 tsp capers
1-3 jarred peperoncini (to taste)
2 tbsp olive oil
salt
pepper
lemon juice
Instructions
Let's start with the pickled onions. Peel, halve, and thinly slice red onions, then add them to a clean and heatproof jar. In a saucepan, mix apple cider vinegar, water, sugar, and salt and heat the mixture until the sugar and salt dissolve. While still warm, pour the mixture over the sliced onions and add mustard seeds. Let the onions cool down, and either use them directly or refrigerate them until needed.

For the olive salad, pit the olives if necessary, then finely chop them together with capers and peperoncini. Peel and finely chop garlic, then add it to the olives. Add olive oil and some fresh lemon juice, mix, and season the olive salad with salt and pepper to taste.

For the toppings, wash and dry arugula. Slice cucumber and avocado, roughly grate the carrot and cut red cabbage into strips.

Halve the ciabatta horizontally, but make sure that the bottom side makes up approx. three-quarters of the height of the bread, and the top of the bread is only a quarter of the height. Carefully hollow out the bottom half of the ciabatta, but leave a space about 1-2 finger-widths to the edges and the bottom of the bread.

Spread vegan pesto on both halves of the ciabatta. Place the hollowed-out bread half in front of you and layer all the toppings inside. We did it this way (from bottom to top): arugula, cucumber, avocado, basil leaves, pickled bell peppers, carrot, vegan cheese, vegan sausage, red cabbage, pickled onions, and olive salad. Cover the sandwich with the top half of the ciabatta.

Tightly wrap the sandwich – we just used the bag we bought the bread in, but you can also wrap it in foil. Optionally weigh it down with something heavy (e.g., a cast iron pan) and let it sit like this for at least 30 minutes – you can also do this overnight in the fridge.

For serving, cut the sandwich into several slices.