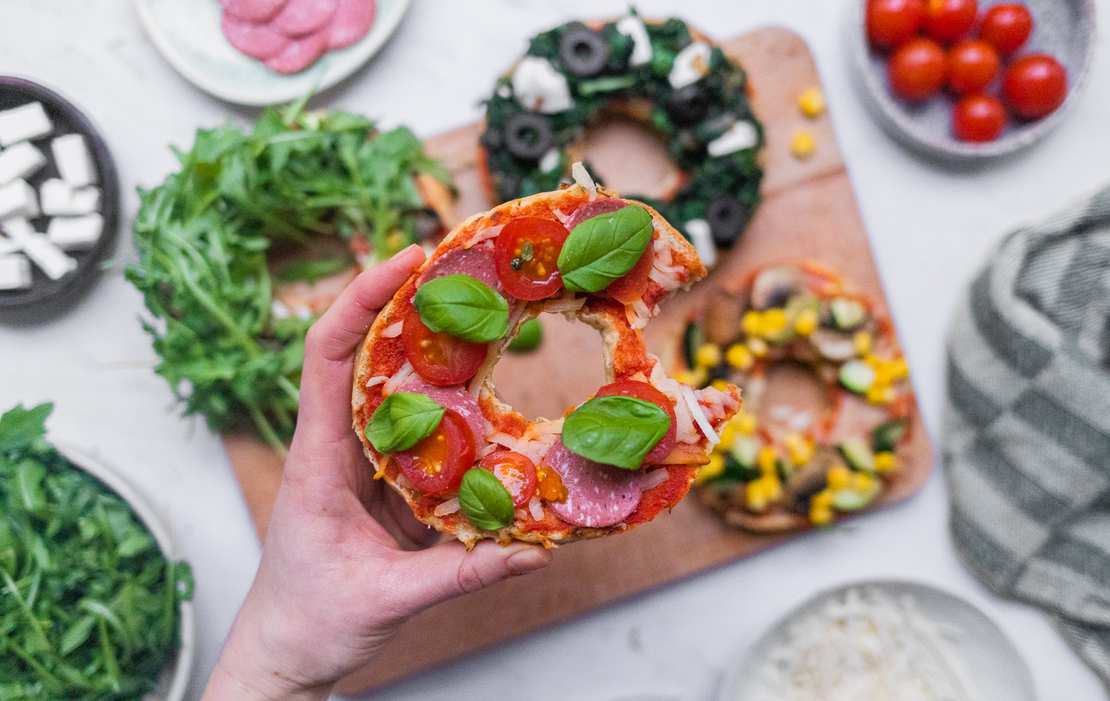 Vegan Pizza Bagel with 3 Topping Ideas
On our blog, you can already find numerous pizza recipes (https://www.zuckerjagdwurst.com/en/search/?query=pizza) and also a few bagel recipes (https://www.zuckerjagdwurst.com/en/search/?query=bagel). But one recipe was still missing: vegan pizza bagels! Therefore we hosted an intern test cooking event in our office and tried out several toppings to find out our favorite toppings. Pizza bagels are great as party finger food, a snack to go, but also for lunch or dinner.
The colossal popularity of pizza, in general, is probably due to the fact that you can adjust it to your taste. And, of course, that also applies to these pizza bagels. After our test cooking, we decided on the following three bagels, differing in dough and toppings:
Version one is a classic "salami" pizza bagel with a traditional yeast dough and a topping of cherry tomatoes, plant-based salami, and vegan cheese. Versions two and three are made with the same yeast dough, but it's larded with fried onions and pizza seasoning on the one hand and with fresh onions, garlic, and pizza seasoning on the other hand. The fried onion bagel is topped with vegetables and vegan cheese, and the topping of the third consists of spinach, vegan feta, and onions. But as already mentioned, you can change both the dough and the toppings according to your taste.
But how do you prepare bagels yourself, and is there anything to keep in mind? The answer is: yes, there is! As with many pizza crusts, bagel dough consists of a simple yeast dough that needs to rise for quite some time. Once formed, they rest again before cooking for about 45 seconds per side in sweetened, simmering water. Then, finally, they are baked for about 20 minutes. This elaborate process is necessary to give bagels their typical texture: crispy on the outside, dense but fluffy on the inside. Boiling the bagels in sweetened water causes the starch within the dough to gelatinize on the surface and form a kind of skin, which provides a crispy crust during baking. At the same time, it ensures that the dough doesn't rise too much during baking and gets a dense texture. In general, the longer the bagels are cooked, the thicker the crust gets, and the less the bagels rise in the oven. So if you prefer a particularly dense dough and a thick crust, just let the bagels cook in the water longer.
As you can see, you can wonderfully adjust this recipe. There's a perfect pizza bagel for every taste, and we're already curious which one you like the best!
Vegan Pizza Bagel with 3 Topping Ideas
Ingredients
For the bagel dough:
260 ml (1 cup) lukewarm water
21 g (0.75 oz) fresh yeast
1 tbsp sugar
450 g (3.5 cups) flour
2 tbsp salt
2 tbsp vegetable oil
plant-based milk for brushing
sesame (optional)
The toppings (for 1 bagel)
For a "salami" topping:
3 tbsp strained tomatoes
1 tsp dried oregano
2-3 cherry tomatoes
1 slice vegan salami (regular size)
fresh basil
vegan shredded cheese
For a vegetable topping:
3 tbsp strained tomatoes
1 tsp dried oregano
3 button mushrooms
30 g (1 oz) zucchini
1 tbsp canned corn
3 tbsp fried onions
vegan shredded cheese
arugula
pizza seasoning
For a spinach and "feta" topping:
3 tbsp strained tomatoes
1 tsp dried oregano
1 onion
1 garlic clove
50 g (2 oz) vegan feta cheese
spinach
black olives
pizza seasoning
salt
pepper
Also:
1 tbsp sugar for cooking
vegetable oil for frying
Instructions
Start with the bagel dough. Pour lukewarm water into a bowl and crumble in the yeast. Add sugar and let the mixture sit for approx. 5 minutes until tiny bubbles appear on the surface. Meanwhile, mix flour and salt in a large bowl.

Add the yeast mixture and vegetable oil to the flour and knead until a smooth dough forms. Transfer the dough to a lightly oiled bowl, cover with a kitchen towel, and let it rise in a warm place for approx. one hour. The dough should double its volume.

In the meantime, prepare the toppings and set them aside. First, mix strained tomatoes with oregano in a bowl which will be the sauce for all pizza bagels. For the "salami" topping, wash and halve cherry tomatoes, cut vegan salami into small pieces, and wash basil. If you want small round slices of salami, you can cut them out of a large slice using a round cookie cutter or a shot glass, for example. For the vegetable topping, wash and finely chop mushrooms and zucchini, then sauté them in a pan over medium heat with vegetable oil. Wash arugula and drain canned corn. For the spinach "feta" topping, peel and finely dice onion and garlic. Crumble vegan feta, wash spinach, and chop olives. Sauté half of the onions with spinach in a frying pan over medium heat until the onions are translucent and the spinach wilts. Season with salt and pepper to taste. Sauté the other half of the onions in a pan with garlic and set aside for the dough.

Once the dough has risen enough, knead again briefly and divide into three equal portions. Next, form two bagels (about 120 g / 4.5 oz per bagel) from the first dough portion and transfer them to a lined baking sheet. The easiest way to form the bagels is to start with round balls, flatten them a bit, then create a hole in the center with the end of a wooden spoon or your fingers. The hole should have a diameter of approx. 4 cm (1.5 inches), so it doesn't close again during rising and baking.

Add the sautéed onion-garlic mixture and some pizza seasoning to the second dough portion and knead them in. Then also form two bagels from the dough. Next, add fried onions and pizza seasoning to the third dough and form it into two bagels as well. Allow all bagels to rise again for 15-20 minutes.

Meanwhile, bring a large pot of water to a boil and add sugar. Preheat the oven to 200°C/390°F (circulating air).

Next, transfer all bagels one after another into the simmering water and let each one cook for about 45 seconds per side. Then drain quickly and place them back on the lined baking sheet. Brush with some plant-based milk and sprinkle with sesame seeds, if desired. Then bake the bagels at 200°C/390°F for about 20 minutes, or until the bagels are golden brown.

Remove the bagels from the oven and let them cool down, but don't turn off the oven yet. Halve the cooled bagels, spread the tomato-oregano sauce, and sprinkle vegan cheese on top. Then top your pizza bagels with the remaining toppings (except for arugula and basil).

Bake your bagels for another 5-10 minutes until the vegan cheese melts. Then remove the pizza bagels from the oven, top with arugula and basil, and serve.
More Sandwich Sunday - Vegan Sandwich Recipes