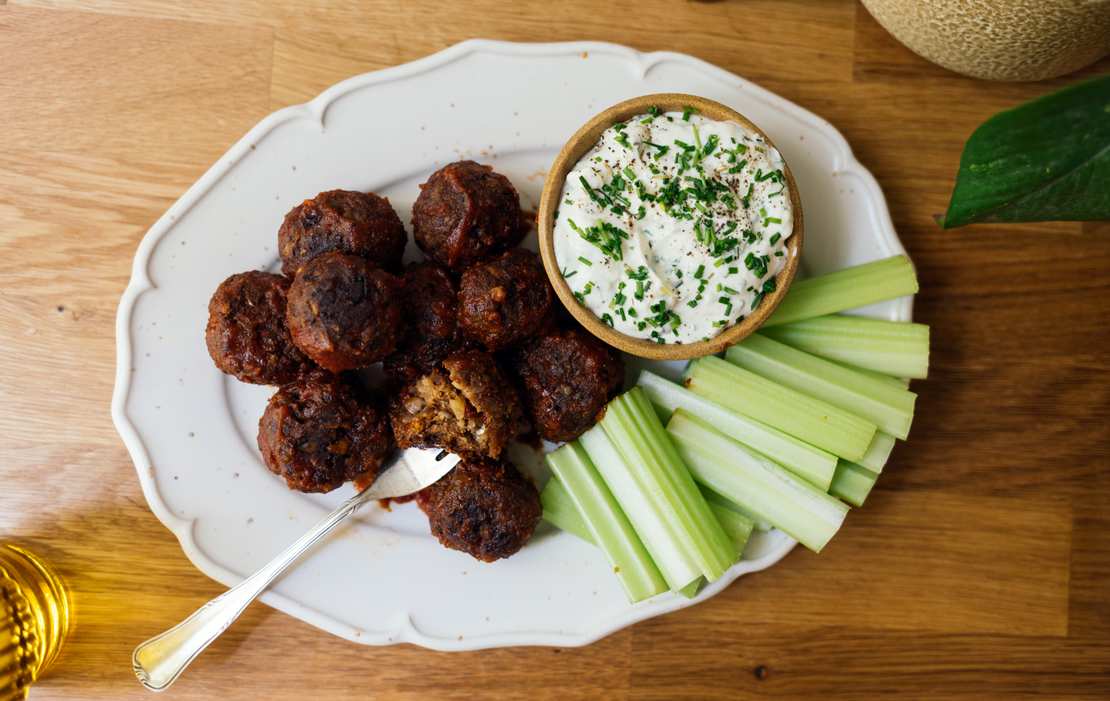 Vegan Buffalo Meatballs with Chive Dip
When I wasn't vegan, meatballs didn't really play a significant role in my life. Now it's a different story, and I LOVE vegan, savory "meatballs" in any options. That's why you can see them on our blog in a wide variety of compositions: based on kidney beans, vegetables, vegan minced meat, but also more convenient options like store-bought vegetable balls or those to prepare from a dry mix. In our cookbook they may not be missing, of course – then, we will prepare them from mushrooms.
And today? Today our "meatballs" are based on white beans and seitan and play the well-deserved starring role on the plate. "Buffalo Meatballs" are a popular dish in American cuisine, but you probably know the term "Buffalo" more from the famous "Buffalo Wings." Both are united by the sauce, which is basically based on vinegar, butter, and cayenne peppers. Once stirred, you can toss everything in this sauce. The sauce is conveniently ready in no time as all the ingredients are just mixed and heated. Almost all recipes use "Frank's Hot Sauce" for it, which you can get easily everywhere in the USA. Since few of us have it at home, I decided to make this recipe without it. During my research, I stumbled across this recipe, which is now what this one is based on. However, I really didn't think it was spicy enough, so I added some Tabasco. But if you don't like the heat, you can leave it out.
Since the sauce is quick to prepare, our meatless meatballs get the most attention, as promised. They are steamed AND baked, making them tender on the inside and crispy on the outside before they take a bath in your hot sauce. If you don't have a food processor, you can also coarsely process the ingredients for the "meatballs" with an immersion blender - but the food processor makes the mixture wonderfully chunky and not too smooth. If you use a blender, make sure that the ingredients are not entirely creamy.
Classically, Buffalo Meatballs are served with a creamy dip and celery or carrot sticks. However, do this to taste - I would prefer sliced cucumbers, for example.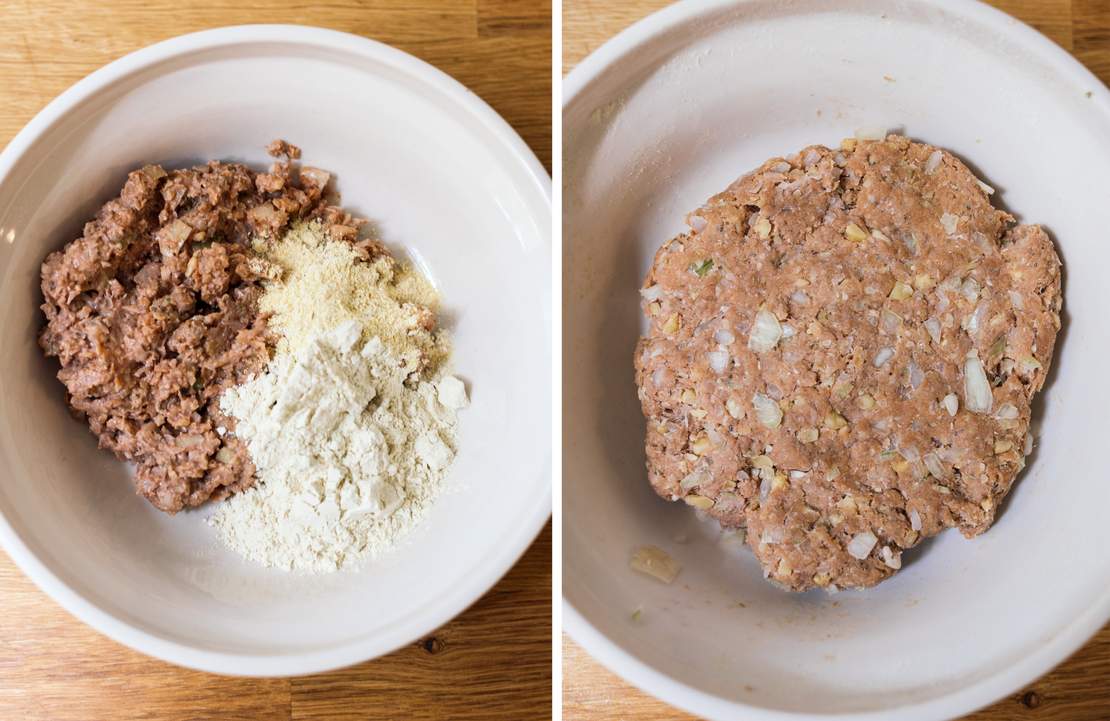 Vegan Buffalo Meatballs with Chive Dip
approx. 10 meatless meatballs
45 minutes
Ingredients
For the plant-based meatballs:
100 g (3.5 oz) canned white beans (drained weight)
1 onion
1 garlic clove
50 g (2 oz) walnuts
1 tsp mustard
1 tbsp soy sauce
1 tbsp tomato paste
1 tsp beetroot juice (optional)
1 tbsp chickpea flour
75 g (0.66 cup) wheat gluten
0.5 tsp sweet paprika
0.5 tsp dried marjoram
salt
pepper
For the sauce:
100 g (0.75 cup) ketchup
2 tbsp apple cider vinegar
1 tbsp maple syrup
1 tsp vegan Worcestershire sauce
1 pinch cayenne pepper
0.5 tsp garlic powder
0.5 tsp onion powder
2 tbsp vegan butter
tabasco sauce to taste (or any other hot sauce)
salt
pepper
For the chive dip:
200 g (7 oz) plant-based curd
150 g (5.5 oz) vegan cream cheese
10 g (0.33 oz) chives
0.5 tsp onion powder
0.25 tsp garlic powder
0.5 lemon (zest)
salt
pepper
For serving:
celery, carrot, or cucumber
Instructions
For the vegan meatballs, add canned white beans, peeled onion, garlic, and walnuts to a food processor and pulse until everything is chopped but still slightly chunky. Next, add mustard, soy sauce, tomato paste, and beetroot juice (if used) and process again briefly until you have a chunky paste. Transfer the mixture to a large bowl.

In a second bowl, mix together the chickpea flour, wheat gluten, paprika, dried marjoram, salt, and pepper. Add the mixture to the large bowl of other ingredients and gently knead everything until a dough forms. The mixture should be easy to shape, not fall apart, but also not be a tough and dense dough.

Preheat the oven to 200°C/390°F (convection heat). Form about 8-10 balls (about 30-35 g / 1 oz each) from the dough. Heat a large pot of water and steam the plant-based meatballs over simmering water for about 7-8 minutes. Then transfer them on a lined baking sheet (or into a greased baking dish) and bake for about 15 minutes until the vegan meatballs are browned from all sides. Turn several times during baking.

Meanwhile, for the dip, mix vegan curd and cream cheese in a bowl. Finely chop the chives and add it to the bowl. Season the dip with onion and garlic powder, lemon zest, salt, and pepper, and refrigerate until serving.

For the sauce, combine ketchup, apple cider vinegar, maple syrup, vegan Worcestershire sauce, cayenne pepper, garlic powder, and onion powder in a bowl and season with salt and pepper. Then add as much Tabasco (or other hot sauce) until the sauce is spicy enough for your taste. If you don't like the heat, you can leave it out completely.

Pour the sauce into a skillet and bring to a brief simmer. Now stir in the vegan butter, reduce to medium-low heat and add the vegan meatballs to the pan. Toss well in the sauce until they are completely coated.

Serve the vegan Buffalo Meatballs with the chive dip and sliced celery, carrots, or cucumber.
More Vegan Meal Prep Recipes