Vegan Cheese Stuffed Crust Pizza
Over the last few years, you may have noticed that Valentine's Day isn't necessarily a big deal for us. In the past, we often forgot about it and didn't even feel bad. But now the following happened: Every month, the whole Zucker&Jagdwurst team thinks about which recipes we would like to cook and photograph next, and our intern Lara said she loved the idea of doing something "kitschy" for Valentine's Day.
I was given the honor of developing a suitable recipe, but I don't know if Lara had THIS recipe in mind when she made her suggestion. However, I can't think of anything better than spending Valentine's Day with this pizza. Now, whether you want to share it with anyone else (or more than one person) is entirely up to you. But preparing yeast dough and shaping it into a big heart is proof of love!
However, you can make "normal" pizza on any other day of the year, but the love is in the details or, in this case, in the crust. That's right. Today we are making the pizza of our dreams, a pizza that we would love to order from the pizza delivery service one day, but until they offer a vegan version, we have to make it ourselves – pizza with a cheese crust. To do so, you need a plant-based block of cheese. If you can't find one, you can layer pre-sliced vegan cheese, but I wouldn't recommend shredded cheese because it doesn't have enough "mass" to fill the cheese crust later. So instead, go to the largest organic or regular supermarket you know. Several companies now offer plant-based cheese blocks, so it's not impossible to find it. Once you found it, cut the cheese into thick pieces, distribute them along the edge of the pizza and wrap the dough around it. Press the dough together firmly (if you want, you can use a fork), so the vegan cheese doesn't run out of the crust during baking.
Because it's "my" recipe for "my" Valentine's Day pizza, I decided on a topping that I love: a white pizza with plant-based crème fraiche instead of tomato sauce, topped with vegan shredded cheese, onion slices, vegan salami (which I also cut into a heart shape with a bit of patience) and spinach leaves. And because I also love garlic, the pizza crust is brushed with garlic oil at the end. Of course, you can also choose any other topping. With this pizza, every day becomes Valentine's Day.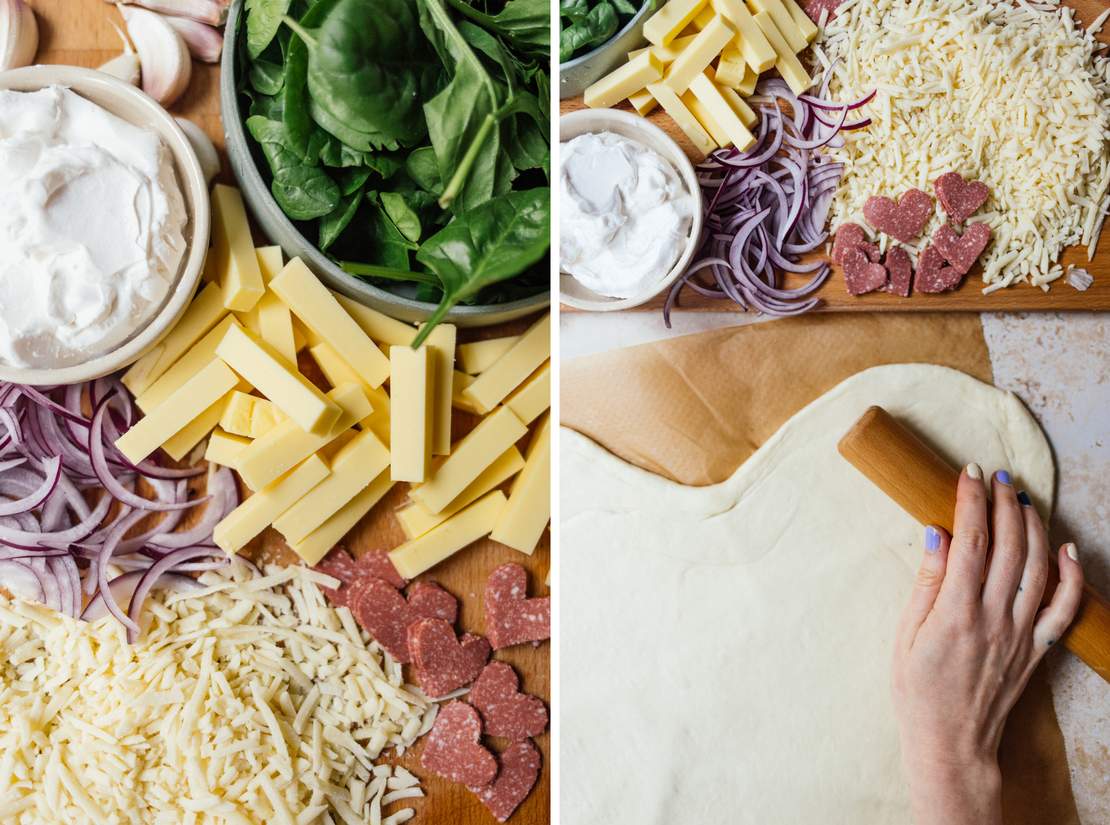 Vegan Cheese Stuffed Crust Pizza
1 large pizza (for 2)
40 minutes (+ 30 minutes resting time + 15 minutes baking time)
Ingredients
For the dough:
400 g (3.25 cups) wheat flour (type 400, 550 or 00)
5 g (0.25 oz) dry yeast
1.5 tsp salt
240 ml (0.66 cup) water (lukewarm)
1.5 tbsp olive oil
For the cheese crust:
150 g (0.33 lb) plant-based cheese (in a block)
For the topping:
approx. 100 g (3.5 oz) plant-based crème fraiche
approx. 150 g (0.33 lb) plant-based shredded cheese
1 small onion
5 slices of vegan salami
approx. 30 g (1 oz) fresh spinach leaves
1 clove of garlic
3 tbsp olive oil
Instructions
For the dough, mix flour, dry yeast and salt in a large bowl. Add lukewarm water and olive oil and knead the dough for at least 5 minutes until smooth, preferably with a food processor or hand mixer. Place the dough in a lightly oiled bowl and cover it with a clean kitchen towel. Let rise in a warm place for at least 30 minutes, or refrigerate overnight until the dough has doubled in volume.

In the meantime, prepare the toppings: For the cheese crust, cut the plant-based block of cheese into sticks about as thick as your pinky finger. Next, grab plant-based crème fraiche and plant-based shredded cheese. Then, peel the onion, cut it in half, and slice it thinly. Cut the vegan salami into heart shapes if desired, and wash the fresh spinach leaves. Finally, peel and grate the garlic clove and mix it with the olive oil.

Preheat oven (including a flat baking tray) to 220 °C / 430 °F (convection heat). Lightly flour the work surface and roll out the yeast dough. Then place it on a piece of parchment paper and roll it out into a heart shape about 1 cm / 0.4 inches thick.

Distribute the plant-based cheese sticks with 1–2 cm / 0.4–0.8 inch distance along the edge of the pizza dough. Then fold the rim over it so the plant-based cheese is completely covered. Finally, press down the edges so the cheese stays inside the crust while baking.

Spread plant-based crème fraiche on the pizza and cover with shredded plant-based cheese. Then distribute the remaining toppings on the pizza, i.e. onions, spinach leaves and vegan salami.

Then bake the pizza at 220 °C / 420 °F (convection heat) for approx. 15 minutes, until the crust and bottom of the pizza are well browned and crispy. Remove from the oven and brush the crust with the garlic oil.