If you want to prepare a warm meal for the next lunch, soups are a great idea, but transporting them is often tricky. No matter how well I might have packed pumpkin soup, etc., I am always afraid that it will leak in my bag, especially when I'm on by bike. Luckily, this will never happen with this soup because you add the liquid just before eating it!
By the same principle, instant noodle soups are a great success, but they often contain a lot of 'garbage' and no fresh vegetables at all. So if you simply prepare your own instant noodle soup in a jar, you have all the possibilies to add fresh vegetables of your choice! To prepare this soup cook the noodles, cut the vegetable and stir the spice mixture together. For serving, only pour hot water over and stir well!
This recipe ia bit spicy – if you don't like spicy food, kick Sriracha completely or just use 1 tsp of it.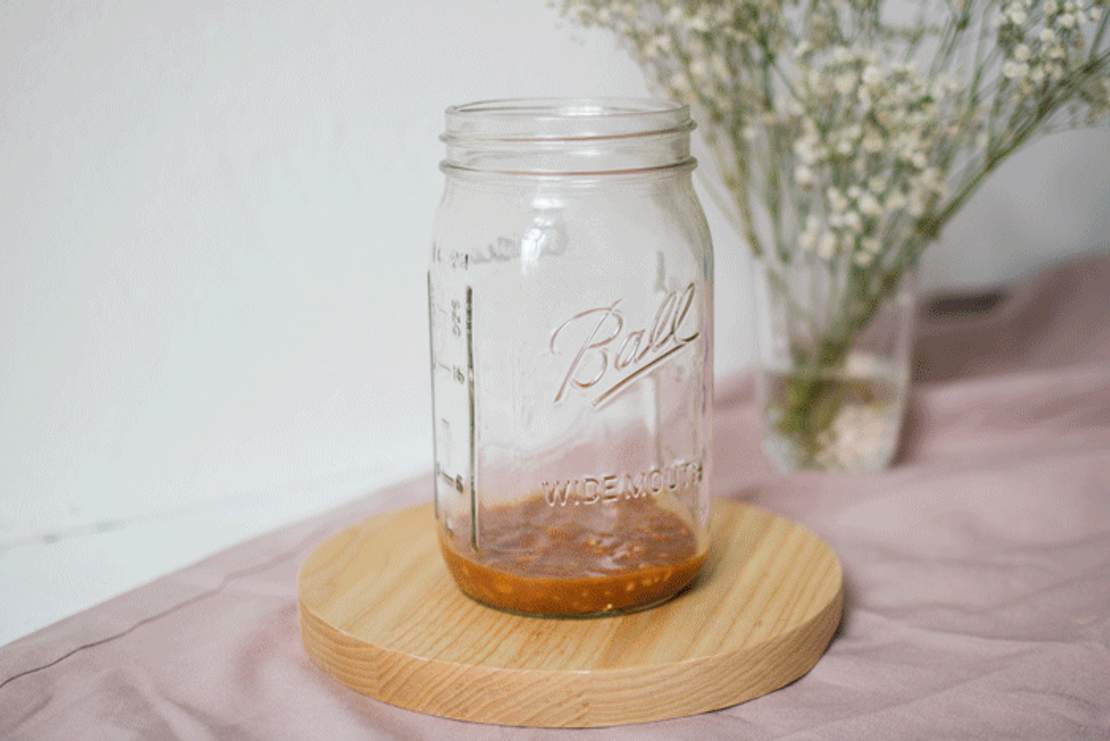 Vegan Instant Ramen Soup
Ingredients
150 g (5.5 oz) ramen
1 garlic clove
10 g (0.33 oz) ginger
1 tbsp soy sauce
1 tsp mirin
1 tbsp Sriracha
3 tbsp light miso paste
1 small carrot
1 handful soybean sprouts
20 g (0.75 oz) fresh spinach
1 scallion
50 g (2 oz) cooked edamame
1/2 nori sheet
sesame oil
Instructions
Add ramen to a pot or a bowl and pour over hot water. Let soak for 10 minutes (or several minutes less that it says on the package instructions). Then drain and toss with some sesame oil so they won't stick together.
Cut carrot and spinach in fine stripes and scallions into fine rings. Cook edamame beans.
Peel and finely chop garlic and ginger. Add to a bowl along with miso paste, mirin, soy sauce and Srirache. Stir to combine and transfer the mixture in your jar.
Add ramen, cut vegetables, soybean sprouts and finely cut nori sheet on top of the spice mixture. This is how you can take the glas to the office or university for lunch.
For serving, only fill up the jar with boiling water, let rest for approx. 5 minutes and stir into a nice spicy soup.