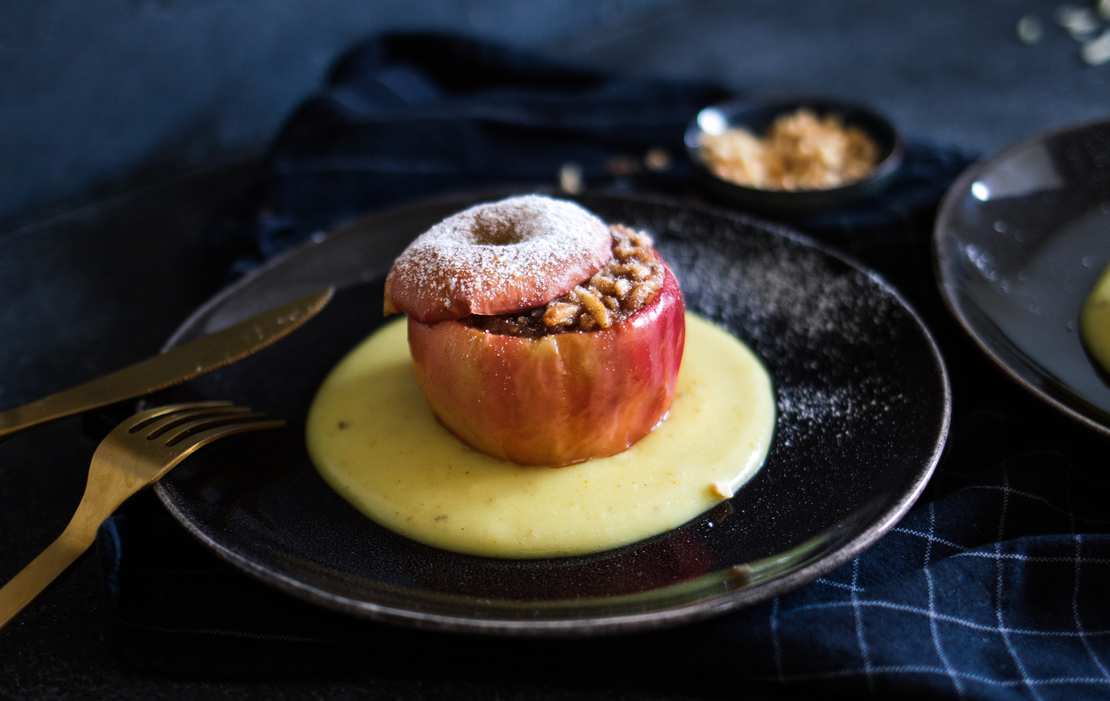 Easy Vegan Baked Apples with Vanilla Sauce
In my family, we made baked apples very often for Christmas. My sister often took care of the dessert and prepared the baked apples in the morning, so you just have to put them in the oven 30 minutes before serving. The best moment of the evening is when the aroma of the baked apples emanates from the kitchen, the vanilla sauce simmers on the stove, and everyone waits nervously for the dessert!
Since switching to a vegan diet, I never made baked apples again. This year, I really want to change that, so I worked on a recipe for vegan baked apples, noting how easy it is to prepare baked apples without animal products. Except for the butter, which I simply replaced with a plant-based one, I could use all the ingredients that my sister always used. The preparation of the vegan vanilla sauce is also surprisingly easy. I used a vanilla drink and a bit of cornstarch to get a creamy sauce, which is colored yellowish in the most natural way with a little turmeric powder. So please keep your fingers crossed that I can prepare these vegan baked apples on Christmas Eve - my sister would be very impressed!
We are so happy that [EDEKA] (https://www.edeka.de/) supports us with this recipe. They offer an extensive range of vegan products, such as the organic rice syrup we used in this recipe for the filling. Rice syrup is made from rice and water and is an alternative sweetener that is naturally low in fructose. You can use rice syrup in the same ways as agave syrup to sweeten dishes. All ingredients of the organic rice syrup come from certified organic agriculture.
Easy Vegan Baked Apples with Vanilla Sauce
4 servings
20 minutes (+20 minutes baking time)
Ingredients
4 apples (as large as possible, e.g., Boskop or Cox Orange)
Filling
40 g raw marzipan paste
30 g almond sticks
40 g chopped hazelnuts
50 ml EDEKA organic rice syrup
30 g plant-based butter
1 tbsp lemon juice
1 tsp cinnamon
Vegan Vanilla Sauce
250 ml plant-based vanilla drink
25 ml EDEKA organic rice syrup
15 g cornstarch
pinch turmeric
Instructions
Preheat the oven to 180°C and cover a baking tray with baking paper.
Wash and dry the apples. Cut off a lid and use a spoon to remove the core and pulp of each one. Make sure to leave a bottom and enough flesh, so the apple doesn't fall apart.
Mix all the ingredients for the filling in a bowl and fill the apples with it.
Place the lids on the apples in a slightly shifted position and bake on a medium rail at 180°C for 20 to 25 minutes.
Vegan Vanilla Sauce
Heat the plant-based vanilla drink in a small pot.
Mix the cornstarch with a few tablespoons of the vanilla drink in a small bowl until smooth. Stir into the vanilla drink.
Stir in the rice syrup and a pinch of turmeric. If the vanilla sauce is not yellow enough, add a little more turmeric.
Boil the vanilla sauce with constant stirring and remove from the heat after 3-4 minutes boiling.
Serve the baked apples with the warm vanilla sauce.