While we thought about the recipes for an Easter brunch, we always came back to this one: Eggs Florentine. It's the vegetarian sister (or the uncle, or maybe the niece) of Eggs Benedict, which is one of THE American breakfast classics. There's absolutely no breakfast restaurant or café in Berlin that doesn't have it on the menu.
Instead of Egg Benedict's ham, there's spinach on this one and it also comes with English muffins, Sauce Hollandaise and a poached egg. We now twist it some more to make a vegan Eggs Florentine for you.
Depending on how much time you have, you can either bake English muffins at home or buy some at the store. Sorry, if you were already excited for vegan poached egg. We're not there, yet. Baked tofu is actually one of our favorite "egg-like"options because of it's texture. You can get it at Asian supermarkets, but you can also use any other type of tofu you like. And if you don't like tofu at all - the combination of warm English muffins, spinach and Sauce Hollandaise is totally enough to comfort you.
Vegan Eggs Florentine
Ingredients
3 toast buns (e.g our vegan English muffins)
350 g (12 oz) fried tofu
150 g (5 oz) fresh spinach
2 shallots
1 garlic clove
vegan butter for frying
oil for frying
kala namak
salt
white pepper
nutmeg
chives or garden cress for garnish
vegan sauce hollandaise (recipe below)
Instructions
Have you prepared vegan Sauce Hollandaise yet? Find the recipe below!

Wash and dry spinach. Peel and finely diche shallots and garlic. Melt vegan butter in a frying pan and fry shallots and garlic until translucent. Add fresh spinach and fry for approx. 5 more minutes until it just begins to wilt. Season with salt, pepper and nutmeg and keep warm until serving.

Cut fried tofu in six equal-sized slices. Season all around with kala namak and pepper. Heat oil in a frying pan and fry tofu from all sides until crispy on the surface and roasted in color.

Halve English muffins and roast them if you like. You can also use any other type of toast buns or even roasted white bread. Spread spinach equally on each halves muffin, then top with tofu. You can season with kala namak to taste. Pour over vegan Sauce Hollandaise and garnish with chopped chives and/or garden cress.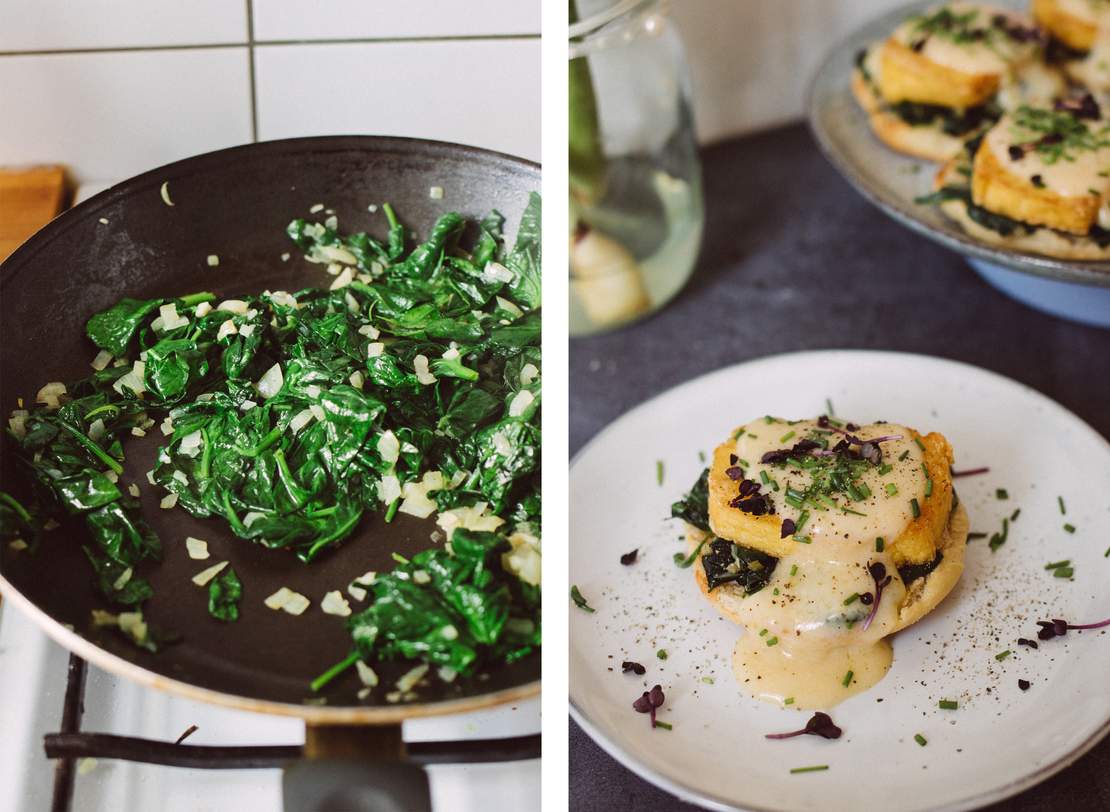 Vegan Sauce Hollandaise
1 big jar (2 servings)
20 minutes
Ingredients
4 tbsp vegan butter
2 tbsp flour
100 ml (1/2 cup) vegetable stock
100 ml (1/2 cup) cream
1 tsp mustard
1 tbsp vegan white wine
1 tsp lemon juice
salt
white pepper
Instructions
Melt 2 tbsp vegan butter in a saucepan and stir in flour. Keep stirring to keep the mixture smooth.
Add vegetable stock slowly, keep stirring all the time. Bring to a simmer, then reduce heat and add cream, 2 tbsp vegan butter, white wine, mustard and lemon juice . Season with salt and pepper.
Let Sauce Hollandaise simmer for approx. 5 - 10 min. until thickened to desired consistency. Season before serving.