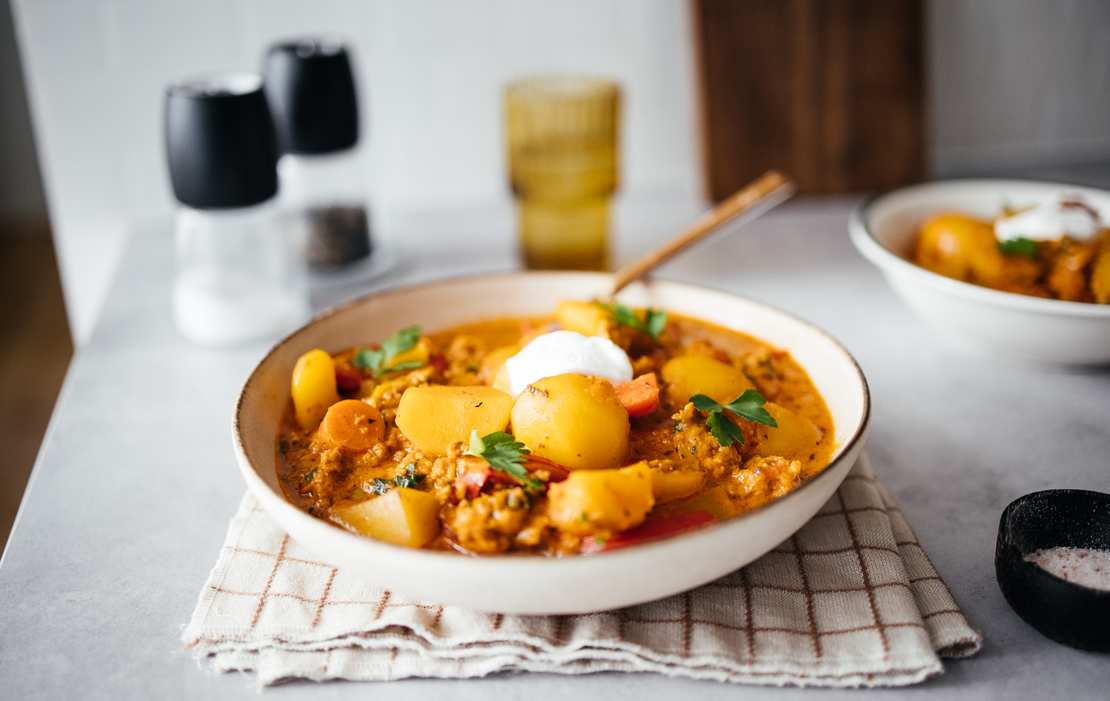 If I anticipated a romantic introduction to this recipe, I would now tell you about my grandma's farmhouse stew, which she cooked for us kids on rainy autumn days. BUT, unfortunately, my grandmother never cooked farmhouse stew. Instead, we had dishes like Maultaschen (Swabian pasta pockets), spaetzle and meatloaf. The truth is that I only recognized Farmhouse stew from Knorr, a German Brand that offers soup mixes of all kinds in ominous green packets. Well, less romantic, but our Bauerntopf can't do anything about that either.
We all know stew, but what exactly is a farmhouse stew? It only includes ingredients that can be purchased from local farms. Classic ingredients are potatoes, leeks, carrots and peppers. If you want to add other vegetables like broccoli, peas or beans to your stew – feel free!
The preparation is pretty simple. First, we throw all the ingredients in our pot, fry everything well and then deglaze with vegetable broth and strained tomatoes. Then we season with plant-based crème fraiche. You can now find it in almost every supermarket. To save some money, you can omit the vegan mince and the plant-based crème fraîche or replace them with soy granules (soaked beforehand) or plant-based cooking cream.
We prepared our farmhouse stew in the Ø 24 cm (9.5 inches) cooking pot from GreenKitchen. GreenKitchen makes sustainable kitchenware that lasts a lifetime! The pot we used for our recipe is part of the "Your Pot For Life" set, which includes a total of three pots in different sizes. Also they plant one tree for every set sold.
The pot set is suitable for all common types of stoves. In addition, the pots are energy-efficient thanks to their innovative technology, which means that the ingredients in your pot cook faster and require less heat than comparable quality pots. By the way, you can send your old pots to GreenKitchen and get a 50 € discount on your new set. How cool!
Vegan Farmhouse Stew
4–6 servings
30–40 minutes
Ingredients
For the stew:
750 g (1.66 lb) floury potatoes
2 red peppers
3–4 carrots
200 g (0.5 lb) leeks
2 onions
2 garlic cloves
500 g (1 lb) vegan minced meat
2 tbsp sweet paprika powder
1 tsp hot paprika powder
2–3 tbsp tomato paste
600 ml (2.5 cups) vegetable broth
200 g (0.5 lb) strained tomatoes
0.5 tsp nutmeg
0.5 tsp marjoram
0.5 tsp thyme
vegetable oil
salt
pepper
For serving:
parsley
plant-based crème fraîche
Instructions
Peel potatoes and cut them into bite-sized pieces. Next, cut peppers into strips and carrots and leeks into rings. Finally, peel and finely dice onions and garlic.

Heat vegetable oil in a large pot over medium heat. Sauté potato pieces and ground beef first until both are lightly browned. Add diced onion and sauté until translucent for 2–3 minutes. Then add garlic and sauté for approximately 2 more minutes. Finally, add the remaining vegetables except for the peppers and sauté for 5–10 minutes.

Add paprika powder, tomato paste and pepper strips and sauté again for 2–3 minutes. Next, add vegetable broth and strained tomatoes and let simmer for 10–15 minutes over medium heat until the vegetables are cooked.

Season the stew with salt, pepper, nutmeg, marjoram, thyme and vegan crème fraîche and serve with fresh parsley.