Vegan Filled Chocolates with Almond Cream and Jam
What works well as a gift from grandchildren to grandparents also works in adult life: giving homemade gifts is actually the most beautiful idea at Christmas. With presents like this, everyone knows that you've not only put some thought into it but also a lot of effort. Unfortunately, my friends would probably not be as enthusiastic about a self-painted picture as my grandparents were back then, but how about homemade vegan chocolates? With only five ingredients (and a pinch of salt), they're also an excellent last-minute gift idea if you're starting to panic because you still don't have all your presents. Plus, you can prepare more chocolates right away and have some for yourself and some for others. And no worries, you can easily adjust them to different tastes and your current kitchen inventory. Here's how it works.
The chocolate: I went for dark chocolate as a base, and you can use both a bar of chocolate and couverture. The higher the cocoa content, the more tart your chocolates will be. However, you can also use vegan white or light chocolate for the hollow shells. I always like to add a pinch of salt to chocolate, but it's optional. You could also work with more spices – I heard some people actually like chili in chocolate.
The filling: I probably don't have to mention that you can use any jam of your choice. I would advise one without larger chunks of fruit in it and used currant jelly myself. The same goes for the nut butter – use whichever nut butter you have on hand. I decided to use almond paste because we had a lot of it in the office, but if you like it saltier, you can use peanut butter, and if you want to make these chocolates for ME, please use tahini (thank you!). Depending on which nut butter you use, the color of your filling will change. If you want a light filling, it's best to use white almond butter. In itself, you could use the nut butter without additional vegan white chocolate, but it will make the filling sweeter, creamier, and richer in taste. Just as with the praline shells, you can also use all kinds of chocolate.
Tempering: Let's get to the technical part of your gift because you need to temper the chocolate to get this fantastic snap when you bite it. However, if you don't temper your chocolate (or it doesn't work), you don't have to throw away your chocolates. They simply won't have this snap when you bite into them, and the chocolate often gets grayish spots when it dries and doesn't become shiny. Tempering is basically about crystallizing the cocoa butter in the chocolate. There are different methods to do this, but we prefer the so-called "seeding method." This involves first melting the chocolate and heating it to about 40-45°C, then slowly cooling it back down to just above 30°C. Cooling works best by stirring solid chocolate into the already melted chocolate. You can use a simple kitchen thermometer to check the degrees accurately, but honestly, I almost always do best with tempering if I don't get too crazy about it. Since your body temperature is about 37°C, the melted chocolate should feel warm at first, and the tempered chocolate should feel cooler. To test if it worked, you can dip a spoon into the (hopefully) tempered chocolate and set it aside – the chocolate should set within a few minutes.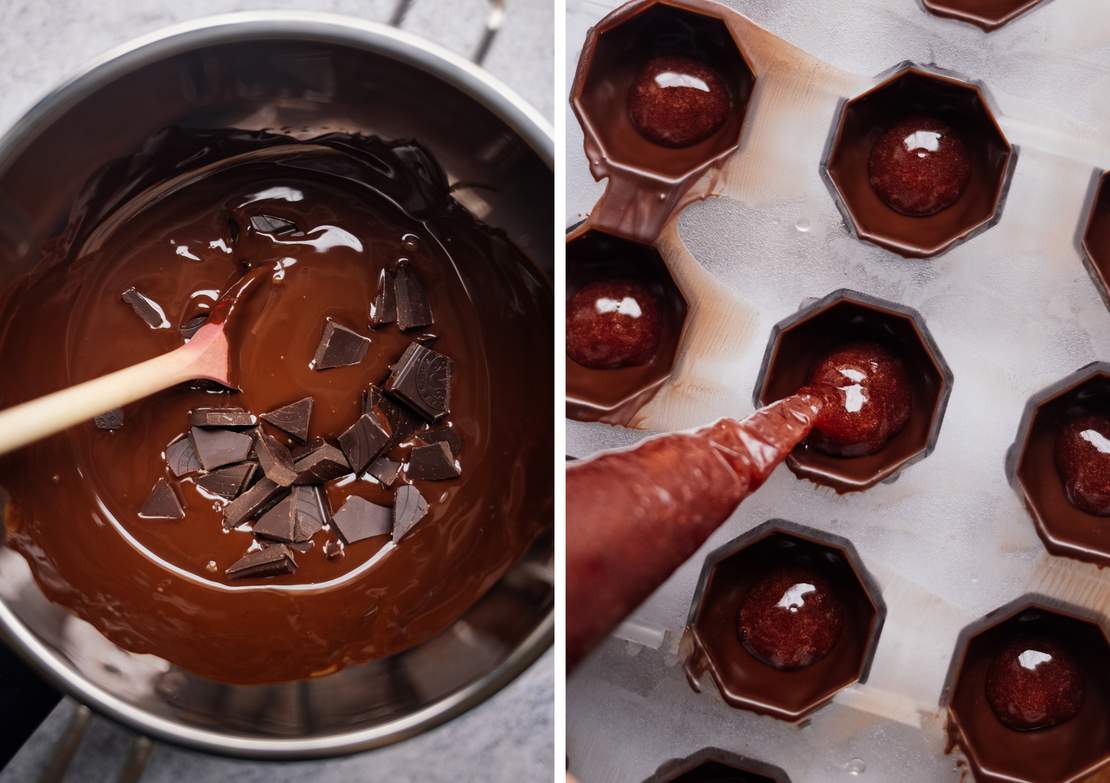 Vegan Filled Chocolates with Almond Cream and Jam
20 - 25 chocolates
50 minutes (+ resting time for drying)
Ingredients
For the hollow chocolate balls:
250 g (9 oz) bittersweet chocolate
1 pinch of salt
For the filling:
100 g (3.5 oz) vegan white chocolate
150 g (0.66 cup) almond butter
100 g (0.33 cup) jam
For the decoration:
50 g (2 oz) vegan white chocolate
1 tsp coconut oil
Instructions
First, prepare the filling. Roughly chop the vegan white chocolate and melt in a heatproof bowl over a pot of simmering water. Add the melted chocolate to the almond butter and mix well. A blender is great for this as the nut butter will get really creamy. Transfer the nut butter and chocolate mix into a piping bag and set aside.
Tip: You can usually also melt chocolate in a microwave, but unfortunately, this rarely works with vegan white chocolate.
If desired, whisk the jam or use an immersion blender to blend it until smooth. You can also transfer it into a piping bag or simply use a small spoon later to add it to the chocolate molds.

Now it's time to temper the chocolate. Chop the dark chocolate and add two-thirds of it to a heatproof bowl. Melt over a pot of simmering water until the chocolate reaches about 40-45°C. Then remove from the heat and stir in the remaining chopped chocolate until it too has melted and everything has cooled to about 32°C. Add a pinch of salt to the chocolate.

Pour the tempered chocolate directly into the praline molds. Then turn the molds upside down to let the excess chocolate run out, but save it as it can be reused. Let the hollow molds rest for approx. 30 minutes at room temperature, or chill them for a few minutes in your fridge so that the chocolate dries a bit.
Tip: Silicone molds are best for this because you can squeeze out the chocolates quite easily later. We actually used a harder mold that we bought at a baking store. It works too, of course, but is a little stubborn when it comes to getting the chocolates out.
Add a small dollop of jam into each praline mold and cover with a layer of almond cream, but don't fill the praline completely with it. Finally, spread the remaining tempered chocolate over the top and carefully smooth it out.

Let the chocolates chill in the fridge until they are firm on the outside. Then carefully remove them from the molds.

For decoration, melt vegan white chocolate with coconut oil until it's thin enough to be drizzled over the filled chocolates. Add some more coconut oil if needed. Garnish the chocolates with them and let them dry. Store in your refrigerator or at room temperature - they will keep their snap longer when refrigerated. Just like regular chocolate, you can enjoy them for several weeks.
More Vegan Chocolate & Sweets Recipes and Plant-Based Copy Cats