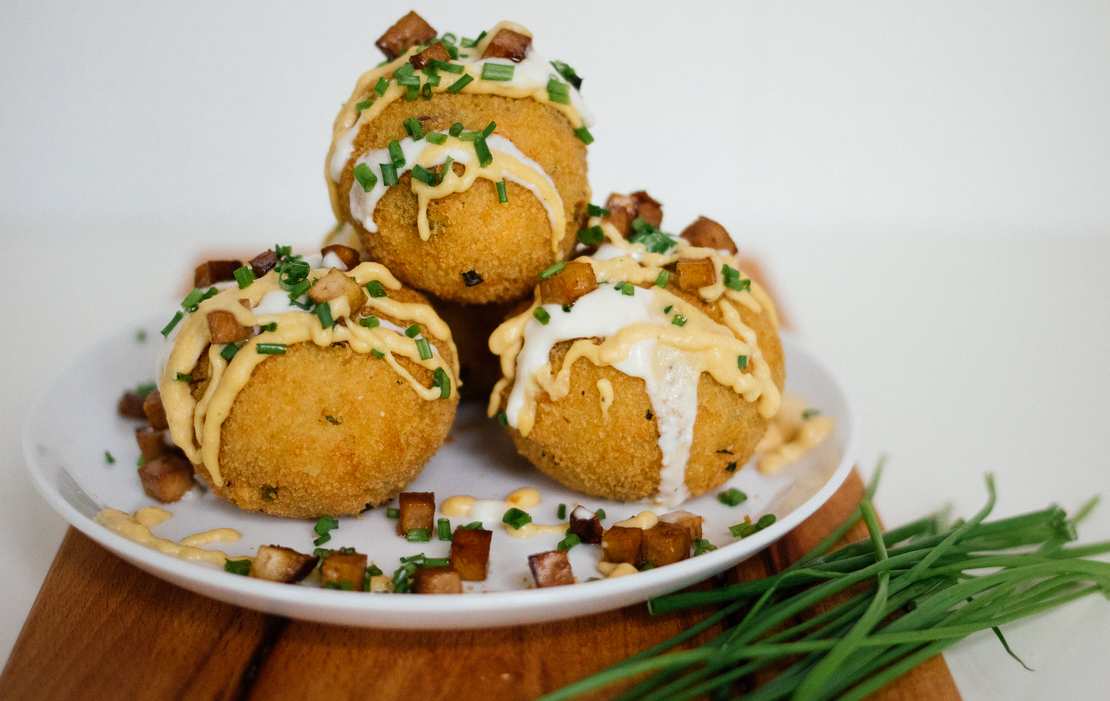 It started with a picture on Instagram. A few months ago, while scrolling endlessly through Instagram-food-heaven, I saw a picture that was screaming "TRY ME! I AM SO TASTY!". Screaming at me were potato balls. Not even that tiny, but more the size of golf balls. Crispy. Topped with sauces. Not vegan. I did some reasearch and found out that those "potato balls" were served at Wyler Road in Chicago. Of course there was no recipe to be found, so I came up with my own variation. This is why I really cannot tell you, if the taste is even a tiny bit comparable with the Wyler-Road-original.
BUT I definitely can say, that they are delicious. And somewhere between a side dish and "Oh my god, I am so full I can't eat anymore." Get ready for it!
Vegan Fried Potato Balls
10 balls
1 hour 15 minutes
Ingredients
POTATO BALLS
700 g (25 oz) floury potatoes
200 g (1.5 cup) chickpea flour
4 tbsp soy milk
2 tbsp vegan butter, e.g. Alsan
400 g (14 oz) smoked tofu
2 tbsp soy sauce
1 bunch chive
2 tbsp oil for frying
1 l (4 cups) oil for deep-frying
FOR BREADING
150 g (5 oz) breadcrumbs
100 ml (0.4 cup) plant-based milk
FOR VEGAN CHEESE SAUCE
2 potatoes
2 carrots
2 onions
100 g (3.5 oz) cashews (soaked in warm water for 30 minutes)
3 tbsp nutritional yeast
50 ml (0.2 cup) almond milk
1 tsp onion powder
1 tsp garlic powder
1/2 lemon (juice)
salt
pepper
FOR SOUR CREAM SAUCE
3 tbsp vegan mayo
200 ml (0.8 cup) vegan yoghurt (unsweetened)
1 tbsp cider vinegar
1/2 lemon (juice)
1 tsp garlic powder
salt
pepper
Instructions
Peel potatoes and cut in samesized chunks. Fill water in a mid-sized saucepan, salt slightly and add potatoes. Bring to boil, then keep simmering for 10-15 minutes, until you can prick a fork in it easily.
Afterwards pour off water and smash potatoes directly in the sauce pan. For this recipe, it's better to leave it a bit chunky instead of smashing it too smooth.
Finely dice smoked tofu. Heat up 2 tbsp oil in a large frying pan. Add tofu and sear for 3 minutes. Afterwards add soy sauce and keep roasting on medium heat for 5 minutes. Then, take from heat and set aside.
Finely wash and chop bunch of chives.
Back to smashed potatoes. Add chickpea flour, soy milk, vegan butter, half of chopped chives and three-fours of roasted tofu dices to smashed potatoes and mix everything.
Form about 8 samesized balls (around the size of golf balls) out of dough.
Grab two deep plates. Add soy milk to one, and breadcrumbs to the other one. First roll potato balls in soy milk, then in breadcrumbs, again in soy milk and finally back in breadcrumbs. Afterwards place them on a cutting board.
Time for sauces now, so everything will be done around the same time. For vegan cheese sauce: Peel potatoes, carrots and onions and cut in same-sizes chunks. Add them to a saucepan, fill up with water until everything is covered. Salt slightly and bring to boil. Keep simmering on medium heat for about 10 minutes until you can prick a fork in it easily. Pour off water and add veggies to your food processor. Add soaked cashews and all remaining cheese sauce ingredients and mix well until sauce is smooth. If it's too thick, just add a little more almond milk.
Four sour cream sauce, simply stir all ingredients in a bowl.
Sauces are done, so let's get back to potato balls! Heat up oil for deep-frying in a sauce pan, it should be 180°C/355°F. Add potato balls one after another. You'll notice that there's not enough place for all of them, so deep-fry in batches and make sure they always lay next to each other, not on top of eatch other. Prepare a plate covered with kitchen towel to degrease balls when they are deep-fried and golden.
Serve potato balls on a small plate, drizzle vegan cheese sauce and vegan sour cream sauce on it and top it with remaining smoked tofu and chives. Bon appetit!