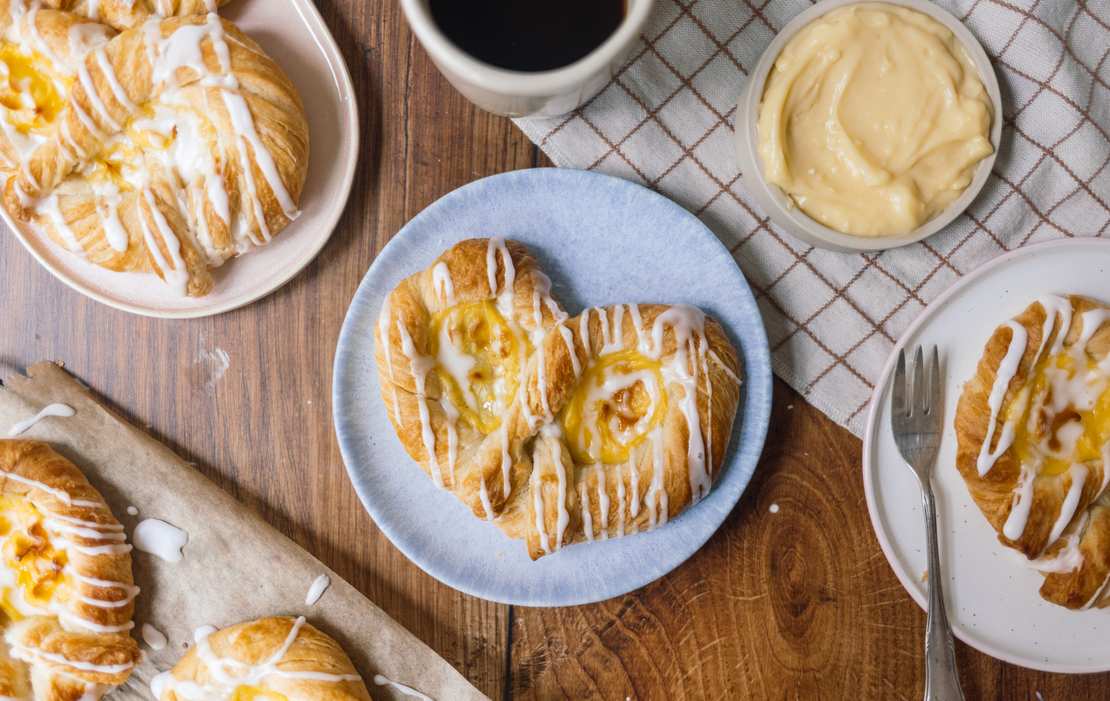 Vegan Pudding Pretzels (Custard-Filled Pastry)
For quite some time now, I've been telling the same story on the blog, namely that I'm not the sweet part of Zucker&Jagdwurst, yet I still embark on daring baking projects for inexplicable reasons. The evidence: a vegan gingerbread house, ice cream cakes, and vegan baumkuchen.
However, with today's recipe, I'm going overboard, and I promise never to claim again that I'm only responsible for the savory affairs on this site. Today, we're making (yes, you read that right, you're now on board) vegan pudding pretzels, and for that, we'll prepare vegan puff pastry, deal with things called "drawn butter" and "turning" and allow our dough to rest in the refrigerator for several intervals. Don't worry – for those who don't feel like going through all this effort but still crave pudding buns, there are several shortcuts.
What is danish pastry, anyway?
This is what I asked myself at the beginning of my pastry journey, even though the term "danish" is well-known to me from the local bakery. Danish pastry is nothing more than a yeast dough that incorporates drawn fat. That brings us to two technical terms in this recipe that probably need more explanation.
Drawn butter, turning – what, how?
There are "simplified" recipes for pudding buns that use pure butter or margarine. However, I decided to delve deeper into the matter and learned that drawn butter is better suited for this purpose. To do this, you mix a little flour with plenty of vegan butter in advance. This makes it somewhat "tough" and gives it a different kind of elasticity than pure (vegan) butter. However, for the drawn butter to be easily incorporated into the dough, it must first rest in the freezer or refrigerator until it becomes firm again and its consistency is similar to your yeast dough.
The process of incorporating drawn fat into the dough is called turning. By folding the dough several times, the drawn butter is worked layer by layer into the yeast dough, resulting in the many thin layers that you also know from puff pastry (the difference being that the latter is made without yeast). There are two techniques for turning: the single turn and the double turn. I describe both below in the recipe, but you can watch videos about them, such as this one. Honestly, I went with the flow and folded a little, so what I described in the recipe is one of many ways to achieve the result. The only important thing is that the dough should be chilled regularly between folds so that the vegan butter doesn't get too warm and becomes too soft.
How do you make vegan danish pastry?
Fortunately, this point is very quickly resolved because we use a plant-based alternative instead of traditional butter, and that's it. The process itself is the same though.
Does this recipe work with oat milk?
After talking enough about pastry, here's an important note about vegan pudding. We have received feedback several times from other recipes that the pudding didn't set with various types of oat milk. This may be due to certain enzymes breaking down the pudding powder's starch. These enzymes are mainly found in oat milk – but not in every type. As a precaution, I recommend using soy, pea or almond milk.
How can this recipe be shortened?
Here are two shortcuts for those who spontaneously crave vegan pudding pretzels but don't have time for drawn butter and turning. First, you can also use vegan puff pastry for this recipe, which is available in almost every supermarket. Yes, it's different from danish pastry, but you will probably be very satisfied with it (and have saved a lot of time). Secondly, you can make the puff pastry without drawing butter and instead apply vegan soft butter (not melted) to the dough while folding it. Again, you can find numerous alternative ideas on the internet.
But enough theory. Please follow me to the recipe and let's get to the kitchen!
Vegan Pudding Pretzels (Custard-Filled Pastry)
8 pretzels
80 minutes (+ 165 minutes resting time + 15 minutes baking time)
Ingredients
For the vegan drawn Butter:
150 g ( 1.33 sticks) vegan butter (room temperature)
25 g (0.25 cup) wheat flour (type 405)
For the yeast dough:
300 g (2.5 cups) wheat flour (type 550)
1 tsp dry yeast
3 tbsp sugar
1 pinch of salt
175 ml (0.75 cup) warm water
2 tbsp softened vegan butter (or oil)
For the vegan pudding:
74 g (2.5 oz) vegan vanilla pudding powder
600 ml (2.5 cups) soy or almond milk
For brushing:
plant-based milk
maple syrup
For the icing:
powdered sugar
lemon juice or water
Instructions
First, prepare the vegan drawn butter. Mix vegan butter with flour, roll it out on baking paper or foil to about 15 x 20 cm (6 x 8 inches) and wrap it up. Place the vegan drawn butter in the fridge or freezer until it is firm again and slightly elastic, but not stiff or frozen. Ideally, it should have a similar consistency to your dough.

For the dough, mix flour, dry yeast, sugar and salt in the bowl of a food processor. Add warm water until a smooth and elastic dough forms. You may need more or less water than the recipe suggests, so add it gradually. Then add soft vegan butter and knead the dough for several more minutes.

Put the dough in a lightly greased bowl, cover it with a damp, clean kitchen towel, and let it rise for about 1–2 hours in a warm place until the volume doubles. If you want to prepare the dough in advance, you can also let it rise in the fridge overnight.

In the meantime, prepare the vegan pudding according to the package instructions. Let it cool briefly, then fill it into a piping bag and let it cool completely.

Roll out the dough after the resting time to a large rectangle. Place the chilled vegan drawn butter on top and enclose it with the dough – you can use the photos in this recipe as a guide.

Roll out the dough to about 20 x 35 cm (8 x 14 inches). Now it's time to fold the dough. We start with a single turn, folding the short sides into thirds over each other. When viewed from the side, you should see three layers. Then turn the dough 90 degrees and gently roll it out into an elongated rectangle. Then do a double turn. Fold the outer short sides to the middle and fold them over each other – a bit like a book. From the side, you now have four layers. Wrap the dough in foil and let it rest in the fridge for at least 15 minutes so that the drawn butter can cool and firm up.
Tip: Depending on the room temperature, your dough and vegan butter may be warmer and softer. In this case, you can safely let the dough rest in the freezer for 15 minutes or cool it for longer.
Remove the dough from the fridge and roll it out again lengthwise to about 20 x 35 cm (8 x 14 inches). Then, as in the previous step, make a single turn, turn the dough 90 degrees, roll it out lengthwise again, and then make another double turn. Finally, wrap the dough again and let it rest in the fridge for at least 15 minutes.

Now roll out the dough for the last time to about 20 x 40–45 cm (8 x 16–17 inches). Trim the outer sides with a pizza cutter or large knife. Then cut the dough into thin strips (about 2–2.5 cm / 0,8–1 inch wide each). Twist each dough strip by turning the ends of the strips in opposite directions. Then shape them into pretzels and place them on a baking sheet lined with baking paper. I used two baking sheets for this recipe and put four pretzels on each sheet. Next, fill the vanilla pudding in the piping bag into the two large open areas of the pretzels. Let everything rest again for about 15 minutes at room temperature.

In the meantime, preheat the oven to 180 °C / 350 °F (convection heat) and place a baking dish with water on the bottom of the oven. Mix some plant-based milk with maple syrup and brush the pretzels with it. Then bake for about 15 minutes until golden brown. Let them cool completely after baking.

Mix powdered sugar with a little water or lemon juice to make a thick icing. Drizzle the cooled pudding pretzels.