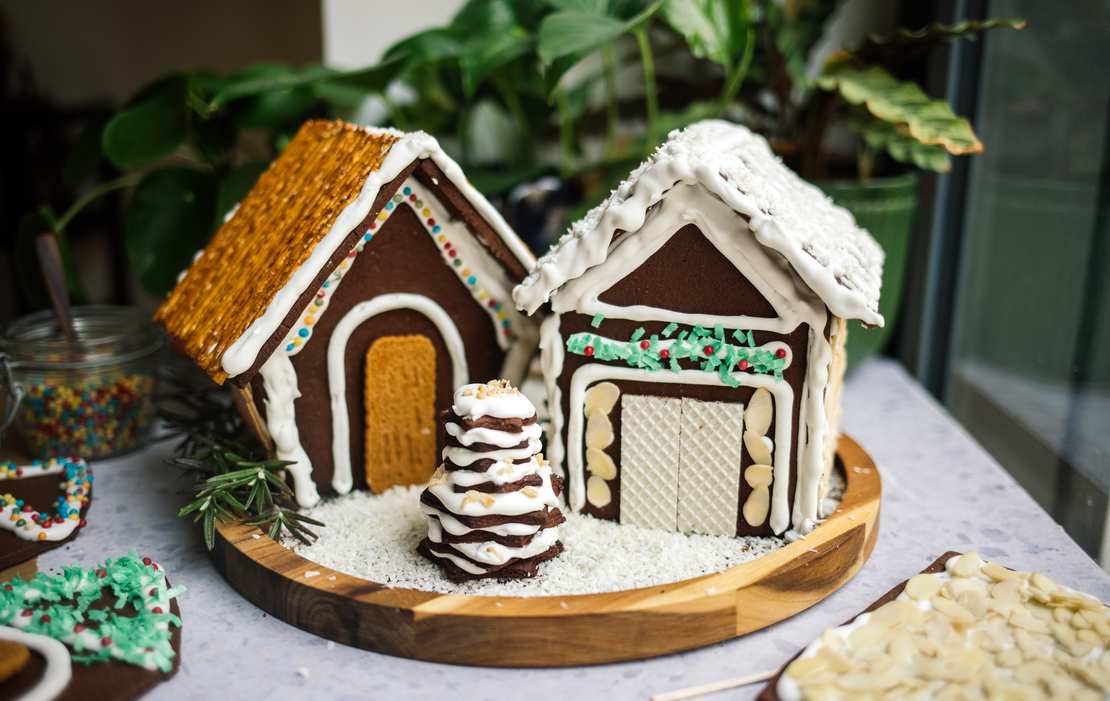 Homemade Vegan Gingerbread House
I really don't know why I always think that I could manage a pretty elaborate baking project in no time at all just before Christmas. Last year it was the vegan "Baumkuchen" that almost drove me crazy and this time it's a DIY gingerbread house that I definitely imagined would be easier. At first, my plan was to take our well-tested and beloved recipe for simple gingerbread and just roll it out thinner. Of course, I prepared myself to make some adaptions of the recipe, but as so often, things turned out totally different.
The dough: Our usual gingerbread recipe is an ideal choice for fluffy, thicker gingerbread. Yet, for a gingerbread house, you want them to be much thinner and firmer. Therefore I threw all existing plans overboard and started from zero again. Most recipes that I found told me to prepare a dough, chill it, roll it out, and then cut it into the desired shapes. However, this method didn't work for me at all. After the chilling time, my dough was way too firm, no matter how I adjusted the amount of several ingredients. So I decided to follow my instinct and rolled out the dough immediately. The consistency is rather greasy this way but sticks well and doesn't tear as quickly (if you work fast). I cut out the template of my gingerbread house with a knife, then let it rest in the fridge. After about 30 minutes, they went into the oven – and it worked! To ensure that the gingerbread surface is as smooth as possible, I recommend rolling out the dough completely rather than doing it in several batches. If you re-knead the excess dough and roll it out a second or even a third time, you will see that it becomes somewhat cracked. Of course, these are only minor imperfections. With a gingerbread house, you can wonderfully cover any "mistakes" very well with a thick layer of vegan icing at the end, so don't throw away any dough.
An extra tip for clean edges: By cooling the individual house parts before baking, they shouldn't spread much in the oven. However, if it bothers you or results in problems sticking them together, you can carefully grind the cooled gingerbread edges with a fine grater to smooth them out.
The vegan royal icing: Royal icing is a thick, glossy icing that can be used for all sorts of cookie and cake decorations. Usually, it's made from egg whites, but we will use aquafaba instead. It's the liquid you find in a can of chickpeas. You only need to whip it with icing sugar and then use it just like regular royal icing (it also hardens when it dries). The amount in our recipe is enough for LOTS of decoration, but I figured that you rather want a bit too much than not enough, right? If desired, you can also divide the vegan royal icing and color it differently. You can also use several piping bags and use a very thin nozzle for decorating and a thicker nozzle for assembling the house.
Assembling and decorating: You can let your creativity run wild when it comes to the decoration of your gingerbread house. Still, I recommend decorating the walls directly and assembling them only afterwards. Once the house is built, you can do the finishing touches and cover minor blemishes with the royal icing. Whether it's for the roof, doors, windows, or even stair treads and a fence around the house, you can come up with the wildest choice of candy, but also salty snacks. Assembling your house is pretty easy with royal icing, but you'll need some patience. Secure the walls by placing objects against them so that nothing falls over. The most challenging part is probably the roof, that you need to do with delicacy.
The template for the house: If you search for "gingerbread house templates" online, you will quickly find plenty of options. Our dough should be enough for two smaller houses. I chose number 1 and 2 from these templates.
Creating a gingerbread house with kids: While making a gingerbread house with kids is a beautiful tradition, I recommend you to do the baking without them. The mixture of vegan butter, sugar, and molasses is really hot, and the dough should be rolled out and cut quickly. So better do it yourself and then just put out the baked gingerbread, vegan royal icing, and sweets for the decoration. This way, no one gets hurt, and everyone has the most fun.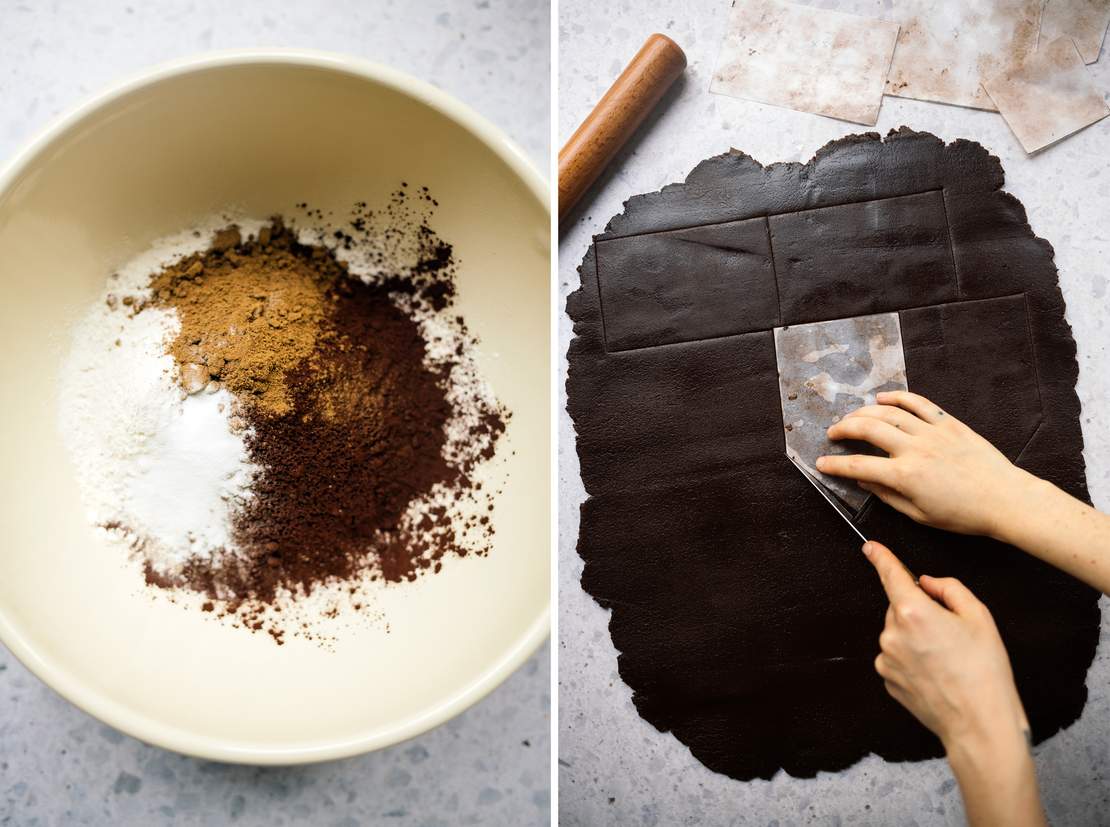 Homemade Vegan Gingerbread House
2 smaller houses and 1 tree
80 minutes (+30 minutes resting time + 10 minutes baking time)
Ingredients
For the dough:
500 g (4 cups) flour
40 g (4 tbsp) unsweetened cocoa powder
10 g (2 tsp) baking soda
20 g (1.5 tbsp) gingerbread spice
0.5 tsp salt
175 g (1.5 stick) vegan butter
150 g (0.75 cup) cane sugar
200 g (0.66 cup) sugar beet molasses
For the vegan royal icing:
150 ml (0.66 cup) aquafaba
600 g (4.75 cups) confectioner's sugar
For decoration:
candy, cookies, salt sticks, sugar pearls, ...
Instructions
Mix flour, cocoa, baking soda, gingerbread spice, and salt in a bowl.

Add vegan butter, cane sugar, and sugar beet molasses to a saucepan and bring to the boil over low heat until the vegan butter and sugar have melted – be careful, the mixture is very hot!

Add melted ingredients to the dry ingredients and mix gently with a wooden spoon. Then knead the dough with your hands, but be careful at the beginning and make sure the mixture is no longer hot.

Roll out the dough immediately on a lightly floured surface to a thickness of approx. 0.5-1 cm (0.2-0.4 inches). It's a rather greasy dough, and to make sure it doesn't tear apart but remains smooth, you should work quickly with it.

Place your gingerbread house templates on the dough, and cut out the single parts with a knife. From the remaining dough you can cut out stars, which you can later use for gingerbread trees.

Carefully transfer the cut-out dough pieces onto two lined baking sheets or large plates. Let them rest in the fridge for at least 30 minutes.

In the meantime, preheat the oven to 180°C/355°F (convection heat). Bake the gingerbread house pieces for approx. 8-10 minutes until they just get darker on the sides. Remove from the oven and let cool down.

Meanwhile, prepare the vegan royal icing. Add aquafaba to a bowl and sift in the confectioner's sugar. Beat the aquafaba for approx. 8-10 minutes – it's best to let a stand mixer do the work for you. You should end up with glossy, thick icing. If you want it to be even firmer, add more icing sugar. Transfer the vegan royal icing into one or more piping bags (depending on whether you want to use different tips or want to color some of the icing).

If the individual gingerbread house pieces have spread out during baking, you can carefully grind them with a fine grater to smooth them out.

Decorate the individual parts, such as the front, back, sides, and roof as desired using the vegan royal icing and sweets of your choice.

Stick the individual house components together with royal icing and let them dry well. Start with the sides, let them dry, and only afterwards place the roof on top and let it dry as well.

Finally, decorate the gingerbread house with the remaining royal icing.