Vegan Gyros with Homemade Tzatziki
It's pretty difficult to get food at Greek restaurants, if you are a vegan or vegetarian. The Greek cuisine is well known for their Suvlaki, Tzatziki and Greek cheese and we definitely want to eat that too. So we have to make our own vegan Gyros and Tzatziki at home. Guess, the only thing missing is Greek Wine or liquor.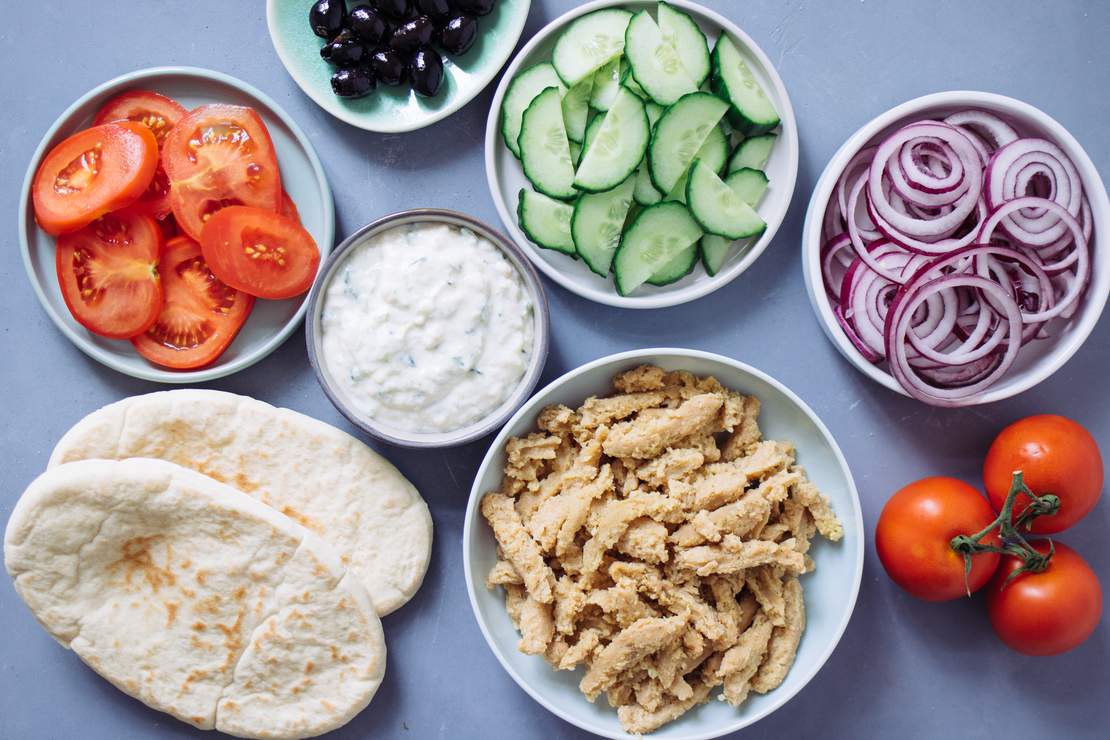 Greek, Vegan Gyros with Homemade Tzatziki
Ingredients
200 g (7 oz) vegan soy stripes
3-4 tbsp olive oil
2-3 tbsp Gyros spice
4 pita pockets
1/4 cucumber
2-3 tomatoes
250 g (10.5 oz) white cabbage (ready to eat)
1 red onions
1/2 iceberg lettuce
small jar back olives
1 portion vegan Tzatziki (recipe up on the blog)
Gyros Spice
2 tsp oregano, gerebelt
2 tsp thyme
1.5 tsp salt
1.5 tsp black pepper
1.5 tsp paprika powder
1 tsp majoram
1 tsp sugar
1 tsp onion powder
1 tsp garlic powder
1 tsp rosemary
1 tsp ground coriander
0.5 TL ground cumin
0.25 tsp chili powder
Instructions
Take out a large bowl, place dry soy meat in it and pour over hot veggie stock until it's all covered. Set aside for 5-10 minutes, until soy meat is soft.
Afterwards pour off water and press out any more water in your soy meat so it won't taste watery in the end.
Add olive oil and gyros spice and stir well. Leave to marinate for at least 15 minutes and then fry, roast or grill the soy strips.
In the mean time wash iceberg lettuce and cut into stripes. Cut olives into rings. Wash and dice cucumber and tomatoes. Peel onion and cut into rings.
Prepare Tzatziki like instructed on our Blog.
Heat pita bags in a pan without oil until warm and stuff with all the ingredients.
Vegan Tzatziki
500 g (16.7 oz) Tzatziki
15 minutes (+ time to wait)
Ingredients
500 g (17.6 oz) soy yogurt (unsweetend)
1/2 cucumber
2 cloves of garlic
2 tbsp olive oil
1 tbsp white wine vinegar
salt&pepper
optional: fresh dill
Instructions
Wash and grate cucumber. Drain through a fine mesh sieve for at least 20 minutes. Add 1 tsp salt to the grated cucumber, cause this draws water out. Try to loose as much water as you can.
Peel garlic cloves, press with a garlic press and combine with soy yogurt, grated cucumber, olive oil and white wine vinegar in a big bowl. Season with salt and pepper.
Let tzatziki chill in your fridge for at leat 90 minutes. Season again before serving.