Vegan Kale Stew with Seitan and White Beans
Some of you already asked us for a vegan recipe for "Grünkohl und Pinkel" which literally means "kale and pee". But before you get the wrong idea: this is a typical dish from Northern Germany, and the "Pinkel" refers to a coarse-grained, smoked sausage, which is added to the kale and served with potatoes and mustard. There are numerous regional variations of this dish, but we don't even want to bother with this topic for too long, because today we're not even cooking "Grünkohl und Pinkel" (we can almost feel the disappointment) but a simple, hearty kale stew.
BUT ... there are some parallels to the classic Northern dish, so we might be able to still satisfy some of those who are disappointed now. Our stew also contains onions, kale, and potatoes, as well as seitan, which can take over the meaty part. However, if you don't like seitan, if you can't find it in any store, or if you're gluten intolerant, you can leave it out completely. If you want to go for seitan, feel free to add it in whichever shape you can get it – if you want to cook whole seitan sausages in this stew, just go ahead! We used a kind of shredded seitan, but you could also cut a larger piece of seitan into smaller chunks.
As with most stews, the preparation is quite simple: once you prepared and cut all ingredients, you'll add them to the pot one after the other. They are fried, deglazed, and simmer together until the stew is done. We also add canned white beans, which go very well with kale and keep a wonderful creamy bite. This way, you will end up with various textures in this stew: firm to the bite potatoes, meaty seitan, tender white beans, and kale everywhere. If you can't get fresh kale, you can also use frozen one, but be sure to defrost it before you add it to the pot.
Last but not least: no worries, if you don't have or don't want to use miso paste. It's only optional, and the stew tastes great even if you only season it with salt, pepper, nutmeg, and allspice. Still, the miso paste adds more depth and flavor.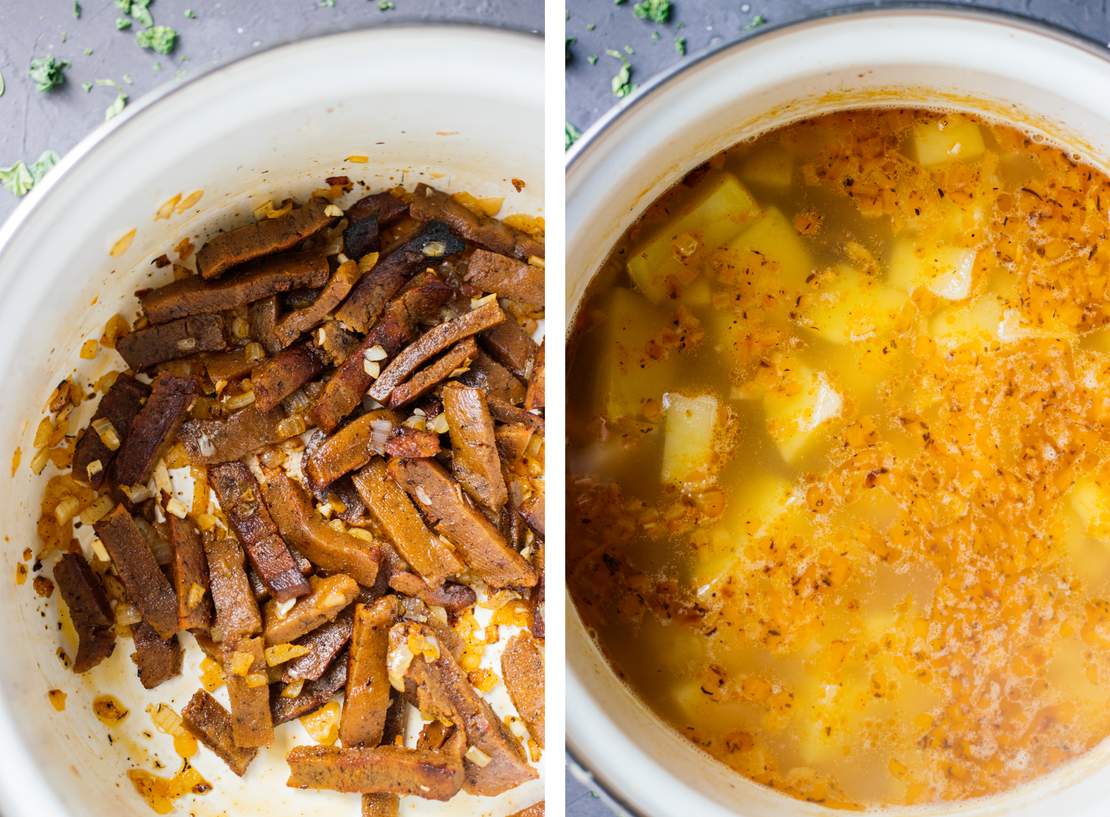 Vegan Kale Stew with Seitan and White Beans
Ingredients
200 g (7 oz) fresh kale
500 g (1 lb) festkochende Kartoffeln
2 onions
2 garlic cloves
200 g (7 oz) seitan
500 ml (2 cups) water
500 ml (2 cups) vegetable stock
400 g (14 oz) canned white beans (drained 240 g)
1 tsp ground allspice
1 tbsp whilte miso paste (optional)
vegetable oil for frying
salt
pepper
nutmeg
Instructions
Wash fresh kale. Remove the tougher stems to only get the soft ones and the leaves. Roughly chop them. Peel and cut potatoes into bite-sized pieces. Peel and finely dice onions and garlic.

Heat vegetable oil in a large pot over medium heat. Start by frying seitan for approx. 5 minutes until browned. Add onion and fry for approx. 2-3 minutes or until translucent. Afterward, add garlic and keep frying for two more minutes.

Add vegetable stock and water and stir to combine. Add potatoes, then bring to a boil once. Reduce heat to medium and let the potatoes simmer for approx. 8 minutes.

Now add the chopped kale and keep simmering for approx. 10 minutes. Add canned white beans (you can drain them or add the liquid as well) and season the stew with salt, pepper, ground allspice, and (if used) white miso paste. Freshly grate nutmeg on top just right before serving the stew.