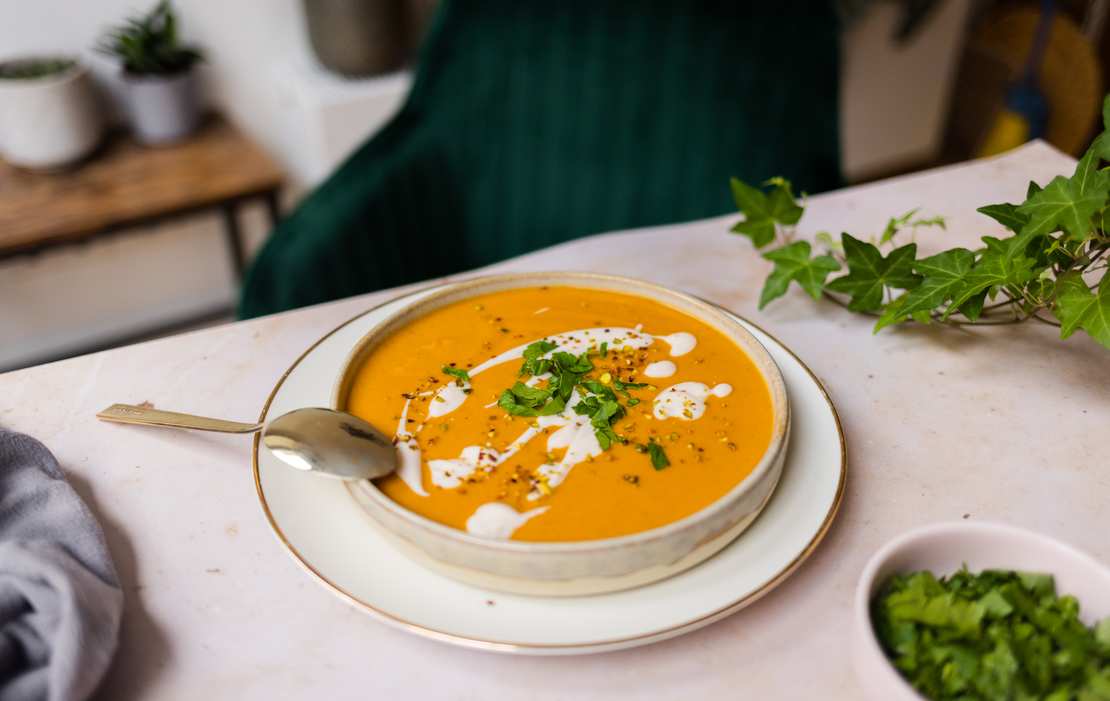 This red lentil soup is for those who don't have much time for cooking but still need a creamy, delicious, and warming meal for cold days. The recipe is super simple, doesn't take much time, and the ingredients are very reasonable. First, all components are roasted in a pot, then deglazed with vegetable stock, and lastly pureed. We love cooking with red lentils because they have great nutritional values: They contain a lot of protein, fiber, and iron which makes them a good meat substitute, especially in a vegan or vegetarian diet. We add carrots, ginger, and lots of spices to the red lentils in this recipe. If you like it spicy, feel free to add more chili. The soup is topped with fresh parsley or cilantro. I would recommend the cilantro, but if you don't like it, you can't go wrong with parsley. Since this recipe is part of our collection of "cheap vegan meals" and pistachios are very expensive, they are just an optional topping.
There are thousands of vegan red lentil soup recipes out there already, and you're probably wondering why exactly you should cook ours, right? Good question! But here's the answer: After the soup is pureed, we add vegan Lughurt Natur from LUVE to get a smooth and creamy soup. And to top it all off, we mix some "lughurt" with harissa and lemon juice and garnish our soup with it for serving. This doesn't only look super pretty but was also very much approved by all the test eaters! The lupine flavor just goes great with the red lentils.
All products from LUVE are produced from lupines from Mecklenburg-Vorpommern and thus support regional agriculture. The products are free of lactose, soy, and GM technology and come without artificial colors or flavor enhancers. We love all their products (they also have lupine cream cheese, drinks, ice cream, and more)! You can find them at EDEKA, real, Kaufland, REWE, or at online delivery services and the online stores "Vantastic Foods" and "Kokku."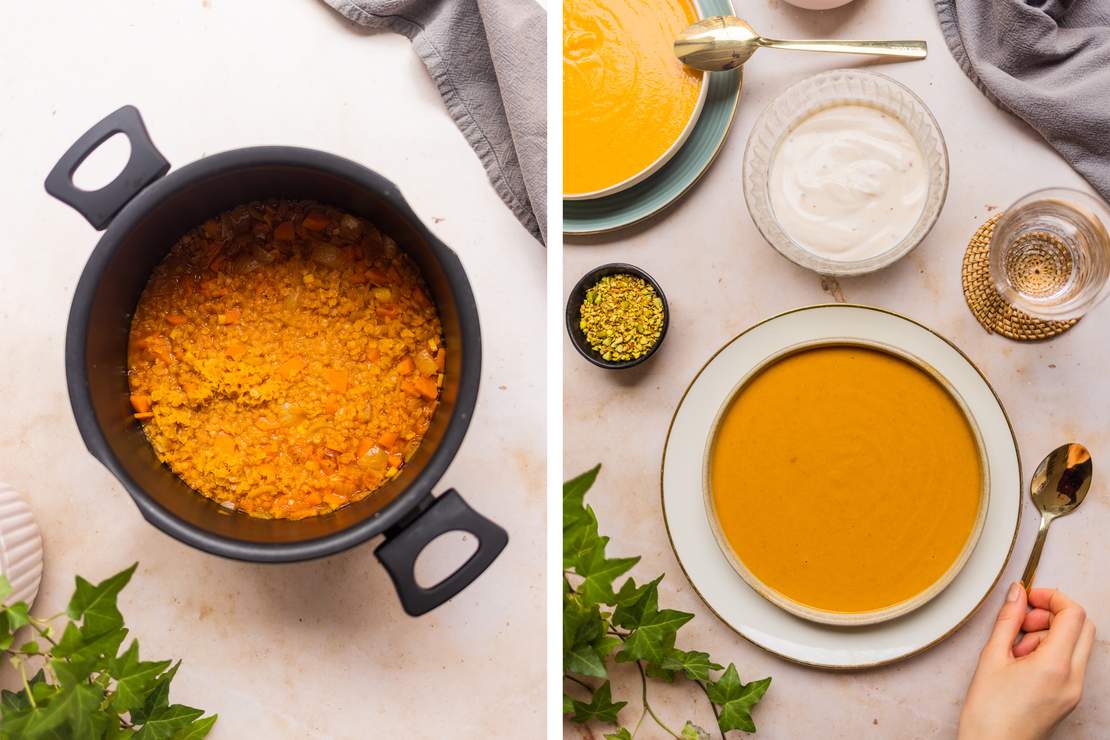 Vegan Red Lentil Soup
Ingredients
For the red lentil soup:
2 onions
2 garlic cloves
20 g (0.75 oz) ginger
200 g (7 oz) carrots
1 tbsp vegan butter
1 tbsp tomato paste
3 tsp ground cumin
2 tsp curry powder
1 tsp chili powder
300 g (1.5 cup red lentils
1500 ml (6.33 cups) vegetable stock
200 g (0.75 cup) vegan plain yogurt (e.g. from LUVE)
0.5 tbsp sugar
0.5 lemon (juice)
For the toppings:
300 g (1.25 cups) vegan plain yogurt (e.g. from LUVE)
1-2 tsp harissa
0.5 lemon (juice)
fresh herbs (e.g. cilantro or parsley)
pistachios (optional)
salt
pepper
Instructions
Peel and chop onions, garlic, ginger, and carrots.

Melt vegan butter in a large pot. Add onions, garlic,ginger, and sauté until the onion is translucent. Then add tomato paste, cumin, curry powder,chili powder, and sauté as well. Next, stir in the carrot and lentils. Deglaze with vegetable stock and let the soup simmer for about 10-15 minutes. Stir in between to make sure nothing burns.

While the soup is simmering, prepare the toppings: Mix plain vegan yogurt with harissa and lemon juice in a bowl, then season generously with salt and pepper to taste. Next, chop fresh herbs and pistachios. Toast the pistachios in a fat-free pan until lightly browned.

Once the red lentils are cooked, blend the soup until smooth. Add vegan yogurt, sugar, lemon juice, and blend well once again. Finally, season the soup with salt, pepper, and other spices to taste. Serve with the vegan harissa yogurt, fresh herbs, and toasted pistachios.