Say hello to: Katsu Sando
About the how and why: Tonkatsu is the Japanese version of a schnitzel that uses panko for the breading. It's often served with Japanese curry, rice, white cabbage, the special tontasu sauce, daikon radish, or miso soup. Supposedly, it was created as kind of a 'tribute' to the famous Wiener Schnitzel in a restaurant in Tokyo at the end of the 19th century. However, there's also a famous Japanese sandwich served with tonkatsu which is 'Katsu Sando' as 'sando' is the Japanese nickname for a sandwich.
What's usually on it: The Japanese schnitzel is sandwiched between to slices of 'shokupan', a Japanese super soft milk bread. The bread is smeared with the mentioned tonkatsu sauce. On top of the schnitzel, there's also sliced cabbage on Katsu Sando. Yes, this doesn't sound too spectuacular but the simplicity of this combination is what makes this sandwich so good! You have the soft bread in contrast to the super crunchy schnitzel and the juicy, tasty tonkatsu sauce. It's all you need!
How we do it: Surprise, suprise – we will not prepare pork today, but use tofu instead. This option is already well-known as the vegan version of Katsu Sando. If you're not into sandwiches, just prepare the tofu and serve it with Japanese curry, rice, or else! Unfortunately, we've never tried tonkatso sauce before, so we'll trust the internet and prepared a homemade sauce with this recipe by Pickled Plum. It's made from ketchup, sugar, soy sauce, and vegan Worchestershire sauce - easy peasy and such a delicious sauce that we'd love to use it as a tasty lip gloss from now on.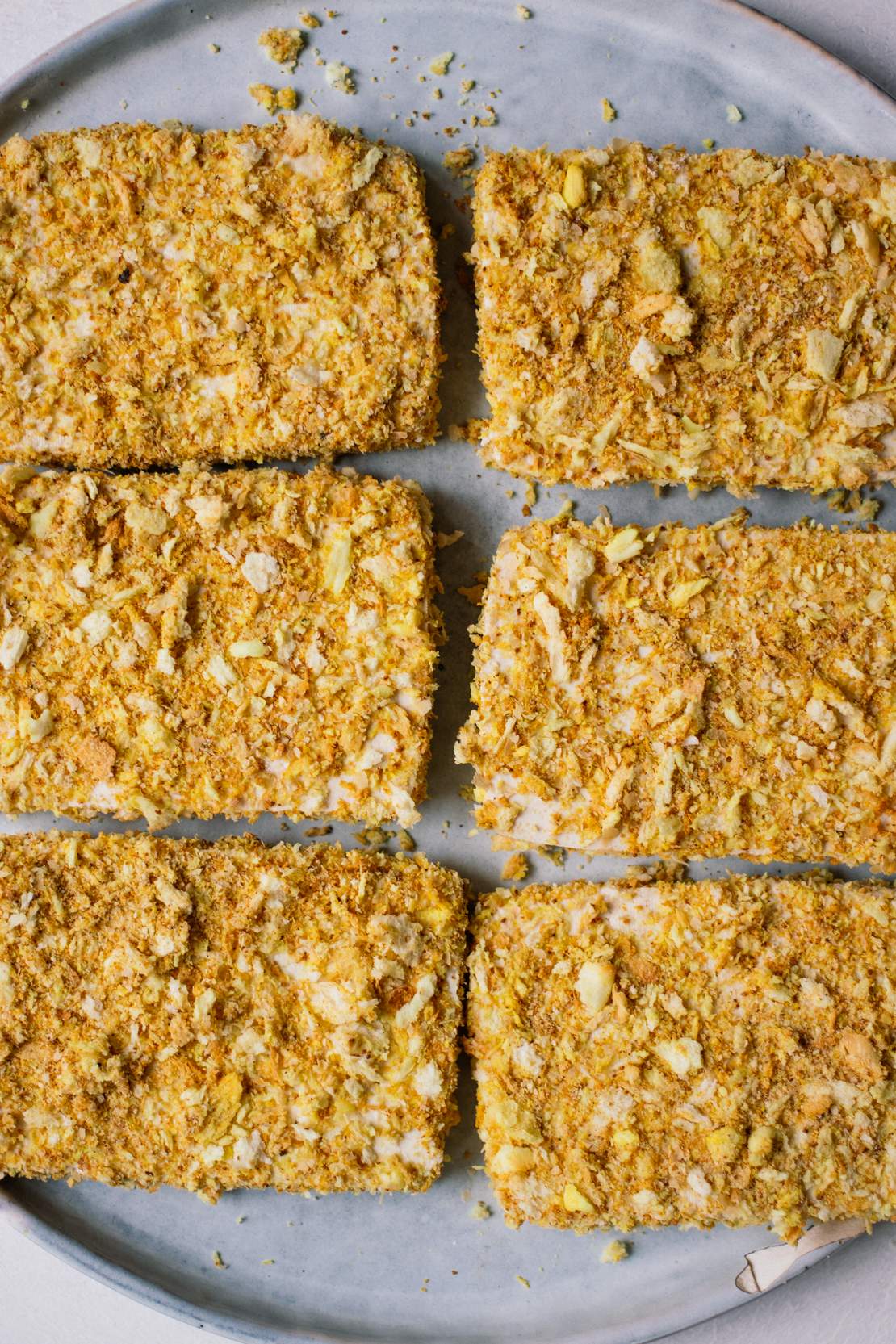 Vegan Tofu Katsu Sando
Ingredients
8 slices white bread
50 g (0.5 cup) panko
1 tbsp nutritional yeast
0.5 tsp garlic powder
600 g (21 oz) tofu
50 ml (0.25 cup) plantbased milk
50 g (5 tbsp) flour
100 g (3.5 oz) cabbage
8 tbsp tonkatsu sauce
vegan butter for coating
vegetable oil for frying
salt
pepper
Instructions
Grate or finely slice cabbage and set aside for later.
Cut off the bread crust of the white bread. Use the white bread, but toast the crust and snack it while preparing this sandwich.
Heat a fatfree frying pan over low heat and toast panko until golden brown. Add to a bowl and mix with nutritional yeast, garlic powder, salt, and pepper.
Cut tofu into thick slices - we could fit 1.5 - 2 slices on our white bread, so just make sure you have enough slices of tofu to cover all your bread. First, dredge tofu slice in flour, then egg, and lastly in the panko mixture.
Heat vegetable oil in a frying pan and fry sliced tofu from both sides until crispy and golden brown.
For serving, spread half of the white bread slices with vegan butter and spread with half of the tonkatsu sauce. Top with tofu and shredded cabbage. Spread remaining tonkatsu sauce on the remaining white bread slices and place them on top of your sandwich.
More Sandwich Sunday - Vegan Sandwich Recipes