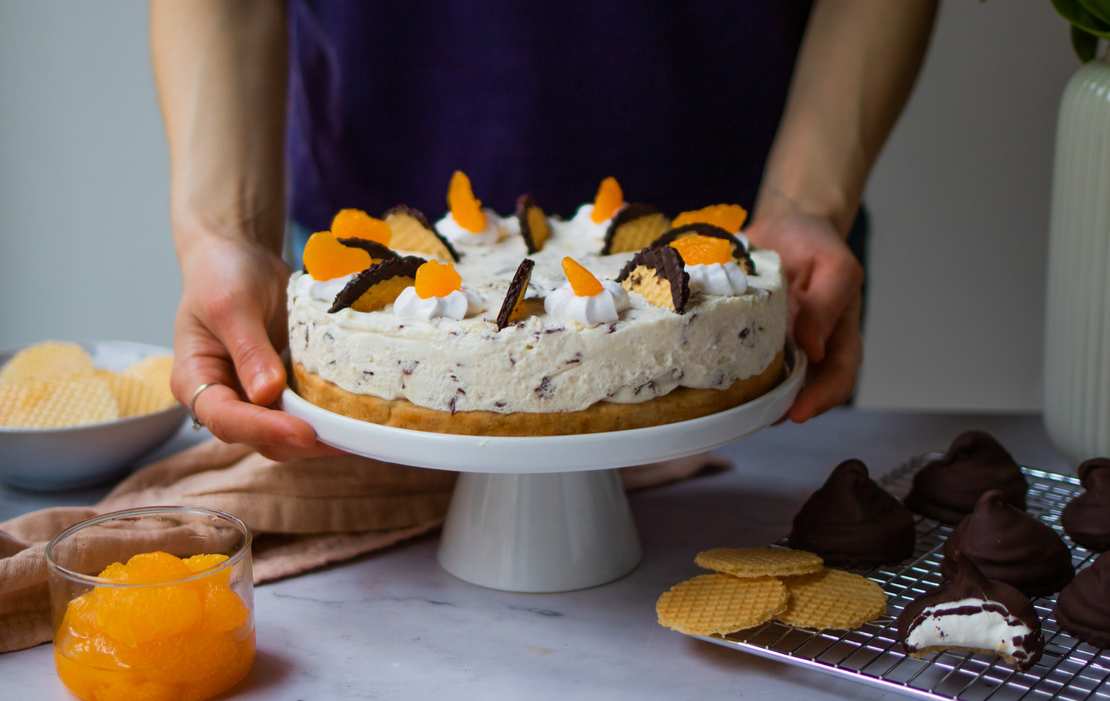 One of the best feelings, if you ask me, is successfully veganizing a recipe. For me, there are few things better than getting the feedback: "Yes, this tastes just like the original one. "And also, perhaps I am even more pleased when a recipe tastes like the original. It is now scientifically proven how much smell and taste are linked to memories. It's crazy what a bite into a piece of cake can evoke, just like this vegan mallomar cake. We actually never used to bake it at home. Instead, I immediately think of birthdays at the neighbors or the classic cake buffet. In general, a cake buffet in Germany seems to be a big thing and follows a strict set of rules, which baked goods may not be missing in any case. Like Donauwelle, Raspberry Cake, Cheesecake, Russian Chocolate Cheesecake, Crumble Cake, Peach & Cream Cake and: Mallomar Cake.
Anyway, I have a weakness for these 80s / 90s trend cakes. So it's obvious that canned mandarin oranges were inevitable. And I can take away one worry: We don't need vegan mallomars for this recipe. Because you can find them only in manufactories and as you can read here, making them yourself is possible, but as Isa put it in a nutshell, it's more of a project than a recipe. However, since we're all about the taste, we'll omit the mallomars and just help ourselves to their ingredient list. They consist of beaten egg whites, sugar, and a chocolate coating. That's why we simply whip up aquafaba with sugar and fold it into the curd cream, followed by chocolate shavings. There is not much more to consider, but please don't omit the agar-agar in this recipe. Otherwise, the cake cream will stay runny. Leave the cake in the fridge overnight, so the agar-agar has time to set. Of course, you can get creative with the decoration; we still had vegan flat wafers and quickly cut-out circles which we provided with chocolate edges for the look.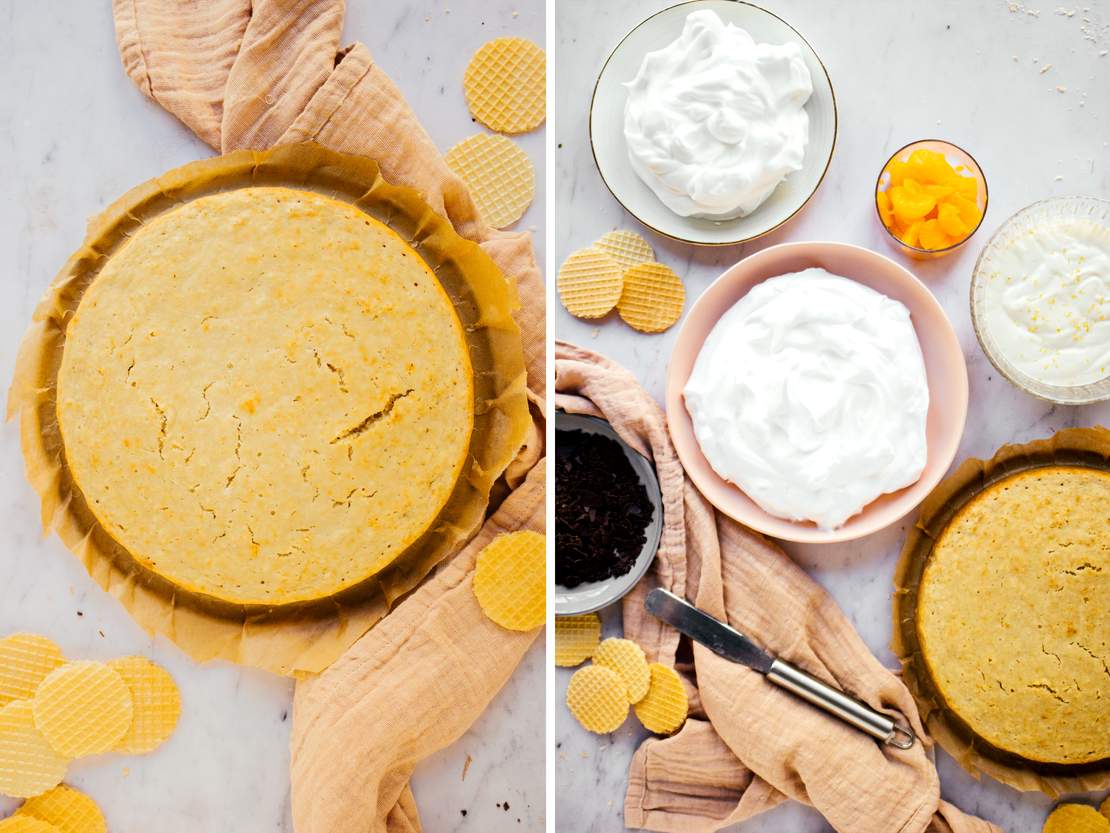 Vegan Mallomar Cake
1 cake (ø 8.5 inch)
30 minutes (+ time to cool down)
Ingredients
For the sponge cake:
200 g (1.66 cups) wheat flour
120 g (0.5 cup) sugar
8 g (1.5 tsp) vanilla sugar
1 tsp baking powder
40 ml (0.2 cups) vegetable oil (canola or sunflower oil)
225 ml (1 cup) sparkling water
For the filling:
200 g (7 oz) vegan whipping cream
16 g (2 tpsp) cream stiffener
8 g (1.5 tsp) vanilla sugar
zest of 1 organic lemon
250 g (8.75 oz) vegan curd
50 g (1.75 oz) aquafaba
50 g (0.25 cup) sugar
200 g (1 cup) water
7 g (1 tbsp) agar-agar or 2 agar-agar sheets
70-100 g (2.5-4 oz) dark chocolate shavings
Also:
200 g (7 oz) canned tangerines (drained weight)
optional: vegan flat wafers and dark chocolate
vegan butter for greasing
flour for patting out
Instructions
Preheat oven to 180°C/350°F (circulating air). In a large bowl, whisk together flour, sugar, vanilla sugar, and baking powder.
Add oil and sparkling water and stir in just briefly.
Grease a springform cake tin (ø 22 cm / 8.5 inch), pat with flour, and pour in the batter. Bake for 30 minutes at 180°C/350°F.
Test with a chopstick whether the dough is cooked through. Allow the cake base to cool.
Filling
Whip up the vegan cream with the cream stiffener and save 1/4 of it for the decoration. In the meantime, store it in the fridge.
Add the vanilla sugar and lemon zest to the curd and mix well. Whip the aquafaba for 3-5 minutes while adding the sugar until stiff.
In the meantime, bring the water and agar-agar to a boil and simmer for at least 3 minutes, stirring constantly.
Gently fold the whipped cream into the curd mixture, followed by the aquafaba. Pour the agar-agar mix into the mass and stir. Finally, fold the chocolate shavings under the cream.
Place a baking ring around the cooled cake base and lay baking paper sheets between the baking ring and the sponge cake base. Arrange 3/4 of the tangerines on the cake base and pour the curd cream on top. Refrigerate for at least 3 hours, better overnight.
Carefully remove the baking ring and baking paper from the cake and decorate with the remaining whipped cream, tangerines, and, e.g., vegan flat wafer rounds (dipped in chocolate).