Vegan Mozzarella Sticks with Cashews
Vegan mozzarella sticks have been on our recipe list for a long time. The only reason why we haven't published it earlier is this one: these vegan "cashew sticks" have no "cheese pulls". However, I recently noticed that not even all "original" mozzarella sticks have cheese pulls, so I relinquished this claim. So now, may I present our vegan version that's crispy on the outside, creamy on the inside? Finger food dreams come true!
We used our classic vegan mozzarella recipe as a base, but thickened it with a bit more tapioca starch. And do you still remember our vegan yogurt-strawberry bars? Back then, I had bought a silicone mold that also fits perfectly for mozzarella sticks. It takes a bit of practice to find out how much cashew mixture fits into a mold, but is quite easy to do. However, it's particularly important to proceed quickly. Once the cashew mixture is heated, spoon it into the ice cold water quickly, then press it into the molds directly. If you have no silicone molds, you can also deep-fry small cashew balls instead of sticks.
After heating and shaping, the cashew mixture is still so soft that breading will be difficult and that the mixture could break while it's deep fried. Therefore, freeze the mixture for at least 30 minutes beforehand. Afterwards, the mixture should be firmer.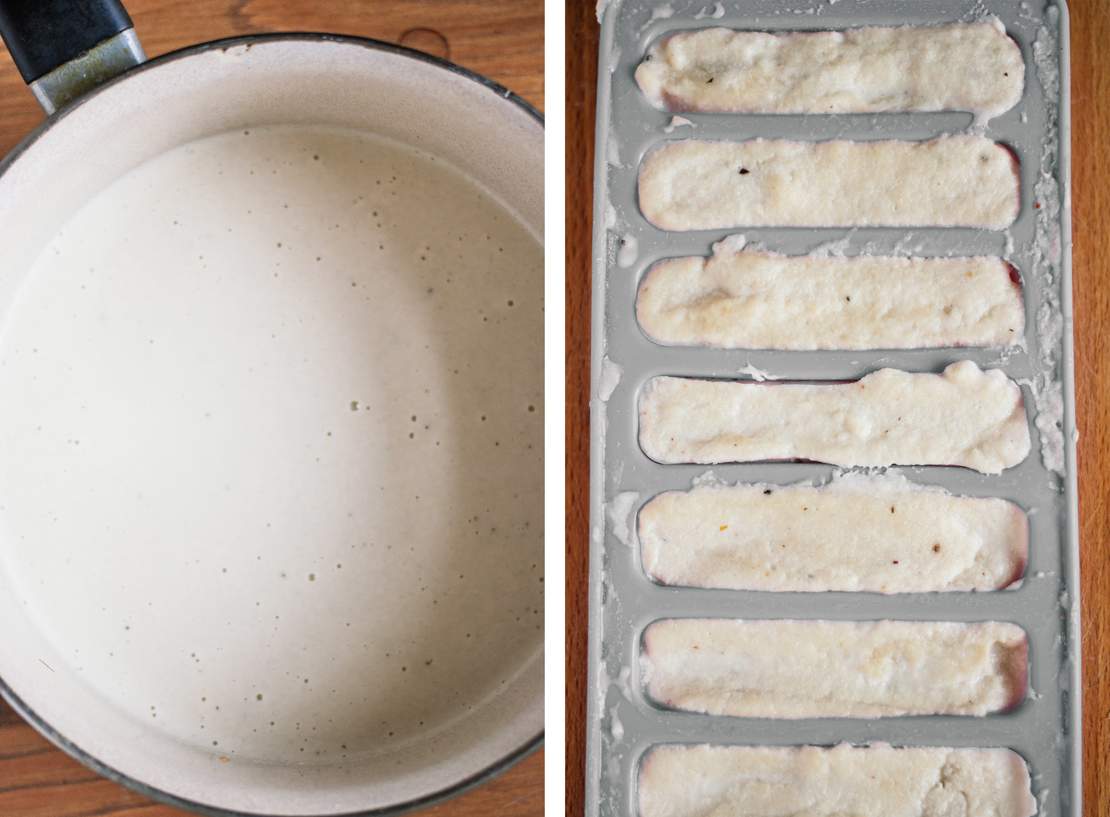 Vegan Mozzarella Sticks with Cashews
10-12 pieces
40 min. (+ 30-60 min. resting time)
Ingredients
100 g (3.5 oz) cashews, soaked overnight
150 ml (0.66 cup) water
1 tbsp nutritional yeast
1 tsp garlic powder
50 g (1.75 oz) tapioca starch
0.5 tsp salt
3 tbsp flour
3 tbsp plantbased heavy cream
3 tbsp panko
0.5 tsp dried oregano
0.5 tsp dried marjoram
0.5 tsp dried basil
0.25 tsp salt
0.25 tsp paprika
salt
pepper
marinara for serving
vegetable oil for deep-frying
Instructions
Drain soaked cahsews and add them to a blender or a liquid measuring cup with water, nutritional yeast, garlic powder, tapioca starch, and salt. Blend them until smooth (you could also use an immersion blender for this). Season with salt and pepper to taste.
Prepare a bowl with ice cold water and if used silicone molds. Add the cashew mixture to a small pot over medium heat. While stirring constantly, heat the mixture until the mixture is almost doughy and pulls off the sides of the pot.
Remove the pot from heat. Use spoons or an ice cream spoon to take a smaller portion of the mixture, and directly transfer it to the bowl of ice cold water. Let it rest there for a second, then transfer it to the silicone molds and press it down a bit to fill out the whole mold. Repeat with remaining mixture, then freeze the cashew mixture for approx. 30-60 min.. It should be quite firmer in the end.
In the meantime, prepare three bowls. Add flour to the first bowl, plantbased heavy cream to the second, and panko, dried herbs, salt, and paprika to the third one.
Heat vegetable oil in a pot to 160°C-180°C/320°F-355°. You can also dip the end of a wooden stick into water, then dip it in hot oil. If the oil starts to bubble, you're ready to go. While the oil is heating, work in batches, and remove the first 2-3 cashew sticks from the molds. Dredge in flour first, then transfer it to plantbased cream, and finally toss each cashew stick in panko mixture until it's covered all over.
Deep fry all cashew sticks in batches until golden brown. Degrease on kitchen paper, and serve with marinara to dip in.