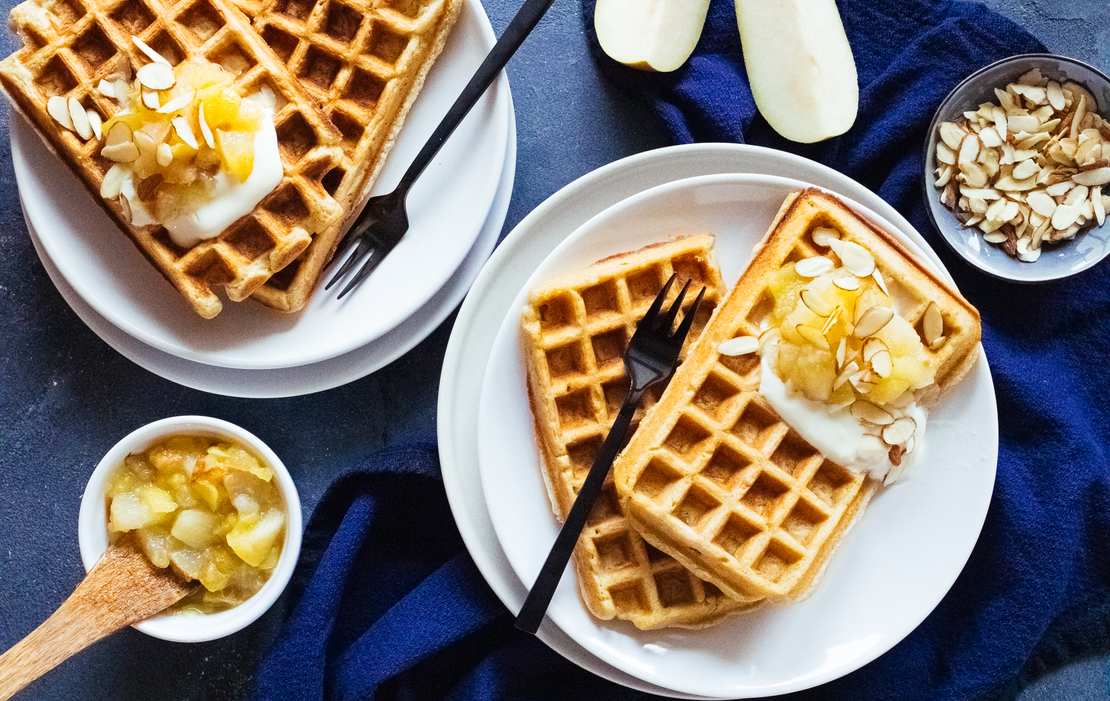 Vegan Oat Waffles with Apple Pear Compote
In the United States, waffles are quite an important part of having breakfast. In Germany, we only bake waffles on special occasions, for example, when family and friends are visiting us for a Sunday brunch. But the smell of fresh waffles always reminds us that we should bake waffles more often. So we created a simple and quick recipe for breakfast waffles that you can prepare in a few minutes and top according to the season!
In addition to sugar and cinnamon, powdered sugar, or chocolate cream, you can also serve the waffles with a homemade fruit compote and nuts. Over the cold season, however, we only have a limited selection of fruits for the compote. We used apples and pears that are stored in winter and are therefore still available from regional farmers. In spring, you can top the waffles with a rhubarb compote, in summer with a cherry compote or in autumn with a plum compote.
We are super happy that [Kölln] (https://www.koelln.de/) supported us with this recipe. Instead of using rolled oats, we used [instant flakes] (https://www.koelln.de/produkte/haferflocken/instant/) for our oat waffles. These are instantly soluble, so you won't notice them later in the dough, except for the taste. The instant flakes are creating a wonderfully fluffy and crispy dough at the same time and consist of 100 % whole grain. We also used the [oat drink] (https://www.koelln.de/produkte/haferdrinks/) from Kölln in the recipe, which works perfectly! You can find out more about the advantages and types of oats [here] (https://www.koelln.de/produkte/haferflocken/).
Vegan Oat Waffles with Apple Pear Compote
4 large waffles
30 minutes
Ingredients
2 tbsp plant-based oil (to brush the waffle iron)
Oat Waffles
200 g (7 oz) Kölln instant flakes
100 g (0.75 cups) flour
3 g (0.1 oz) baking powder
50 g (0.25 cups) brown sugar
230 ml (0.97 cups) Kölln oat drink
20 ml (0.2 cups) neutral plant-based oil
50 ml (0.2 cups) sparkling water
1 pinch of salt
Apple Pear Compote
1 apple
1 pear
50 ml water (0.2 cups)
0.5 lemon
1 cinnamon stick
toppings
100 g (3.5 oz) plant-based yogurt (nature)
50 g (1.7 oz) almond slices
Instructions
Oat Waffles
In a large bowl, mix together all the ingredients for the waffles and set aside.
Preheat waffle iron and brush with plant-based oil.
Pour the batter onto your hot waffle iron.
Apple Pear Compote
Wash the apple and pear, remove seeds, cut into small pieces, and place in a saucepan.
Add the juice of half a lemon and add to the saucepan together with the water and the cinnamon stick.
Simmer for 10 minutes until soft.
Serve the waffles with the compote, plant-based yogurt, and almond slices.