Vegan Omelet Made of Tofu
Make a wish: In our series "Make a wish" we develop recipes to make your wishes come true - whether it's about vegan french toasts or doughnuts. If you also have a recipe that we should cook for you, send us a quick mail to hello@zuckerjagdwurst.com. Until then, find all your previous wished recipes here.
An omelet is a classic breakfast favorite. Eggs, milk, veggies, onion, and spices - that's it! But preparing an omelet without eggs offers various possibilities. Let's be clear: Kala Namak is a must have for a vegan omelet, no matter which "base" you are using. It's Indian rock salt and tastes similar to hard-boiled eggs. Nevertheless, we still have to talk about replacing the egg mixture.
A lot of recipes are using chickpea flour mixed with yogurt or milk to get a thick and mushy mass. Others use aqua faba (made of chickpea liquid). And some are even using a finished mixture from the supermarket. None of these ideas was blowing our mind. So we had to search for another one. Especially, most of the results were more like a crepe (dry and thin) than an omelet (wobbly and thick).
So we used tofu for this recipe, a naturally wobbly mass, yay! And the result was wonderful! We got a thick mixture and a tangy taste we would love to have every morning.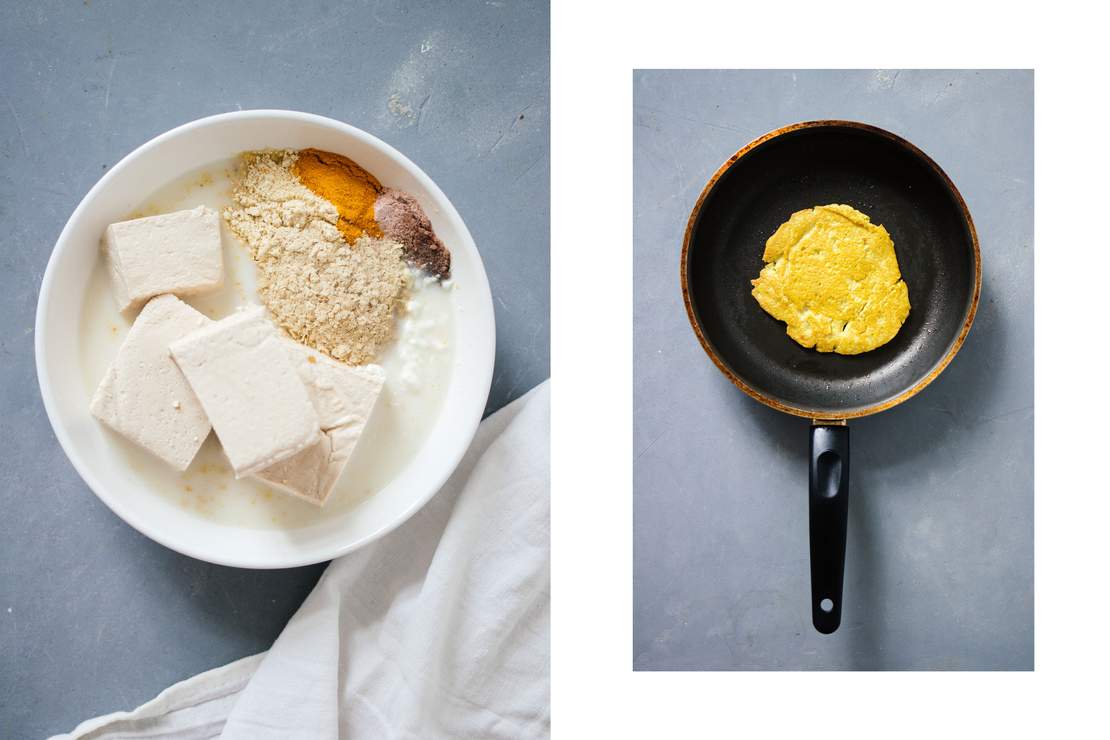 Vegan omelet made of tofu
6 small omelets
20 minutes
Ingredients
omelet
350 g (12.3 oz) firm tofu
180 ml (0.7 cups) plant-based milk
2 tbsp chickpea flour
1 tsp kala namak
2 tsp turmeric
2 tbsp cornstarch
2 tbsp nutritional yeast
salt & pepper
pinch of cayenne pepper
1 onion
toppings
1 onion
200 g (7 oz) mushrooms
100 g (3.5 oz) mixed green salad
Instructions
Puree all ingredients for the omelet (instead of the onion) in a high container.
Peel and finely chop onion. Fold in the chopped onion to the omelet mixture.
Prepare the toppings: clean mushrooms, remove stalks and slice.
Heat a small pan with plant-based oil. Add omelet mixture and fry the omelets on both sides. Season with salt and pepper.
In a separate pan heat oil and fry onion and mushrooms.
Wash salad and top omelets with onion rings, sliced mushrooms, and fresh salad.