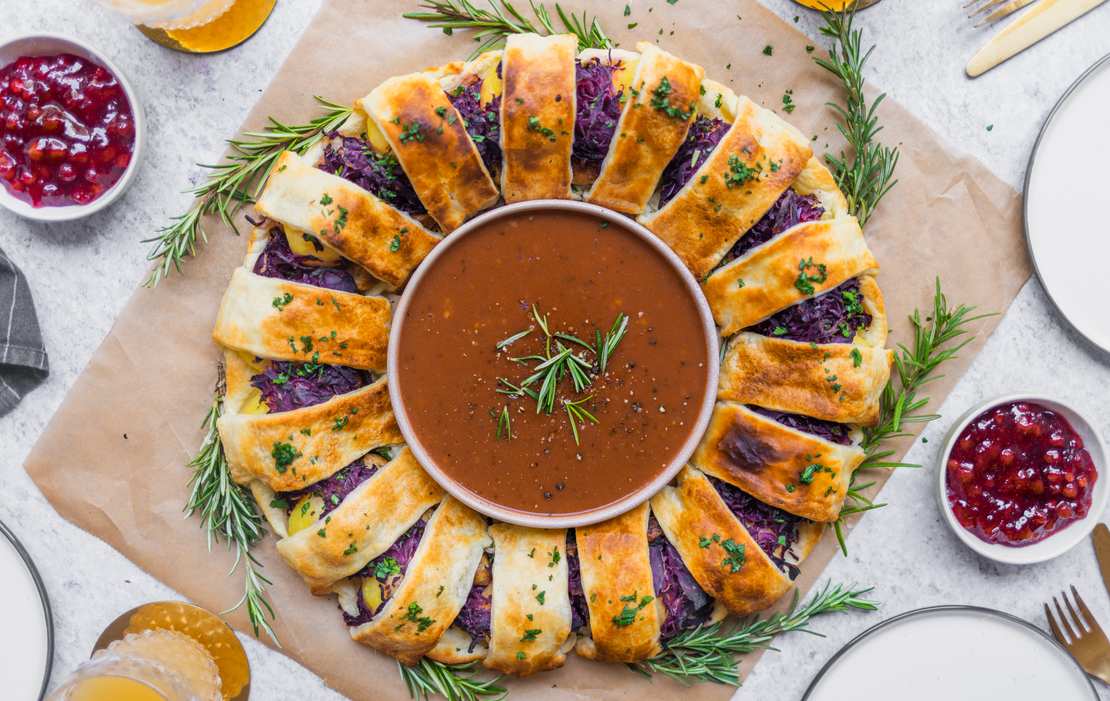 Vegan Puff Pastry Wreath Filled with Potato Dumplings, Red Cabbage & Plant-Based Sausages
Christmas is just around the corner, and so is the big decision about the Christmas menu. What will be this year's starter, main course, and dessert? Should it be a bit more elaborate, or will you skip the starter altogether? However you decide, we hope we provide you with enough inspiration, so you can reward yourself with a beautiful Christmas dinner at the end of the year. We all deserve it!
For the second year in a row, we're showing you a "lazy Christmas dinner," which is a dish that's ideal if you'd rather spend Christmas Eve on the couch instead of in the kitchen, which we do understand. Last year we offered you our loaded tater tots with jackfruit, red cabbage slaw, and a quick vegan gravy. This year, we're going a bit more "classic" making a puff pastry wreath filled with (ready-made) dumplings, (ready-made) red cabbage, and vegan sausages. This dish is such an eye-catcher that it becomes an absolute minor matter whether and what is homemade or not.
For this, we take two large sheets of puff pastry (the refrigerated, but not the frozen one), cut out a ring with the help of a large and small bowl, and fill our wreath not with "any filling," but with the Christmas food par excellence: potato dumplings, red cabbage and ... well, sausages. They simply have the best shape and are prepared a lot faster than vegan goulash. In addition, we'll form smaller potato dumplings, which will reduce the cooking time. Plus, the red cabbage is bought and not homemade, so in total, this dish is done in less than 1 hour. Of course, you can adjust the individual components and use sauerkraut instead of red cabbage or smoked tofu, seitan, or tempeh instead of plant-based sausages.
By the way, a puff pastry wreath is also a great idea if you have leftovers after the Christmas holidays that you want to hide under a crispy blanket. As a dip, we give you a quick gravy to hand, which only takes a few minutes until it's ready.
Vegan Puff Pastry Wreath with Dumplings, Red Cabbage & Plant-Based Sausages
Ingredients
For the puff pastry wreath:
750 g (26 oz) vegan potato dumpling dough
200 g (7 oz) jarred red cabbage
7 plant-based sausages
2 sheets of vegan puff pastry (50 x 25 cm / 20 x 10 inches)
For the quick gravy:
1 onion
2 tbsp vegan butter
0.5 tsp dried thyme
1 tsp tomato paste
1 tsp mustard
2 tbsp mustard
300 ml (1.25 cups) vegetable broth
100 ml (0.5 cup) vegan red wine
1 tsp soy sauce
agave syrup (optional)
salt
pepper
Also:
vegetable oil for frying
plant-based milk for brushing
rosemary for serving
parsley for serving
Instructions
Bring a pot of salted water to a boil. In the meantime, knead the potato dumpling dough in a bowl and form fifteen equal-sized dumplings of it. Add the potato dumplings to the water, reduce the heat and let them simmer over medium heat without a lid for approx. 15 minutes.

Drain jarred red cabbage in a sieve. Fry the plant-based sausages in a pan with some oil until they're browned from all sides.

For the puff pastry wreath, place the first sheet of puff pastry on a lightly floured surface or parchment paper. Place a bowl about 35 cm (14 inches) in diameter upside down and only halfway on top of the puff pastry. Use a knife to cut out a semicircle of the dough. Place a smaller bowl, about 16 cm (6 inches) in diameter, also upside down and only halfway on the first semicircle and use a knife to cut out a smaller semicircle from the larger one. Now you have half of the wreath. Repeat the step with the second sheet of the puff pastry. Lay both halves next to each other on parchment sheet to create a full circle. Press the ends of the dough together. Cut the leftover dough into strips of approx. 4 x 10 cm (1.5 x 4 inches).

Preheat the oven to 200°C/390°F. Arrange potato dumplings, red cabbage, and plant-based sausages on top on the puff pastry wreath. Now carefully fold the puff pastry strips over the filling and press the ends of the strips firmly against the pastry base to seal the filling.

Brush the top of the puff pastry wreath with plant-based milk and bake at 200°C/390°F for approx. 10-15 minutes, or until golden brown.

In the meantime, prepare the quick gravy. Peel and finely dice the onion. Melt vegan butter in a small saucepan and sauté the diced onion with dried thyme until translucent. Add tomato paste and mustard, and keep frying over medium heat for approx. 3 minutes, until the tomato paste is slightly darker. Dust with flour and stir in vegetable broth and vegan red wine. Season the gravy with soy sauce, agave syrup (if desired), salt, and pepper.

Remove the puff pastry wreath from the oven and serve with gravy. Garnish with rosemary and chopped parsley.