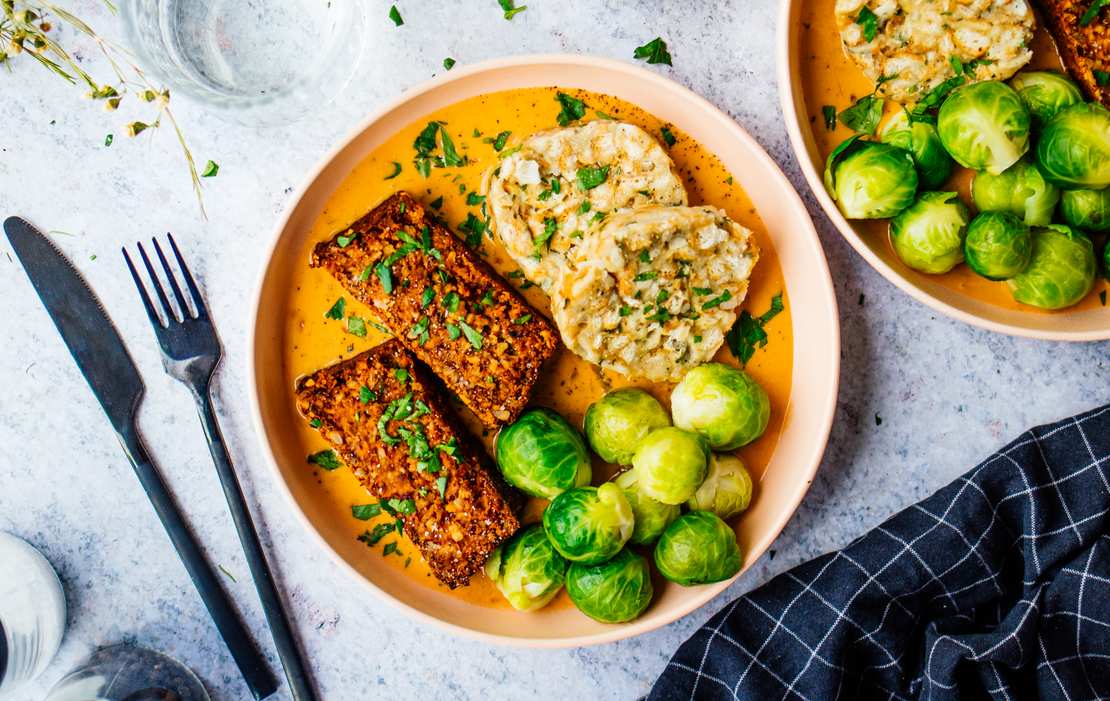 Vegan Nut Roast with Bread Dumplings and Creamy Onion Sauce
If you're allergic to nuts, we're very sorry and would advice you to quickly open another recipe (how about this potato and broccoli casserole?) and just pretend you've never seen these lines and pictures. While we usually try to add soy-free or nut-free alternatives to many of our recipes, we simply can't avoid using a lot of nuts in this one. But if you're one of the lucky ones without a nut allergy, congratulations: you can enjoy this beautiful and delicious vegan nut roast!
There are many ways to prepare a vegan roast – with seitan, soy, beans, lentils, or with nuts. We already published a lentil roast and a 'sauerbraten' made from seitan but today we're going nuts. To make this nut roast, you'll need a food processor (alternatively you could use a blender) and a loaf pan for baking (alternatively you can use a deep casserole dish). And while we're at it: it's also good to have a clean kitchen towel and some kitchen string or rubber bands to be ready as you'll need them for our vegan bread dumplings.
We're not doing regular potato dumplings today, but so called 'Serviettenknödel' (literally napkin bread dumplings). The preparation is a bit easier as you don't need to shape each dumpling and since they require wheat buns as a base (so you don't need to boil any potatoes). In the end, it's basically a bread dumpling dough that is wrapped and cooked in a kitchen towel (or linen napkin, which is where they got their name from) and sliced afterwards. We directly added the wrapped dough to a pot of simmering water, but there's also the option to steam it over hot water. Even though I could have bet that 'Serviettenknödel' originate from the Franconian cuisine, their actual origin isn't clear. However, until the 1930s this type of bread dumpling was mostly known in Thuringia, upper Franconia, and around Hamburg.
But back to more important things: side dishes! Even though we would highly enjoy to serve every dish with our vegan gravy, we opted for a creamy onion sauce for this dish. It's quick to prepare and covers the nut roast and bread dumplings like a tasty silken blanket. We also prepared some Brussels sprouts, but you can basically choose any vegetable of your desire.
Vegan Nut Roast with Bread Dumplings and Creamy Onion Sauce
Ingredients
For the nut roast:
1 onion
1 garlic clove
2 (approx. 200 g / 7 oz) carrots
10 g (0.33 oz) fresh parsley
250 g (9 oz) canned kidney beans (drained weight)
250 g (9 oz) nuts (e.g. almonds, hazelnuts, walnuts)
2 tbsp mustard
1 tbsp tomato paste
1 tsp dried thyme
1 tsp dried rosemary
2 tbsp soy sauce
2 tbsp cornstarch
vegan butter for greasing
salt
pepper
For the bread dumplings:
400 g (14 oz) wheat rolls
2 tbsp cornstarch
300 ml (1.25 cup) plant-based milk
1 large onion
10 g (0.33 oz) fresh parsley
0.5 tsp nutmeg
salt
pepper
For the creamy onion sauce:
2 onions
2 tbsp vegan butter
2 tbsp flour
1 tsp tomato paste
250 ml (1 cup) vegetable broth
250 ml (1 cup) plant-based heavy cream
5 g (0.25 oz) fresh parsley
1 tsp mustard
1 tbsp soy sauce
nutmeg
salt
pepper
Also:
750 g (1.66 lbs) Brussels sprouts
Instructions
Nut roast
Peel and chop onion and garlic, wash and chop carrot. Wash and dry parsley. Drain canned kidney beans and rinse under water.
Start by adding nuts to a food processor and mix until roughly ground. Transfer the nut mixture to a bowl. Afterwards, add onion, garlic, carrot, parsley, and drained kidney beans to the food processor and mix until you have a chunky, rather mushy mixture.
Preheat oven to 180°C/355°F (circulating air). Add the mixture to the ground nuts. Add mustard, tomato paste, dried thyme and rosemary, soy sauce, cornstarch, salt, and pepper, then knead until combined.
Grease a loaf pan with vegan butter, add the nut roast mixture, and smooth out. Bake at 180°C/355°F for approx. 60-70 minutes.
Bread dumplings and Brussels sprouts
While the nut roast bakes, finely dice the wheat rolls. Add them to a bowl and sprinkle with cornstarch. Heat plant-based milk until it's warm, then pour it over the diced wheat rolls and let them soak for approx. 5-10 minutes.
In the meantime, peel and finely dice a large onion. Wash and finely chop parsley. Add onion, parsley, and nutmeg to the soaked wheat rolls. Season generously with salt and pepper, then knead the mixture by hand until all ingredients are combined. Form the mixture to a longish but also wide roll.
Bring a large pot of salted water to a boil. Transfer the bread dumpling roll to a clean kitchen towel and wrap it until covered from all sides. Use kitchen string or rubber bands to tie the ends of the towel. Add the towel of bread dumplings to the simmering (but not boiling) water and let it cook for approx. 30-40 minutes. Afterwards, remove it from the pot and set aside to cool down a bit.
While the bread dumplings simmer, bring a second pot of salted water to a boil. Remove the stalks and the dry or dirty outer leaves of the Brussels sprouts. Add Brussels sprouts to the pot of simmering water and let them cook over medium heat for approx. 15-20 minutes, or until fork-tender. Drain and rinse under cold water, then set aside.
Creamy onion sauce
For the sauce peel and finely dice onions. Melt vegan butter in a small pot. Fry onions and tomato paste. Add the flour and let roast for 2-3 minutes.
As soon as the tomato paste and onions turn darker, add vegetable broth and plant-based heavy cream while stirring constantly.
Wash and finely chop parsley. Add mustard and soy sauce to the pot and stir to combine. Season with salt, pepper, and nutmeg to taste, then stir in chopped parsley.
Serving
Remove nut roast from the oven and let it cool down for approx. 10 minutes before slicing it.
Slice the bread dumplings (either with a knife or kitchen string) and serve them with nut roast, Brussels sprouts, and creamy onion sauce.