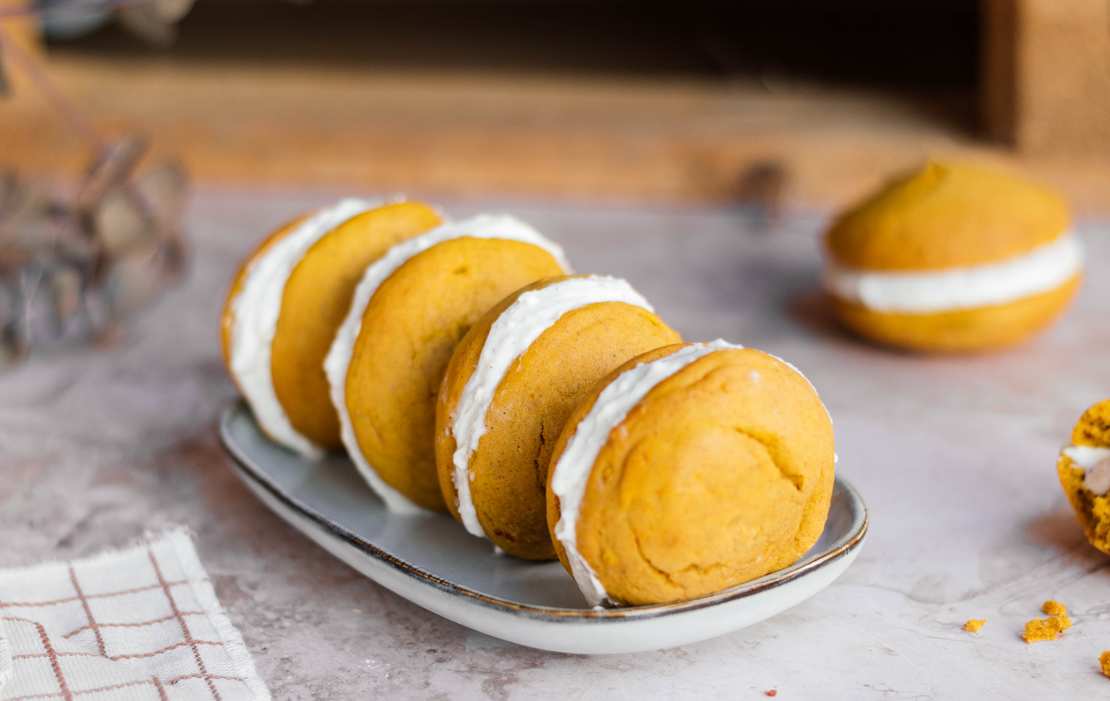 Vegan Pumpkin Whoopie Pies with Vanilla Cream
Now that fall has officially started, we're ushering it in our office this week. The morning coffee with oat milk is replaced with a Pumpkin Pie Spice Latte, and our meals are also starting to feel more autumnal. It's not like we don't eat casseroles or soups in summer too, but now it somehow feels more fitting, if you know what I mean. And for that reason, starting today, we're kicking off our new theme week of "7 Days - 7 Pumpkin Recipes", where both savory and a few sweet recipes have made it in.
Today we start with a small and super soft cookie. It's actually two cookies in the form of a sandwich cookie with vanilla cream in between. These cookies are called "whoopies" coming from America, where they have been baked since the early 19th century. The very classic whoopies consist of chocolate cookies and a filling of marshmallow fluff. However, the cream is also often made with butter and powdered sugar or cream cheese, which is what I used as inspiration for today's recipe. In addition, I added the pulp of a vanilla bean to the cream, but you can replace it with vanilla paste, vanilla sugar, or ground vanilla. It's essential, however, that you refrigerate the cream as it will be too soft otherwise.
The Hokkaido pumpkin on today's ingredient list is probably the best known of all the pumpkin varieties from our theme week. Compared to many other pumpkins, its skin softens during cooking and can therefore be eaten. This also makes cooked Hokkaido pumpkin perfect for making puree. In addition, the pumpkin is excellent for both savory and sweet dishes. It provides a juicy texture and a great orange color to our whoopies. In addition to the Hokkaido puree, we add a whole bunch of spices to the batter: cinnamon and ginger powder, ground allspice, and nutmeg, which together make the famous and beloved pumpkin pie spice. Of course, you can also use ready-made pumpkin pie spice. It makes our cookies wonderfully flagrant and turns them into the perfect snack for fall.
Pumpkin Pie Spice
Ingredients
2 tbsp cinnamon
1 tsp ground ginger
0.5 tsp ground allspice (pimento)
0.5 tsp nutmeg
Instructions
Mix all spices in a small bowl.
Vegan Pumpkin Whoopie Pies with Vanilla Cream
8 whoopies pies
30 minutes (+ 20 minutes cooking and baking time + cooling time overnight)
Ingredients
For the whoopie pies:
250 g (9 oz) Hokkaido pumpkin
100 g (1 stick) vegan butter
90 g (0.5 cup) sugar
8 g (1.5 tsp) vanilla sugar
150 ml (0.66 cup) plant-based milk
240 g (2 cups) wheat flour type 405 or spelt flour type 603
8 g (1.5 tsp) baking powder
2.5 g (0.5 tsp) baking soda
1 pinch salt
For the vanilla cream:
300 g (10.5 oz) vegan cream cheese
100 g (1 stick) vegan butter
60 g (0.33 cup) sugar
8 g (1.5 tsp) vanilla sugar
1 tsp fresh lemon juice
1 vanilla bean
Instructions
For the vanilla cream, add vegan cream cheese and vegan butter (at room temperature) to a bowl and beat with a hand mixer until creamy. Next, add sugar, vanilla sugar, and lemon juice. Halve the vanilla bean and scrape out the pulp with the back of a knife, then add it to the bowl as well. Beat again with a hand mixer until everything is combined. It's best to refrigerate the cream overnight.

Preheat the oven to 180°C/355°F (convection heat). Wash and deseed the Hokkaido pumpkin, and cut it into equal-sized chunks. Add the pumpkin to a pot of water and let it simmer for about 10 minutes or until it's soft. Next, weigh out 200 g (7 oz) of the cooked pumpkin and mash it with a fork, or use an immersion blender until you get a creamy pumpkin puree and let it cool down.

For the whoopies, beat vegan butter with a hand mixer on high speed until creamy. Next, reduce the speed to a lower level and add sugar and vanilla sugar to the bowl. Continue to mix until everything is combined. Once the pumpkin puree has cooled, add it to the butter-sugar mixture along with the plant-based milk. Stir to combine.

In a second bowl, mix flour, baking powder, baking soda, salt, and pumpkin pie spice. Add the dry mix to the liquid ingredients and stir until you get a smooth batter.

Transfer the batter to a piping bag and pipe 6-8 dollops on a lined baking sheet, leaving enough space in between as they will rise in the oven. Always ensure that it's an even number of cookies. Smooth out the surface of the batter with moistened hands. Then bake the whoopies at 180°C/355°F (convection heat) for about 10 minutes. Remove from the oven and let them cool out completely.

Add the vanilla cream to a piping bag, pipe it onto a cooled cookie, and place the second cookie on top. Refrigerate until serving.