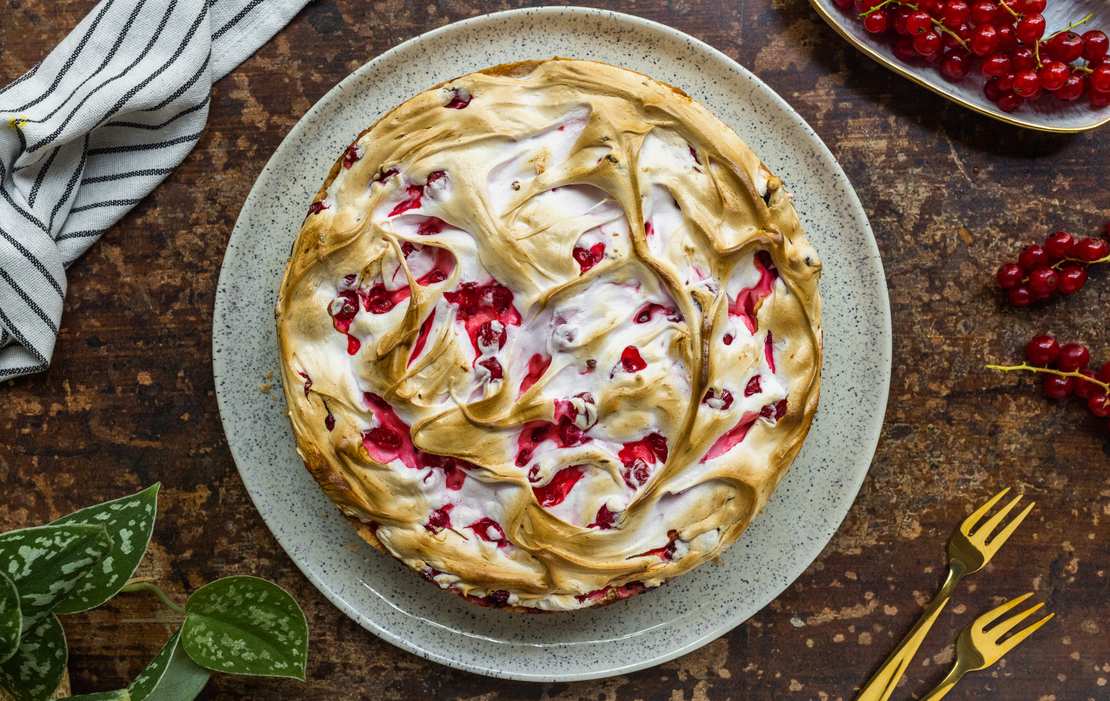 Vegan Red Currant Meringue Cake
Vegan meringue cakes have been an almost unimaginable recipe wish for us until now. Since aquafaba (which is the liquid from canned chickpeas) is quite a diva and doesn't like too much heat, but also not too much cold, we never thought that we'd succeed in making a vegan red currant meringue pie. But here it is – on your screen and soon on your plate as well!
Our previous attempts usually failed because of the consistency of the meringue, which simply dissolved into thin air over time or even liquefied again. But just as someone suddenly discovered that you could whip up canned chickpea water, the internet discovered xanthan gum and with it the solution to all vegan meringue crises in the world.
What sounds like a lot of chemistry is basically just a thickening and gelling agent that's even approved for organic foods. Wikipedia describes it as a "naturally occurring polysaccharide" that is "extracted from sugar-containing substrates using bacteria of the genus Xanthomonas." (Source) When baked, xanthan gum ensures that your vegan meringue will still hold up the next day. During our first baking tests, we also baked the cake with a mixture of guar gum and carob gum, which worked great in the beginning. But the next day, the wonderful vegan meringue was almost completely gone and partially liquefied again. To prevent this, it's really worth buying xanthan gum. You can find it mainly in online.
Depending on the season, you can also prepare this meringue cake with other berries or fruits. We decided to go with the classic version with red currants and are already curious how you like the cake.
Vegan Red Currant Meringue Cake
1 cake (ø 26 cm / 10 inches)
60 minutes (+30 minutes cooling time)
Ingredients
For the shortcrust pastry:
300 g (2.5 cups) wheat flour
90 g (0.5 cup) sugar
150 g (1.33 sticks) vegan butter (cold)
cold water (as needed)
For the vegan red currant meringue layer:
400 g (14 oz) red currants
100 g (3.5 oz) aquafaba (liquid of canned chickpeas)
1 tsp lemon juice
1 tsp vanilla paste
1 tsp xanthan gum
150 g (1.25 cups) confectioner's sugar
Instructions
For the shortcrust pastry, mix flour and sugar in a large bowl. Add cold vegan butter in flakes and start to knead with cold hands. Add some cold water as needed until all ingredients form into a smooth dough. Wrap and refrigerate the dough for at least 30 minutes.

In the meantime, wash red currants and carefully remove them from the stems. Weigh out all the ingredients for the vegan meringue and set them aside.

Preheat oven to 180°C/355°F (convection heat). Remove the short pastry from the fridge. Grease a springform pan (ø 26 cm / 10 inches) with vegan butter, transfer the shortcrust pastry into the springform pan and press it down to cover the bottom and rim – you can also roll out the shortcrust pastry beforehand, then carefully lift it into the springform pan.

Bake the crust at 180°C/355°F on the middle rack of the oven for approx. 10-15 minutes, or until it's lightly browned.

In the meantime, add aquafaba to a bowl (or add it directly to the bowl of a stand mixer) and beat it for approx. 10 minutes on high speed until you get a fluffy white mass. Add lemon juice, vanilla paste, and xanthan gum. Gradually add confectioner's sugar, but keep whipping the mixture. Once that'sdone, gently fold in the red currants with a spatula.

Remove the crust from the oven and spread the red currant meringue mixture on top of the crust. Form a few meringue peaks on the top instead of smoothing it out. Bake the cake for another 15-20 minutes, or until the vegan meringue on top is nicely browned. Let the cake cool out inside the oven with the oven door open.
Tip: The cake can be served after it cooled down for approx. 30 minutes, but you can also eat it a day later.