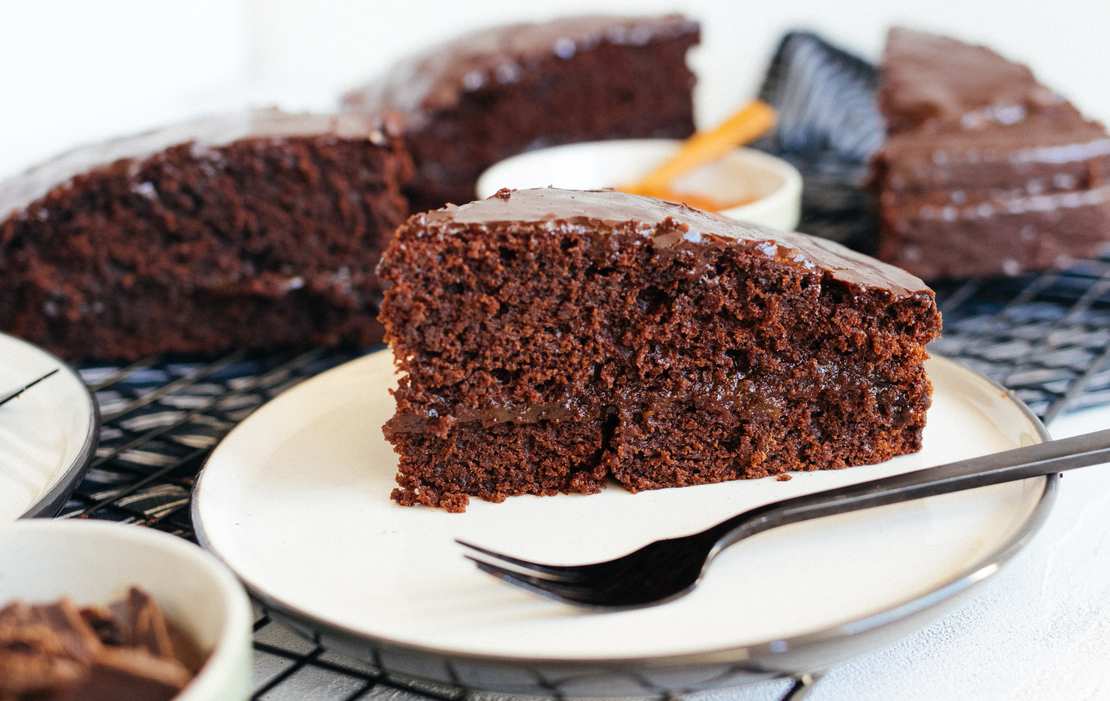 When developing recipes for "classics", I often use neutral pages like Wikipedia to get the classic components of e.g., a cake (of course, sometimes my mom or grandma takes over this job). What kind of dough (yeast dough, sponge cake or shortcrust pastry), frosting (buttercream frosting, cream cheese frosting), or jam (raspberry, apricot or red current) is traditionally used for this kind of cake? So after knowing this information, I am developing the recipe and think about the amounts, consistencies, and ingredients for the cake. During my research on Sachertorte, I came across an entire website, which deals with the preparation of Sachertorte. Holy moly!
In order to get as close as possible to the original recipe, we used the recipe from the official Sacher Torte website as a guide. Of course, we had to replace ingredients like eggs and adapt the amounts, so we get a nice consistency, etc. But we tried our best to get an original (and vegan) Sachertorte. Unfortunately, we cannot judge whether our vegan Sacher cake tastes similar to the original, cause we have only tried Sachertorte a few times before. But it's a wonderfully juicy chocolate cake with a sweet apricot filling and a soft chocolate coating - at least we can tell you that!
Vegan Sachertorte
Ingredients
200 g apricot jam (min. 45% apricot)
dough
250 g dark chocolate (min. 35% cocoa)
150 g vegan butter
300 g flour
100 g white sugar
8 g baking powder
4 g baking soda
1 vanilla pod
0.5 tsp salt
250 ml plant-based milk
150 g apple sauce
chocolate glaze
125 ml water
200 g white sugar
150 g dark chocolate couverture (min. 55% cocoa)
Instructions
dough
Melt the dark chocolate with the vegan butter in a bain-marie.
Mix the flour, sugar, baking powder, baking soda, and salt in a large bowl.
Add the plant-based milk and applesauce.
Halve the vanilla pod and scrape out the vanilla pulp with the back of a knife. Add the vanilla pulp to the dough.
After the chocolate and butter have cooled a little, add them to the dough and mix to a smooth dough.
Line a cake tin (22 cm diameter) with baking paper, grease with vegan butter, and pour in the dough.
Preheat the oven to 180°C and bake the cake for 40 minutes.
Let the cake cool down completely and cut in half lengthwise with a cake slicer.
Brush the top of the bottom cake with the apricot jam. Place the second cake layer on top and brush again. Brush the sides of the cake with the remaining jam.
chocolate glaze
Mix the water with the white sugar in a saucepan and let boil for 5 minutes.
Remove from the stove and let cool down for about 10 minutes.
Chop the chocolate and add it to the water. Stir the mixture until you get a smooth chocolate glaze.
Pour the lukewarm chocolate glaze over the cake and let cool down.