Vegan "Sauerbraten" (marinated seitan roast) with spaetzle & red cabbage
Swabian Sauerbraten with red cabbage and spaetzle is one the most cooked dishes on Christmas Eve at my families house. My grandmother gave the recipe to my mother, and since then we have been eating Sauerbraten every and every year.
The typical Swabian specialty is usually made from beef and gets marinated for several days. So the meat spends many hours before it gets fried and simmered and finally turns out very, very soft and tender. As a substitute for beef, we used seitan, which can quickly be turned into a big roast with the help of vegetable broth and spices. You get seitan powder in a lot of supermarkets in Germany. Since we need very soft seitan in the end, we cut down slices and with the help of two forks we break up the seitan. Don't worry we wrote down the exact way in the recipe. Besides, we also prepared our [delicious red cabbage] (https://www.zuckerjagdwurst.com/de/rezepte/einfaches-fruchtiges-rotkraut) and homemade spaetzle.
We recommend to prepare the red cabbage the day before and only to heat it shortly before serving. Also, the seitan roast needs one night to marinate. After that, you can prepare the seitan roast easily in the morning and heat it in the evening just for a short time. Better prepare the spaetzle right before serving, cause they need to be fresh.
We're happy that Edeka supported us and this recipe. They have a large selection of vegan products for your vegan Christmas dinner, such as wheat flour. We used it for our homemade spaetzle and to thicken the sauce.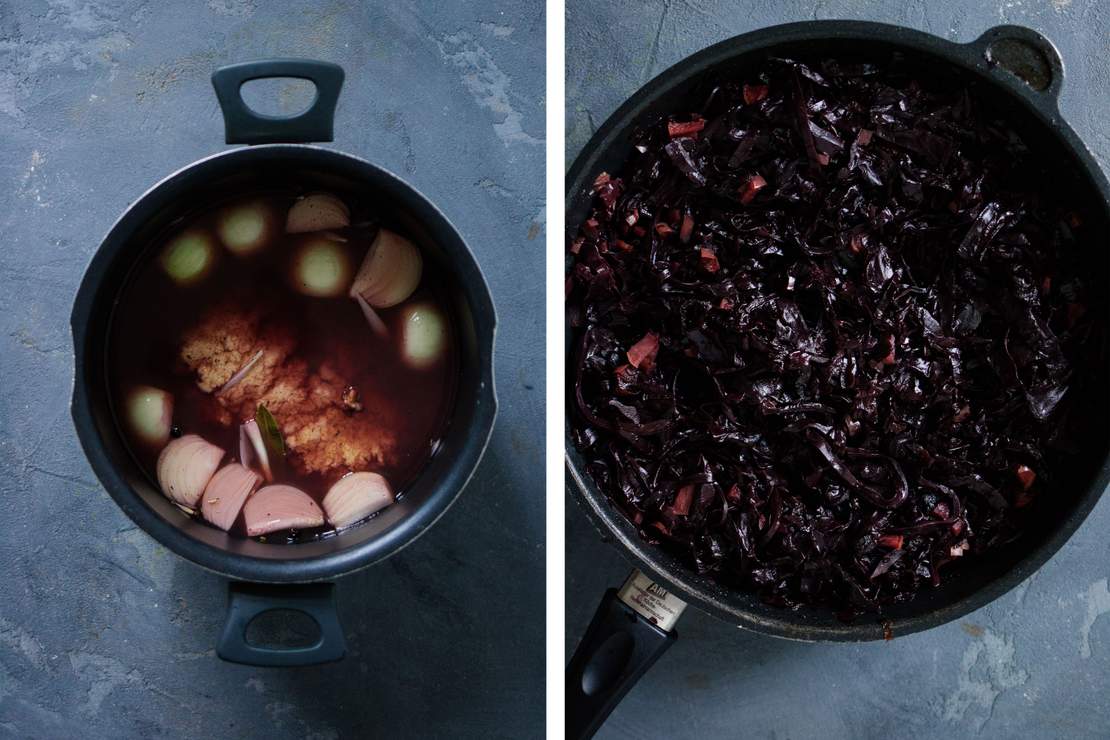 Simple Red Cabbage with Apple
Ingredients
500 g (17.5 oz) red cabbage
2 onions
1 apple
3 tbsp white wine vinegar
2 tbsp sugar
2 tbsp red currant jelly
1 bay leaf
2 cloves
salt
pepper
vegetable oil for frying
Instructions
Remove the stalk of the red cabbage and any dried out outer leaves, then thinly slice the red cabbage. The finer the red cabbage strips are cut, the faster they will cook later. Peel and finely dice the onions. Wash and core the apple, then also cut it into small dices.

Heat vegetable oil in a pot over medium heat. Start by frying the onion until translucent. Add red cabbage and keep frying for approx. 5 minutes.

Add white wine vinegar, sugar, red currant jelly, bay leaf, and cloves to the pot. Let the cabbage simmer for approx. 30 minutes over low heat, stirring from time to time.
Tip: You can use spice bags which will help later to remove the spices pretty easily instead of looking for them in cabbage chaos.
Add the diced apple and keep cooking the cabbage for approx. 30-60 minutes. The red cabbage should be softened, but still keep a slight bite. Season with salt and pepper to taste – and don't forget to remove cloves and bay leaf before serving.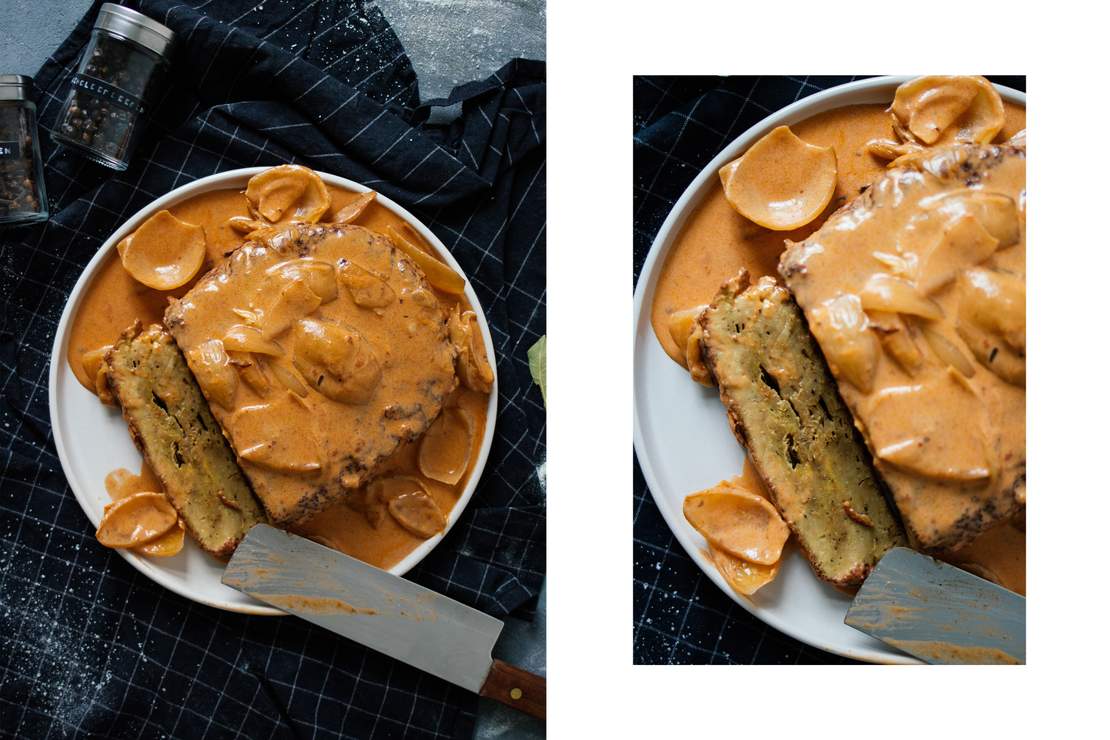 Vegan "Sauerbraten" (marinated seitan roast)
6-8 servings
90 minutes (+ time to marinate)
Ingredients
Seitan Roast
2 tsp paprika powder
2 tsp garlic powder
1 tsp onion powder
1 tsp thyme
1 tsp pepper
1 tsp salt
2 tbsp nutritional yeast
pinch of nutmeg powder
pinch of curry
500 ml (2 cups) cold vegetable broth
2 tbsp soy sauce
2 tbsp mustard
500 g (17.6 oz) seitan fix powder
Vinegar Marinade
500 ml (2 cups) water
500 ml (2 cups) plant-based red wine vinegar
200 ml (0.8 cups) plant-based red wine
2 bay leaves
4 juniper berries
2 cloves
3 onions
Additionally
4 tbsp vegetable oil
3 tbsp tomato paste
3 tbsp wheat flour
1 l vegetable broth
2 tbsp mustard
1 tbsp vegetable creme fraîche (sour cream)
Instructions
Marinating
Mix all spices for the seitan roast in a big bowl. Add the vegetable stock, mustard, and soy sauce and stir well.
Mix the seitan fix powder to the cold vegetable stock and knead with your hands. You should be able to form a big ball.
In another bowl, add water, red wine vinegar, and red wine. Add the roast to the bowl. The roast should almost be covered completely. Add bay leaves, cloves, and juniper berries.
Peel and quarter onions and add them to the marinade. Allow marinating overnight at room temperature.
Roasting
Take the seitan roast from the vinegar marinade the next morning and drain well. Be sure to keep the vinegar marinade.
Heat a large and tall pan with 4 tablespoons of vegetable oil and fry the seitan roast from all sides. This can take up to 10-15 minutes.
Add the onions from the marinade and fry. If the seitan roast turned brown, take it out of the pan.
Add tomato paste and flour to the pan and allow to roast briefly. Now deglaze with vegetable stock and mix well, so that no lumps form. Add the mustard and stir. Put the side roast back into the pan.
Add four to five big scoops of the vinegar marinade and stir. Let simmer for 20 minutes until the sauce becomes creamy.
Remove the roast from the pan again, slice, and pull apart with the help of two forks to shred the loaf into bite sized chunks. This is really important cause otherwise, your seitan turns out too chewy. Put the seitan chunks back into the pan. (we cooked the slices for several hours, so go for the chunks to save time!)
Add more red wine, vegetable stock, or vinegar marinade to the sauce if needed. In the end, stir in the plant-based creme fraiche (sour cream), season to taste, and simmer for another 20-30 minutes, so the seitan becomes soft.
Add more vinegar marinade, red wine, or veggie broth if needed and serve.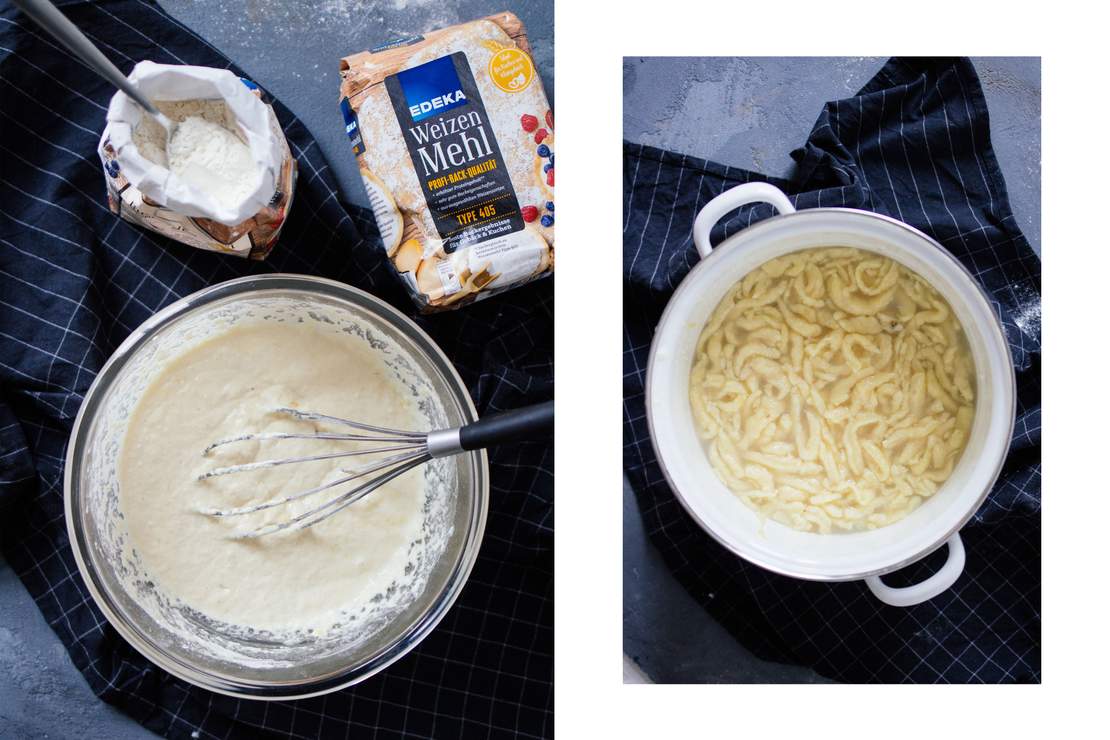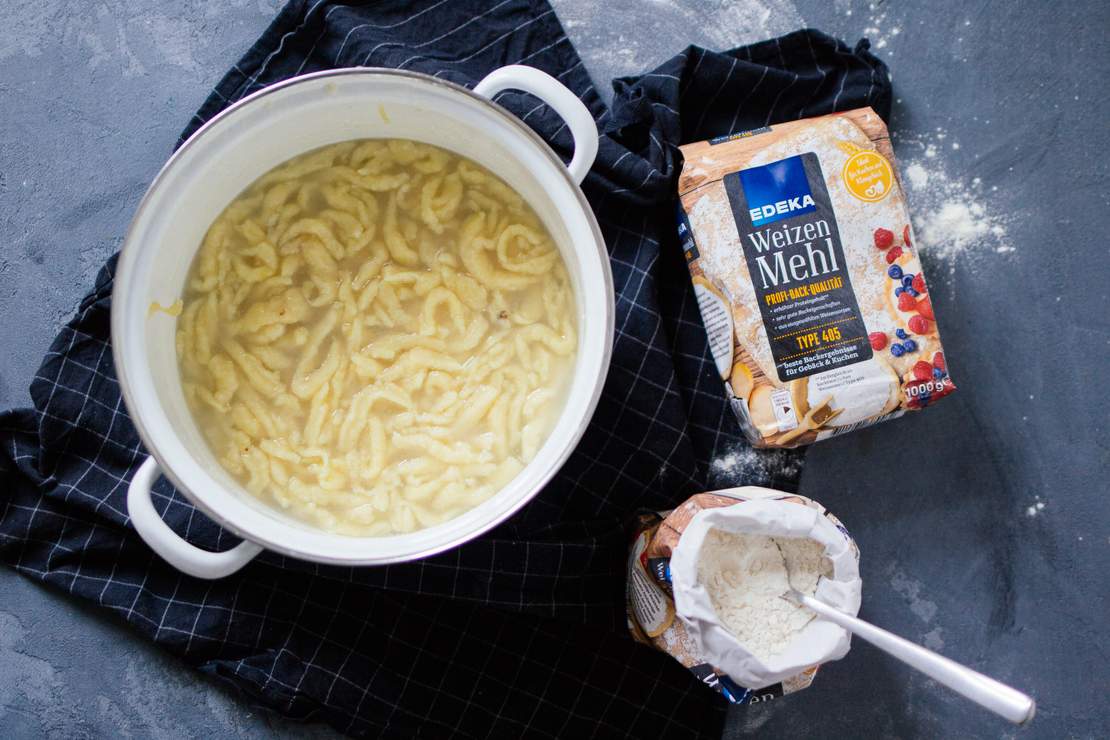 Vegan spaetzle
Ingredients
400 g (3 cups) flour
100 g (3.5 oz) semolina
pinch of curcumin
1 tsp salt
4 tbsp vegetable oil
500 ml (2 cups) sparkling water
Instructions
Add flour, semolina, salt, 2 tbsp vegetable oil and sparkling water to a bowl and stir until combined.
In a large saucepan, bring salted water to simmer and add 2 tbsp oil. If you want to shape spaetzle, you can either use a spaetzle maker or use your cutting board and knife to scrape the spaetzle into the water (Youtube is helping a lot with a precise instruction).
Once they appear on the water surface, take them out using a slotted spoon.