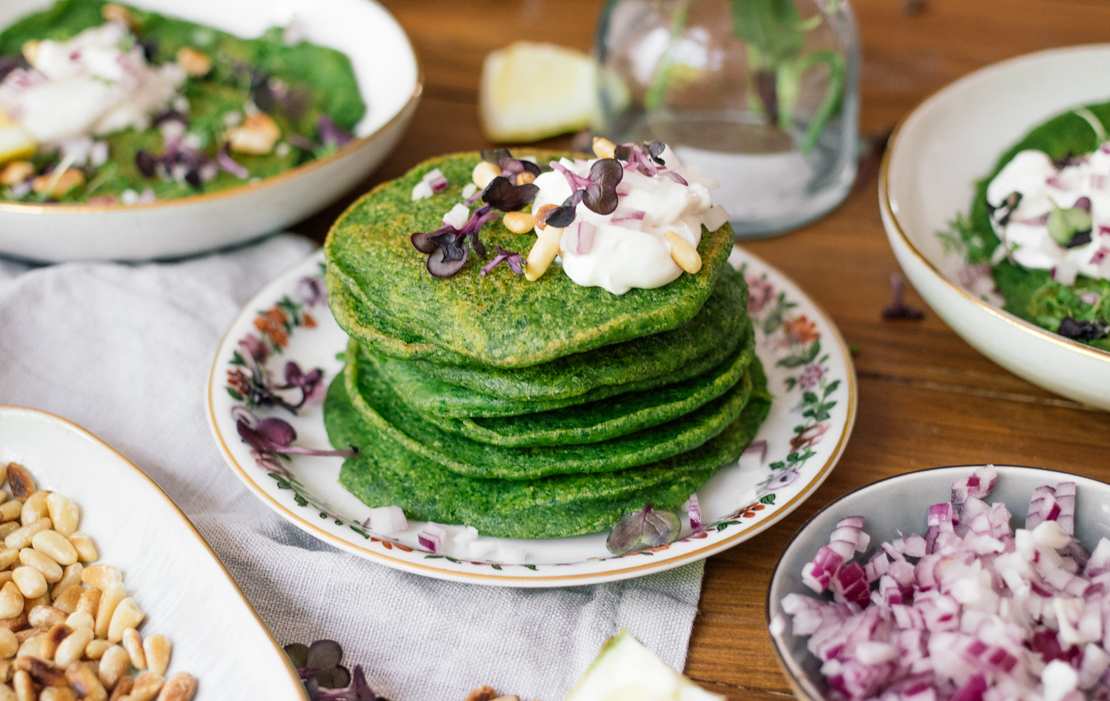 Vegan, savory Spinach Pancakes
While Isa took care of most of the sweet recipes during our themed pancake week, I was in charge to think about some savory options. Since I really like spinach crepes, I thought that you can't go wrong with a fluffy version, right? Spoiler alert: I was right! These spinach pancakes are delicious! You should make them right away! Ready, set, go!
Here are three reason why these pancakes turn out so tasty:
Onions and garlic are old friends of spinach. In order to let them develop their flavor perfectly, it's worth to go the extra mile (which is in fact only an small step) and fry these guys in a pan before adding them to the batter.

Rice flour is the gimmick to make these pancakes crispy. This is why we used a combination of common wheat flour and rice flour. If you don't find rice flour, you can also use wheat flour only instead. The pancakes will still be great!

You can top these pancakes in thousand ways. We used some vegan sour cream (you can also use plantbased yogurt or cream cheese instead), garden cress, and toasted pine nuts, But these spinach pancakes also taste great with roasted tomatoes, asparagus, fried mushrooms, corn, hot sauce, and more!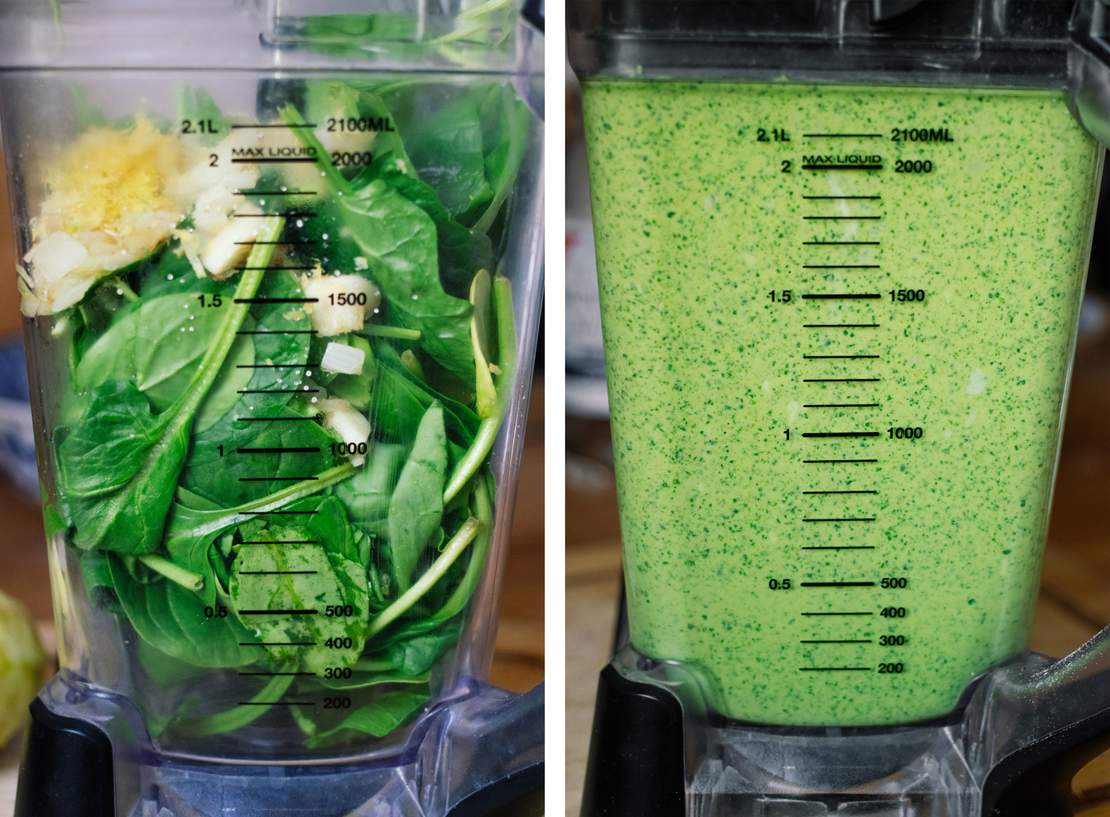 Vegan Spinach Pancakes
approx. 15 pancakes
25 minutes (+10 minutes resting time)
Ingredients
For Pancakes
150 g (5.5 oz) fresh spinach
1 onion
1 garlic clove
150 g (1.25 cups) flour
75 g (0.66 cup) rice flour
1 tsp baking powder
1 tbsp vegetable oil
1 pinch salt
0.5 lemon (zest)
250 ml (1 cup) water
salt
pepper
nutmeg
vegetable oil for frying
For Serving
garden cress
red onion
vegan sour cream
pine nuts
Instructions
Peel and chop onion and garlic. Heat some vegetable oil in a frying pan and fry onion and garlic for approx. 10 minutes. The onion should be translucent and soft.

Add spinach, onion and garlic, flour, rice flour, baking powder, vegetable oil, salt, lemon zest, and water to a blender or alternatively use an immersion blender to mix all ingredients into a smooth, green pancake batter. Season generously with salt, pepper, and some nutmeg. Let the batter rest for approx. 10 minutes.

Heat some vegetable oil in a frying pan and use approx. 1-2 tbsp for each pancake. Fry them in batches from both sides until golden brown until the batter is used up. Use more vegetable oil when needed.

In the meantime, toast pinenuts in a fatfree pan until golden brown. Peel and finely dice a small red onion. Serve vegan spinach pancakes with a dollop of vegan sour cream on top and sprinkle with garden cress, red onion dices, and toasted pinenuts.