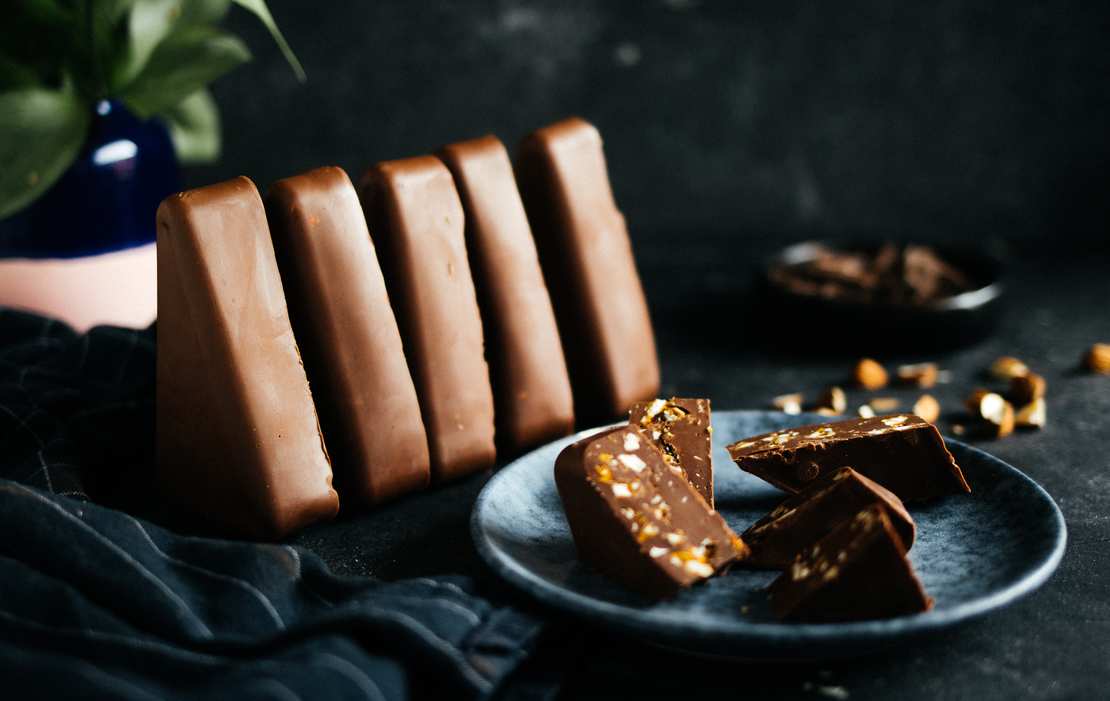 When I started working on this recipe for vegan Toblerone (the famous Swiss chocolate bar), I had honestly no idea what exactl Toblerone is made of, besides chocolate. But a quick research and a look at the list of ingredients brought light into the dark: Toblerone is milk chocolate with honey-almond nougat. So what I remember as just small, sweet crunchy chunks that I could never really identify as a specific ingredient, are actually caramelized almonds.
For the preparation of our vegan version I decided to do the following: vegan "milk chocolate" and nougat will be base for our take on Toblerone, and the small crunchy bites will be recreated with caramelized chopped almonds.
Since the triangular shape of Toblerone is their signature characteristic, I ordered a silicone mold that at least imitates the triangle form. But of course you are completely free in choosing any other mold, e.g. just prepare the chocolate bars in ice cube trays. You can also skip the mold completely and spread the chocolae mixture on parchment paper, let it cool down, and then break it into smaller pieces.
Notes: We bought vegan nougat for baking (we don't talk about nougat chocolate bars) in the baking department of big supermarkets such as Kaufland or real. If you search for "nougat for baking", you will find a few brands! By vegan "milk chocolate", we mean light, vegan chocolate bars (no dark chocolate). In Berlin, you can find vegan milk chocolate, also bigger supermarkets, or in organic markets.
Vegan Toblerone
approx. 600 g Toblerone
30 minutes (+ 60 minutes cooling time)
Ingredients
350 g (12.5 oz) vegan "milk" chocolate
125 g (4.5 oz) vegan nougat
100 g (0.5 cup) sugar
100 g (3.5 oz) almonds
Instructions
Melt vegan 'milk' chocolate and vegan nougat in a heatproof bowl over a pot of simmering water. Once it's melted, remove from heat and let cool down for approx. 10 minutes.
Finely chop almonds and set aside. Add sugar to a frying pan or a pot and let melt over medium heat until it's amber-colored. This can take up to 5-10 minutes. Do not stir to sugar in this step, but make sure it doesn't burn (if it looks like it's gonna burn, reduce the heat).
As soon as the sugar is melted and amber-colored, fold in chopped almonds.
Remove the frying pan or pot from heat and spread the caramel-almond mixture on a silicone baking mat or parchment paper. Let cool out completely.
Once the caramel mix is hardened, finely chop it on a cutting board.
Add the chopped caramelized almond chunks to the melted chocolate and mix carefully. Add the mixture to silicone molds of your choice and refrigerate for at least an hour, or until the chocolate is set.
More Vegan Chocolate & Sweets Recipes and Plant-Based Copy Cats