Cottage cheese and me, that was just a short affair. It started half a year before I went vegan. We met a few times before, but I never really paid attention to it and always reached for cream cheese instead. Once I ate it, though, it wasn't about the fact that it was so high in protein and healthy, but because I really liked its texture and taste – preferably on toasted whole wheat bread (the one that almost entirely consists of seeds and grains). I drizzled some linseed oil on top, added some fresh herbs, and that's how dinner was ready in just a few minutes.
After this short affair, we didn't hear from each other for quite a long time. Even though I thought about cottage cheese from time to time, it didn't rank high on my list of things to veganize – until now. In fact, when we were thinking about what plant-based cheese recipes we want to develop for our theme week, it brought back all my memories. Understanding the process of how cottage cheese is actually made wasn't that important, as I figured my approach would be more about getting closer to the consistency and flavor of the final product. Although classic cottage cheese doesn't consist of two individual components, it's still easier to consider it like that for the vegan version. So I needed to find something for the "grainy" part and something for the "creamy" part.
After several tests with (silken) tofu, plant-based milk and yogurt, and nuts, I found my favorite combination. I started by testing some existing recipes that simply mix crumbled tofu with blended and seasoned silken tofu. Yes, this is a very quick option, but it didn't convince me at all in terms of taste and was also a bit too liquidy for me. Nevertheless, the crumbled tofu was my favorite option for the "grainy" component as it has just the texture and is neither too firm nor too soft. For the creamy part, however, I ended up opting for a mix of blended cashews with plant-based milk, which made them creamy, and some plant-based yogurt, which adds a bit of tartness to the vegan cottage cheese. The sour-ish taste is enhanced by some apple cider vinegar – but feel free to season it to taste and don't add all of the vinegar at once.
Besides soaking the cashews, you only need 15 minutes to prepare this vegan cottage cheese. Simply blend all ingredients for the creamy mixture, then mix it with crumbled tofu, and season everything to taste. You could eat this vegan cottage cheese directly as it is, but I actually preferred it the next day as this allows the plant-based cottage cheese to get an even better taste and consistency.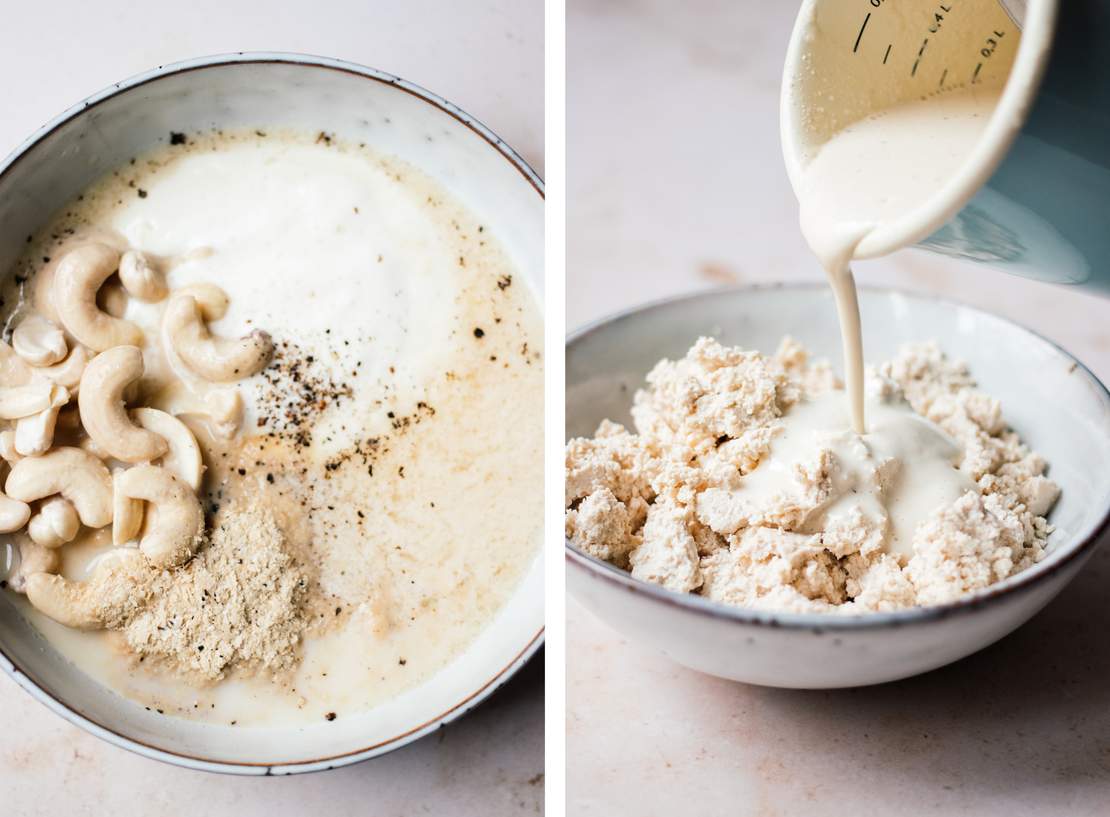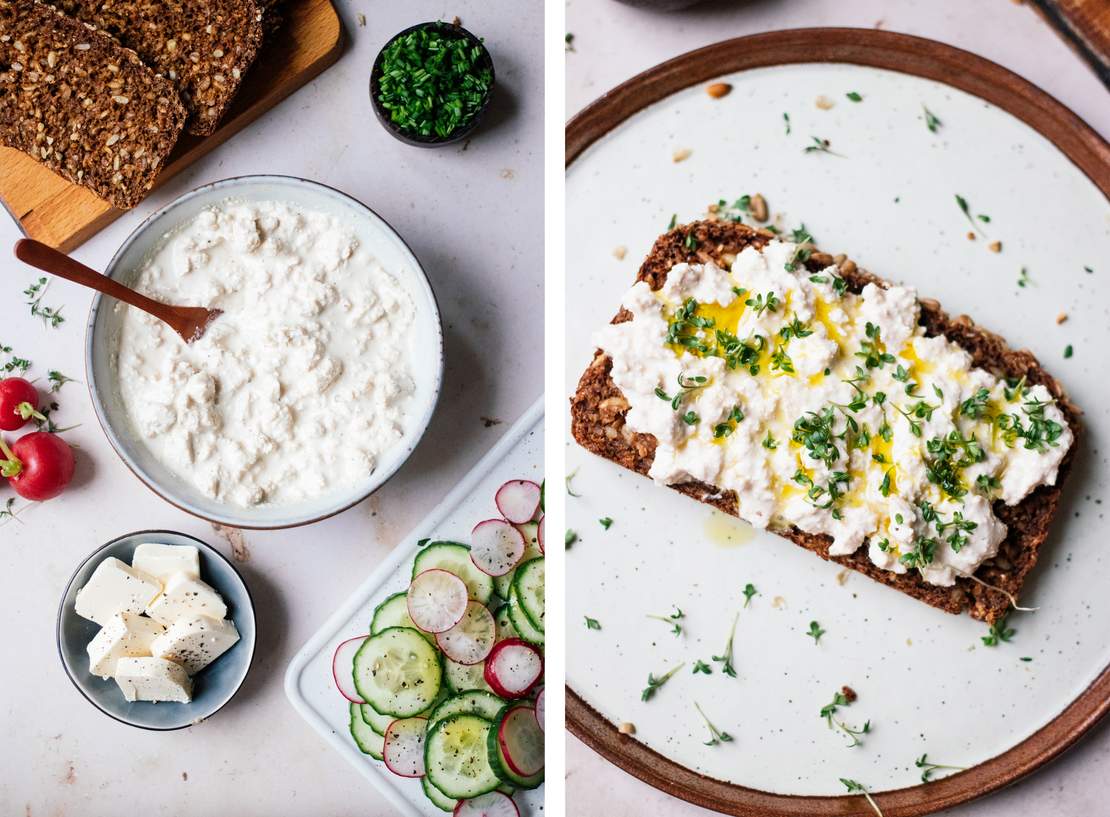 Vegan Cottage Cheese
approx. 400 g / 14 oz vegan cottage cheese
15 minutes (+ at least 8 hours soaking time)
Ingredients
For the cottage cheese:
75 g (2.66 oz) cashews (soaked overnight)
75 ml (0.33 cup) plant-based milk
3 tbsp unsweetened plant-based yogurt
1 tbsp nutritional yeast
2 tbsp apple cider vinegar
200 g (7 oz) natural tofu
salt
pepper
For serving:
bread
linseed oil
garden cress
chives
Instructions
Soak cashews in water overnight which will help to soften them for blending. If you only have a few hours to do this, just let them soak for as long as possible.

Add soaked cashews, plant-based milk, plant-based yogurt, nutritional yeast, and apple cider vinegar to a liquid measuring cup. Use an immersion blender to blend all ingredients until they're smooth and creamy. Season generously with salt and pepper to taste.

Crumble tofu with your hands and add it to a bowl. Add the blended cashew mixture little by little, and stir to combine. If you like the texture already before, you may not need all of the cashew mix. If you prefer the cottage cheese to be creamier, add some more plant-based yogurt. Season cottage cheese to taste again.

You can eat the vegan cottage cheese directly or let it sit overnight in your fridge. Serve on bread with linseed oil, fresh garden cress, and chives if desired.