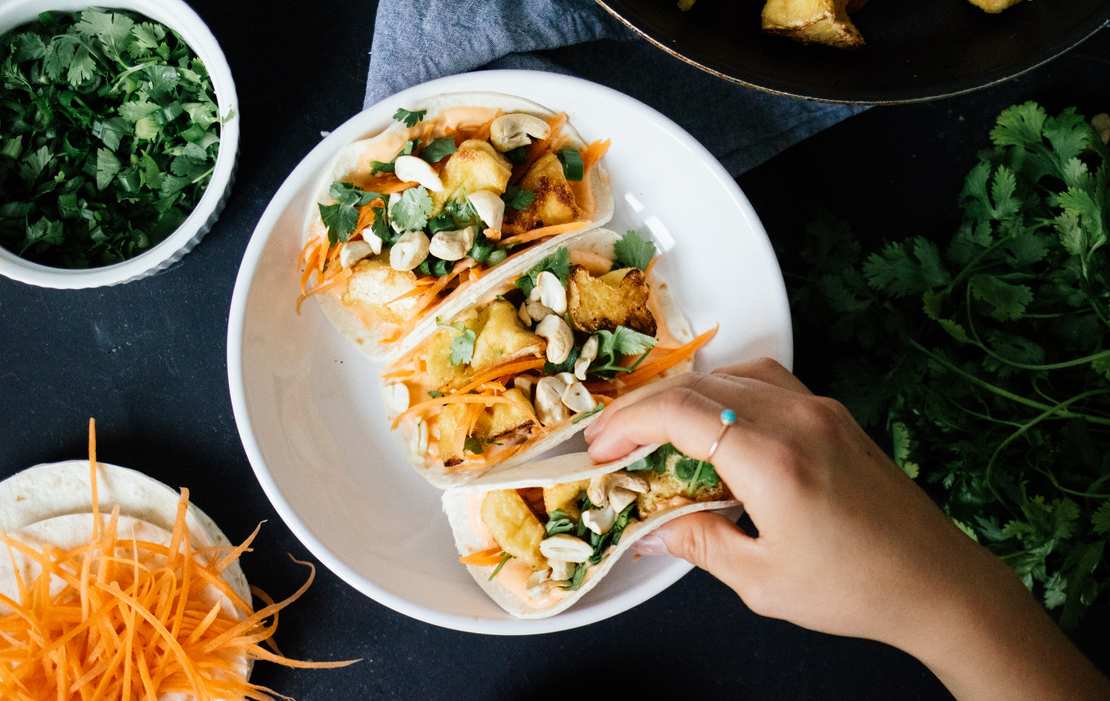 Vegan Bánh mì Tacos with Sriracha Mayo
We have a soft spot for tacos and love to experiment with them. Besides classics such as fish tacos (vegan, of course!), tostadas or taquitos, we also serve Korean tacos, ramen tacos, chanterelles tacos or even chocolate tacos. You can find all our taco recipes here.
For our first Taco Tuesday we chose Bánh mì Tacos. They are quick to prepare but still taste really special. A quick walk to your favorite Asian supermarket is required. If you don't have one, get one asap, because it won't be your last shopping trip there. By the way: This is one of our favorite activities! Grab some baked tofu and Sriracha, a hot sauce. Yes, those tacos are spicy, but thanks to all the veggies still fresh. If you're not the biggest tofu fan, please, give baked tofu a try. Perhaps you'll think about tofu different afterward.
Vegan Bánh mì Tacos with Sriracha Mayo
Ingredients
FOR YOUR TACOS
8 soft tacos
3 carrots
2 parsnips
1 bunch of cilantro
250 g (8.8 oz) baked tofu
2 handful cashews
3 green onions
peanut oil
FOR SRIRACHA MAYO
150 g (0.6 cups) vegan mayo
3 tbsp Sriracha
Instructions
In a pan, heat 2 tbsp peanut oil and sear for 2-3 minutes.
Peel your carrots and parsnips and julienne them. Wash and chop cilantro, and chop those tasty cashews. Wash and cut green onions into rings.
For your Sriracha mayo, you only need to stir vegan mayo with Sriracha. We recommend to start with 2 tbsp Sriracha and then add more if you like it a bit more spicy.
Your ingredients are ready. Now you only need to heat up your soft tacos for 2-3 minutes in a warm oven.
First spread you Sriracha mayo on the taco, fill it with all the veggies, tofu, cashews and cilantro and finally drizzle some more mayo on it.
More Taco Tuesday - Vegan Taco Recipes