Tacos with Kimchi & Gochujang tofu
We have a soft spot for tacos and love to experiment with them. Besides classics such as fish tacos (vegan, of course!), tostadas or taquitos, we also serve Korean tacos, ramen tacos, chanterelles tacos or even chocolate tacos. You can find all our taco recipes here.
Todays Taco Tuesday is getting H-O-T, cause the main character of this Taco is called Gochujang. The Korean hot pepper paste is traditionally made of chili powder, glutinous rice, meju (fermented soybean) powder, barley malt powder, the starch of cooked glutinous rice and salt. It doesn't sound that crazy, but wait until you taste it! The difficulty is to use the right amount, so here is our recommendation: If you don't like hot food, start with 1 tsp for the tofu marinade. But if you love spicy food (Gochujang will blow your mind), start with 3 tsp.
Super easy vegan kimchi (ready in 30 minutes)
4 small servings / 2 cups jar
30 minutes
Ingredients
1/2 napa cabbage
2 tbsp salt
1/2 - 1 chili
4 tbsp sesame oil
4 tsp vegan fish sauce (recipe on the blog)
5 tsp Sriracha Hot Sauce
2 green onions
Instructions
Wash and finely dice napa cabbage.
Transfer to a big bowl and cover with hot water. Add 2 tbsp salt and stir. Set aside for 20 minutes.
Wash chili pepper, de-seed, and finely dice. Wash green onions, and cut into rings.
Drain cabbage and mix with sesame oil, vegan fish sauce, chili sauce, chili pepper and green onions in a bowl. Stir well and season again (if needed).
Tacos with Kimchi & Gochujang Tofu
Ingredients
1 Romaine lettuce
150 g (5.3 oz) basmati rice
1 green onion
2 tsp white sesame
2 tsp black sesame
1/2 portion of our vegan Kimchi (recipe on the blog)
Gochujang Tofu
400 g (14.1 oz) firm tofu (from Asian supermarket)
salt & pepper
80 g (2.8 oz) starch
500 ml (2 cups) plant-based oil
2 tsp Gochujang (3-5 tsp if you like it spicy)
4 tbsp water
4 tbsp ketchup
4 tbsp agave syrup
2 garlic cloves
Instructions
Cook rice following the instructions on the package.
Prepare kimchi (recipe on the blog) and Gochujang tofu.
Wash and cut green onion into rings.
Remove leaves (of the Romaine lettuce) from the stem and wash. Fill each of the leaves with rice, kimchi, and Gochujang tofu. Top with sesame and green onions.
Gochujang tofu
Place tofu on a paper towel and dab to dry off excess moisture.
Cut tofu into cubes, and season with salt & pepper.
Add cornstarch in a bowl and cover each tofu slice generously with cornstarch.
Peel garlic cloves and dice them finely. Transfer to a small bowl.
Add ketchup, water, agave syrup and Gochujang into the pot. Stir well and let simmer for 3-4 minutes. Set aside.
Heat oil thoroughly in a deep frying pan, add the tofu pieces and deep-fry for approx. 5 minutes.
Transfer tofu in a bowl and cover with Gochujang sauce. Mix well and serve.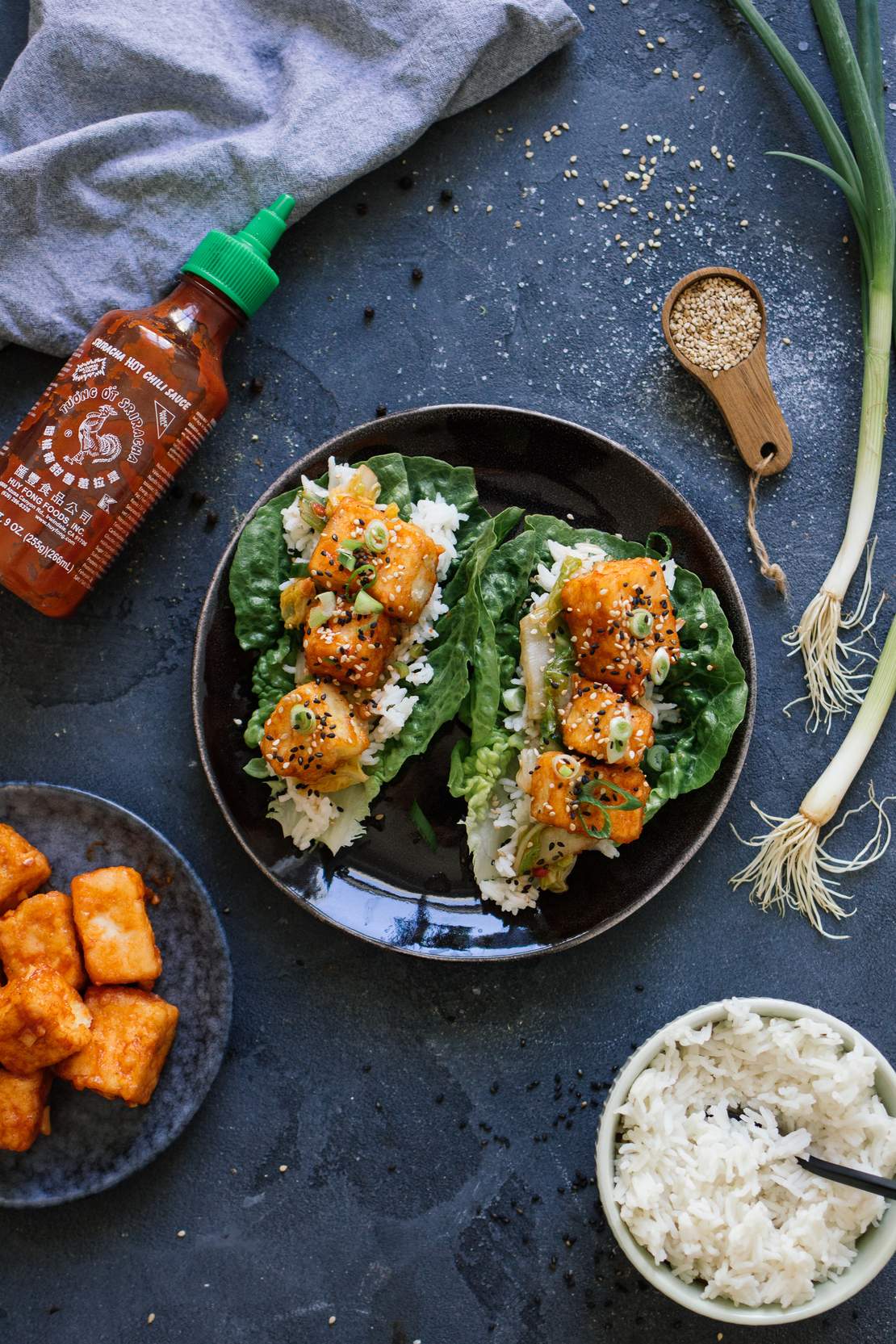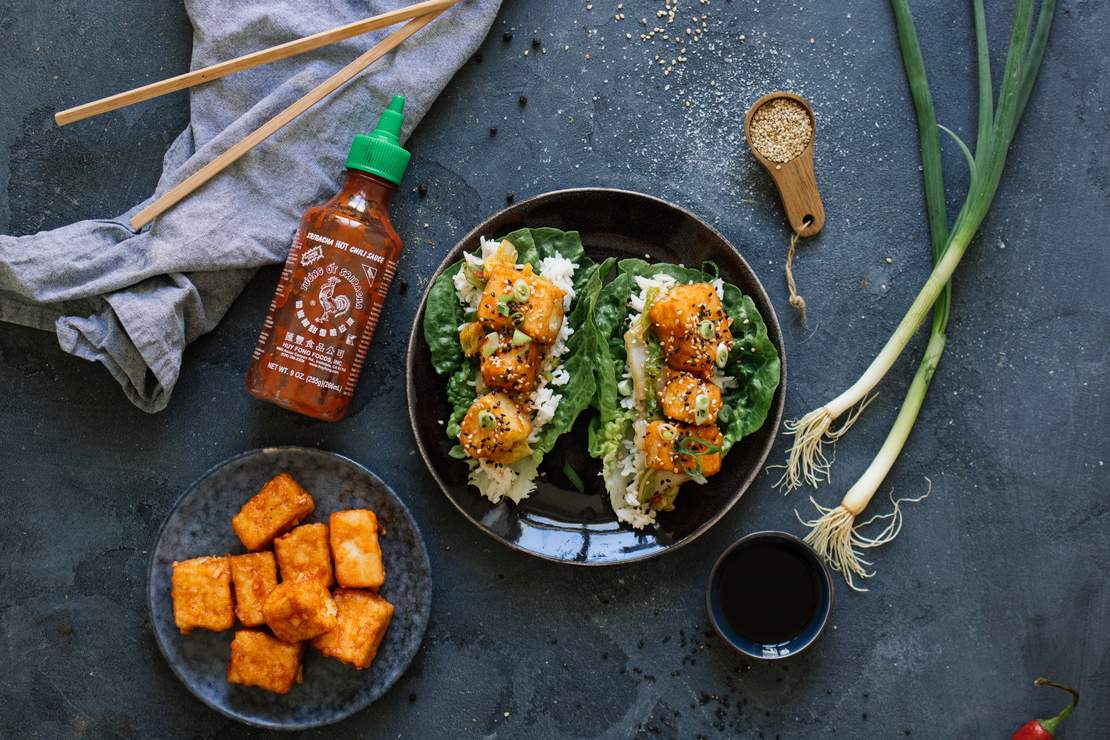 More Taco Tuesday - Vegan Taco Recipes