Creamy Vegan Cheese Spread
The very first time I tried a vegan cheese cream was at "Café Morgenrot" in Berlin. When I still lived in Prenzlauer Berg, this was the place to go for me when it came to vegan breakfast as they offered a huge buffet full of vegan and vegetarian food. In addition to bread, plant-based yogurt, salads, fruits and vegetables, and countless vegan spreads, there was always one highlight for me: the vegan cheese cream, which was so delicious and silky in texture that I could have taken a bath in it.
It's exactly this vegan cheese spread that I tried to recreate – not only because I no longer live in Prenzlauer Berg, but also because there is no brunch at "Café Morgenrot" due to the current situation. But if you live in Berlin or are ever visiting, I still highly recommend you to visit "Café Morgenrot" as soon as it opens again!
I got inspired for the base of this spread by our own recipe for vegan no-bake speculoos tartelettes with vanilla custard. The consistency of the vanilla cream turned out so creamy that I wanted to recreate the same thing, just with a savory flavor. So I kicked the sugar, vanilla bean, and lemon juice and instead added nutritional yeast, kala namak salt, and mustard. However, the main ingredients for the base remain the same: plant-based (unsweetened) milk, vegetable oil (sunflower or canola) and wheat flour (or spelt flour).
The preparation is quick and easy: all you need to do is to add all ingredients to a pot, stir to combine, and bring the mixture to a boil slowly. While stirring, it will thicken already after a few minutes. Once that happens, you can pour the cream into an airtight container and let it cool down. It's best stored in this airtight container in your fridge and you should be used up within 3-4 days. By the way, this vegan cheese cream isn't only a fabulous hearty spread for breakfast or brunch, but also works great as a sauce for burgers or hot dogs, or as a dip for potato wedges, fries or loaded fries.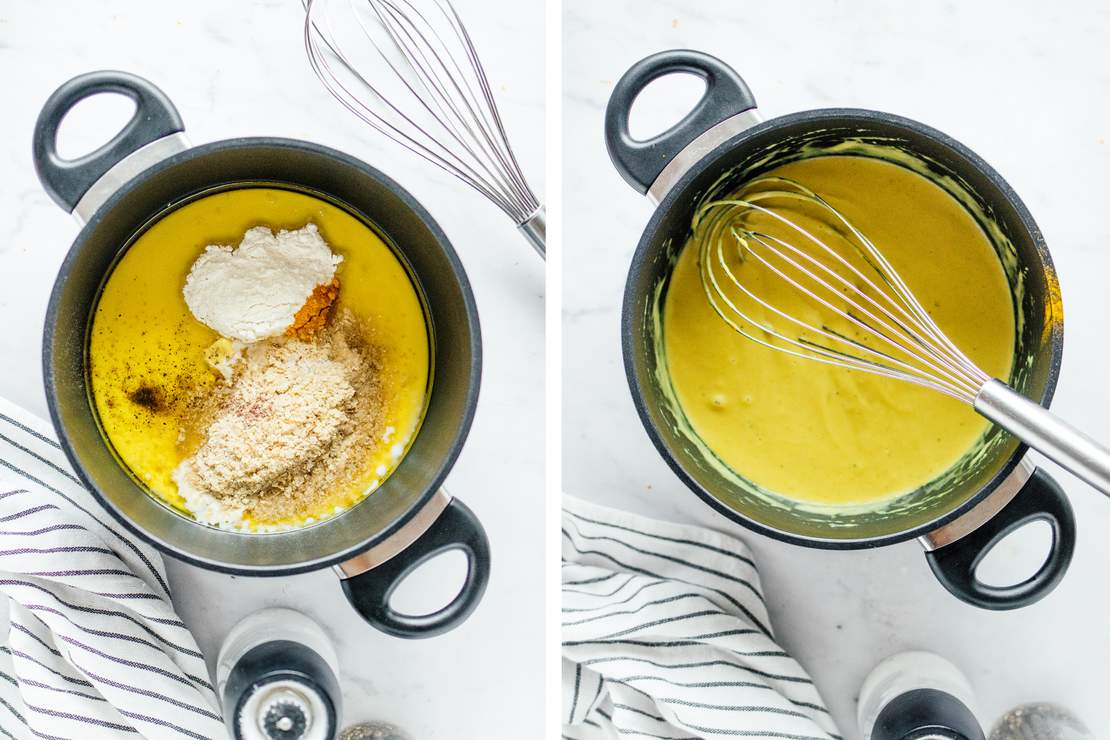 Creamy Vegan Cheese Spread
400 g vegan cheese spread
15 minutes
Ingredients
For the vegan cheese spread:
250 ml unsweetened plant-based milk
40 g wheat or spelt flour
100 ml canola or sunflower oil
3 tbsp nutritional yeast
0.5 tsp mustard
1 pinch kala namak
1 pinch turmeric
1 pinch sugar
salt
pepper
For serving:
fresh chives
bread or bread rolls
cucumber
Instructions
Add plant-based milk, flour, and vegetable oil to a small pot over medium-low heat. Slowly, bring the mixture to a simmer but keep stirring constantly to avoid the mixture from going lumpy.

Add nutritional yeast, mustard, kala namak, turmeric, and sugar, then stir to combine. Let the mixture simmer until it's thickened and creamy. Remove from heat and season with salt and pepper to taste. If you notice that the oil isn't incorporated, add a bit more flour.

Serve the vegan cheese spread with chopped chives on bread or bread rolls, or use it as a creamy spread for burgers, hot dogs, or even as a dip for finger food.
Tip: Store the vegan cheese spread in an airtight container in your fridge. It's best used within 3-4 days.